By Pat Harty
IOWA CITY, Iowa – Every running back has his own skill set and running style.
Some prefer to make defenders miss in space, while others prefer to run over or through defenders in traffic.
There is no right or wrong in this case. It's just whatever works best for a particular running back.
Former Iowa running back Tyler Goodson was dangerous in space and could break loose for a long run at any time.
His style was very similar to another former Iowa running back who excelled in space – Tavian Banks.
Goodson, however, is preparing for the 2022 NFL draft after having decided to skip his senior season.
His departure leaves a void in the backfield that third-year sophomore running backs Gavin Williams and Leshon Williams (no relation) are expected to fill next season.
And they will do so with running styles that are similar to each other, but different than Goodson's elusive style.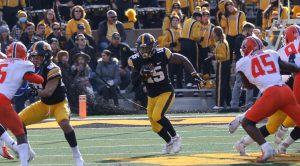 "Tyler Goodson was definitely open space, very quick feet and dangerous in open space," Iowa running backs coach Ladell Betts said Wednesday. "That's not saying these guys aren't. They're dangerous in space, too. But they are different runners. Every runner has their own skill set and their own way of doing things and I think both of these guys when you talk about Gavin and Leshon have that ability to get north and south. And they're not afraid of contact. They'll run through people, and they'll get yards after contact.
"And that's really, at least for me, what I like seeing is those chains continue to move. Make it easy for the play caller to feel good about calling another run. Keep us in front of the chain, so we can move the ball more effectively."
Betts can certainly speak from experience as Iowa's second all-time leading rusher with 3,686 career rushing yards.
He also played nine seasons in the NFL.
Betts was asked Wednesday while addressing the media if he feels it's accurate to say Goodson's running style is similar to how Banks ran, and that Gavin Williams and Leshon Williams both have a running style that is similar to how Betts ran.
"I think that's a good analysis," Betts said.
Goodson's style worked well for Iowa as he rushed for 2,550 yards over three seasons as a Hawkeye. The Georgia native also made first-team All-Big Ten in 2020.
Goodson's decision to skip the Citrus Bowl to prepare for the draft created an opportunity for both Gavin Williams and Leshon Williams, and they seized the moment by rushing for 98 and 42 yards, respectively, the 23-20 loss to Kentucky
They both ran extremely hard between the tackles and broke numerous tackles near the line of scrimmage, which is reminiscent of how Betts ran as a Hawkeye.
"The beauty of the running backs that are in the room right now is I think that's their natural inclination to stick their foot in the ground and get north and south," Betts said. "So, it doesn't take much teaching to get those guys to do it because that's who they are as runners.
"But aside from that, I've really tried to dive into teaching these guys to understand the defense, understanding the alignments, understanding how to get a pre-snap picture of what you're seeing so they can play faster. And the more sure about what they are seeing before the ball is snapped, the better they will be when the ball is snapped."
Article continues below
Leshon Williams described his approach to gaining yards last week while addressing the media.
"I just feel like I run hard and when you're going against a defense, you've got to make them tackle you," Leshon Williams said. "You just can't make it easy for them.
"So, I feel if you run hard great things can happen. But if you tip-toe, there's little chance some good things can happen. But I feel as a running back, you've just got to run hard and just follow your blocks and run behind your pads and maybe something can open up."
Betts is comfortable using either Gavin Williams or Leshon Williams under any circumstance.
"And I say this in all truthfulness, there's really nothing that I'm uncomfortable putting them on the field for, whether it's two-minute, third-down, short yardage, first-and-ten, it doesn't matter," Betts said. "I think they're complete players. So, there's nothing where I'm uncomfortable where I have to look and say, we might want to get this one in instead.
"They can do what they need to do."
Iowa head coach Kirk Ferentz has said that 5-10, 205-pound Leshon Williams is one of those football players that looks better in pads.
"I think you guys saw that in the bowl game," Betts said. "He ran a couple people over in the bowl game. So yes, he does run behind his pads. He's got good pad level. He's a little shorter than Gavin, not much shorter. But they both run behind their pads.
"But I think where people will be surprised to see is that Leshon does have a little more wiggle than people expect. In teh bowl game, we saw him trucking people and putting that shoulder, but he has the ability to make people miss, too."
Iowa fans will have a chance to watch Leshon Williams and Gavin Williams perform on Saturday when Iowa holds an open practice at Kinnick Stadium to conclude spring drills.
Fans should also expect to see a lot of walk-on running back Zach Brand due partly to an undisclosed injury to freshman running back Deavin Hilson.
"Hilson was off to a good start in the spring, but then he had a setback," Betts said without being anymore specific. "I don't know the extent of where that's going to put him, or his time table. But he was off to a good start. He was definitely getting carries and moving along, and he was actually starting to understand the offense as a whole, too."
Iowa will also add two running backs to the roster next fall when incoming freshmen Kaleb Johnson (6-1, 210) and Jaziun Patterson (5-11, 185) join the team.
As for their running styles, Betts said:
"Speaking of the two guys that we did get, they're down-hill runners. They're down-hill guys. Jaz is a between-the-tackles kind of guy, and Kaleb is a big-body guy that has some smooth transition to his running style.