By Pat Harty
IOWA CITY, Iowa – Iowa offensive line coach George Barnett apparently pays little to no attention to statistics when evaluating, grading, and inspiring his players.
He isn't concerned about how many yards Iowa averages per carry, or how many rushing yards Iowa averages per game.
"Absolutely not. I stopped doing that when I got to probably about thirty years old," the 46-year old Barnett said Wednesday while addressing the media.
So, then what does Barnett use as proof that the offensive line is performing at an acceptable level without using statistics?
Barnett was asked that Wednesday and this was his answer:
"To me, it's when the offensive player caller calls a play and needs to stay in front of the sticks that we allow them to do it. And then you have pieces in the run game. You have the offensive line, you have the timing with the back, you have the tight ends involved. You have the wide receivers blocking the safeties. That's what turns a four-yard run into a 10-yard run.
"So, there's so many pieces together that to come into a room, let's say I go into a room with my guys and say, 'hey, we have to do this, this and this.' Well, that's great offseason talk, but to me, it's, are you helping the football team advance, and at the end of the day, are you helping the football team win?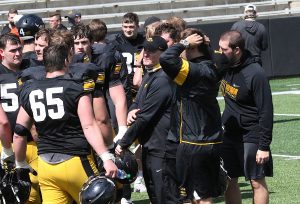 Barnett is basically saying that no one unit determines the success or failure of a running play.
And while that's true, it just seems odd that Barnett believes statistics should play absolutely no role in evaluating the offensive line.
Statistics certainly shouldn't be the tell-all when evaluating a particular unit, but that fact Iowa only averaged 123.6 rushing yards per game last season, and just 3.4 yards per carry, says something about the offensive line's performance.
Even with the best center in college football (Tyler Linderbaum) leading the way last season, the Iowa offensive line was mediocre to average at best from a statistical standpoint.
However, as a team, Iowa was much better, winning the Big Ten West Division and finishing 10-4 overall.
So, if you disregard the mediocre rushing statistics, and only factor in team success, the performance of the offensive line looks better based on what Barnett apparently considers important.
Some would find it hard, though, to disregard statistics because in three of Iowa's four losses last season, the offense performed woefully, and that includes the offensive line.
Iowa only scored seven, seven and three points in losses to Purdue, Wisconsin and Michigan last season.
Some would say regardless of statistics that Iowa won the West Division and 10 games last season in spite of the offense.
Barnett didn't make any bold statements about the offensive line, or say that he expects greatness from certain players.
He was very realistic with what he said to the media about the offensive line's progress during spring practice, which will conclude on Saturday with an open practice at Kinnick Stadium.
"The popular answer would be here's the starting five, here's who's been working together, they know everything, and we've got it all down pat and we'll see you in August," Barnett said. "Well, that's not where we're at right now and that's absolutely okay. I really like this group, where they're at. We are in a developmental stage for sure. And we have to make sure we develop this room the right way and the correct way. Short cuts and success will be fleeting.
"But if you develop the right way it will serve the program for years to come. And that's what are daily intention is, to stick to the daily plan, have good meetings, have good practices and teach these young kids how to grow up and be good people off the field and on the field."
It's hard to argue with that methodical, no-hype approach.
Spring is the time to work on fundamentals and to start building an identity.
Barnett probably has a pretty good idea who his top five to seven linemen are right now. But there is no point in sharing that with the media during the spring.
There is plenty of time to name a starting lineup, even with spring practice coming to an end on Saturday.
Finding a replacement for the NFL-bound Linderbaum at center is certainly one of the biggest priorities. But even that process doesn't have to be completed in the spring.
Barnett might pay more attention to statistics than what he said Wednesday, but he also has his reasons for saying what he said to the media.
And while it ultimately comes down to wins and losses, statistics, good or bad, also help to evaluate a team, and a particular unit.
So, maybe this is a case of Barnett just trying to focus on the positive.