By Pat Harty
IOWA CITY, Iowa – What fans hope they see during the Iowa football team's open practice on Saturday and what they probably will see could be a lot different because it's so hard to know what to expect, and what to take away from just one spring practice.
Saturday's open practice at Kinnick Stadium will put a wrap on spring practice and will give fans their first glimpse of the 2022 Iowa football team.
It's hard to reach any conclusions or make evaluations based on watching one two-hour spring practice, but the media does it anyway, and usually by using a glass-half-full approach because spring is the time for hope and optimism.
Much of the focus on Saturday will be on the much-maligned Iowa offense to see any hints of whether it's improving under Brian Ferentz, and to see if the quarterbacks are making progress with the addition of offensive analyst and former Colorado State offensive coordinator Jon Budmayr.
Will fifth-year senior quarterback Spencer Petras show more mobility in the pocket and more speed and quickness since he last played in the Citrus Bowl about four months ago?
Petras said after the Citrus Bowl that improving his mobility was his top priority heading into the offseason.
Will fellow quarterback Alex Padilla show more accuracy after completing less than 50 percent of his passes last season?
And will sophomore receivers Keagan Johnson and Arland Bruce show signs of taking their performance to another level after they both made significant contributions last season?
Fans, and the media, will look for any silver lining in practice to show that the offense is making the necessary strides.
A couple deep completions from either Petras or Padilla to Keagan Johnson would be treated like the first moon landing by some because fans are so desperate to see that.
It would be even more exciting if redshirt freshman quarterback Joey Labas were to perform well on Saturday because there is a growing narrative that says he will ultimately prove to be the best quarterback on the team.
As for the defense, it'll probably be overshadowed on Saturday from an interest standpoint because it doesn't really have anything to prove with eight starters returning from a unit that was rock-solid last season.
Some of the top defensive players also have missed much of spring practice, so it's uncertain who will be able to practice on Saturday.
Tory Taylor is likely to draw a few oohs and aahhs with some booming punts, but that's also to be expected as one of the nation's top collegiate punters, although, he will have to contend with windy conditions.
From a curiosity standpoint, however, the following players seem the most interesting because they're either a fan and media favorite such as Labas, or they're on the verge of playing a more significant role such as defensive back Cooper DeJean and running back Leshon Williams, or they're new to the program but with high expectations such as incoming freshman defensive back Xavier Nwankpa.
Those four players make up nearly half of my list of 10 players to watch on Saturday.
Here is that list in no particular order:
Joey Labas: Reports of him being perhaps the quarterback of the near future started to surface during bowl preparation last December.
With neither Petras nor Padilla having played anywhere close to a star level last season, those looking for a silver lining have shifted their attention to Labas, a 6-foot-4, 194-pound redshirt freshman from Ohio.
He supposedly has the highest ceiling of the three quarterbacks according to those pushing the Labas narrative.
So, maybe we'll see some signs of that on Saturday.
2. Cooper DeJean: The sophomore defensive back is a former multi-sport star in high school who came on strong at the end of last season. He is expected to at the least be a force on special teams, but he is also in the mix for playing time at safety and at the cash position.
A former star sprinter and state champion long jumper in high school, the 6-1, 203-pound DeJean has fans and the media wondering if he is Iowa's next star defensive back on the rise.
Saturday's two-hour practice won't answer that question, but it will provide a small sampling of his ability.
3. Leshon Williams: The Chicago native made a strong impression in the Citrus Bowl, rushing 10 times for 42 yards in his first extensive action as a Hawkeye.
He and fellow sophomore Gavin Williams (no relation) are expected share the running back position next season, and that by itself is enough to make both of them players to watch on Saturday.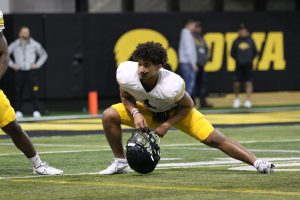 4. Xavier Nwankpa: The incoming freshman from Southeast Polk is among six members of Iowa's 2022 recruiting class that enrolled in January and are now practicing this spring.
Nwankpa is also considered the top safety in the 2022 class, and he is one of few five-star recruits to sign with Iowa.
That by itself will make him a big attraction on Saturday.
5. Lukas Van Ness: He is by far the most established of all the players on this list after having played extensively last season.
The Illinois native showed a knack for making big plays as a defensive lineman last season as he and Joe Evans led Iowa with seven sacks. Van Ness also finished with 8 ½ tackles for loss despite only playing about half the time as part of a rotation.
Assuming he practices on Saturday, it'll be interesting to see if Van Ness continues his knack for making big plays.
6. Aaron Blom: The redshirt sophomore from Oskaloosa is one of three kickers that are competing to replace Caleb Shudak, who made 24-of-28 field-goal attempts last season and all 36 of his point-after kicks.
Iowa has a history of playing in close games under Kirk Ferentz that often are decided by something that either does or doesn't happen on special teams.
The starting kicker has a huge role for any team, but even more so at Iowa where the offense has struggled to score touchdowns in the red zone.
7. Lucas Amaya: The junior from Wisconsin is one of the three kickers competing for the starting job, and that's enough to make this list.
8. Drew Stevens: Insert what was said about Amaya being one of three kickers competing for the starting job, but then change junior from Wisconsin to incoming freshman from South Carolina and that would describe Stevens.
One of these three kickers will have to rise to the occasion or Iowa could suffer from having an unreliable kicker for the first time in quite a while.
However, they could face some tough conditions on Saturday with high winds expected.
9. Logan Jones: The similarities between Jones and the center he is now trying to replace are intriguing to say the least.
Tyler Linderbaam was recruited as a defensive tackle and played that position until switching to center during bowl preparation as a true freshman in 2018.
He would go on to be a three-year at center for Iowa and was the recipient of the 2021 Rimington Award, which goes to the nation's top collegiate center.
Linderbaum is now preparing for the 2022 NFL draft as a fourth-year junior and is considered a lock to be taken in the first round.
Jones also came to Iowa as defensive tackle before switching to center shortly after the end of last season.
Iowa offensive line coach George Barnett spoke highly of Jones this past Wednesday while addressing the media.
Jones certainly has a lot to learn as a center, and he is facing some stiff competition from senior Matt Fagan and from third-year sophomore Tyler Elsbury.
But Kirk Ferentz has a gift for putting players, especially offensive linemen, at the right position to help reach their potential, so for Ferentz to have switched Jones from defensive tackle to center is reason to be excited.
10. Quinn Schulte: The Cedar Rapids Xavier graduate is listed as the starter at free safety on the spring depth chart. Schulte certainly fits the mold as a former walk-on from Iowa, as was the player he's now trying to replace at free safety – Jack Koerner.
Iowa 2o22 spring open practice
When: Saturday, gates open at 8:45 a.m.
Where: Kinnick Stadium
There is no cost for addmission.