By Pat Harty
IOWA CITY, Iowa – If a person with absolutely no knowledge about Hawkeye football had watched Saturday's open practice at Kinnick Stadium, he or she might have left thinking either Alex Padilla or Joey Labas was Iowa's best quarterback.
However, that's also why you shouldn't draw a conclusion based on one windy spring practice that didn't even last for two hours.
Fifth-year senior quarterback Spencer Petras did little to standout on Saturday, while Padilla and Labas both had their moments in Iowa's final spring practice.
But if Iowa were to play a game tomorrow, it would be a shock if Petras didn't start at quarterback.
Kirk Ferentz likes to say that every position is open during the spring, and while there is some truth to that, the starting quarterback job still appears to be Petras' to lose based on what Kirk Ferentz said when asked if he sees Petras as the leader in the competition right now.'
"Overall, yeah," Ferentz said. "But we're going to keep an open mind. With our whole football team, we'll keep competing."
When asked how Petras has looked during spring practice Kirk Ferentz said:
"I think he has done a lot of really good things. He seems confident, healthy. He throws the ball well."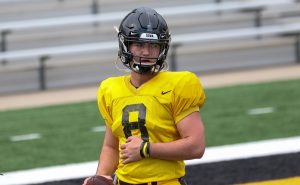 Petras has a respectable 13-6 record as Iowa's starting quarterback over the past two seasons, but some would say that record is misleading since Petras has yet to complete 60 percent of his passes in a season, and since he only threw 10 touchdown passes and nine interceptions last season.
Petras as a fifth-year senior still is very much a work in progress, and he never will be as mobile as Padilla or Labas.
But it still seems to be Petras' job to lose, and that's where fans will just have to trust that Kirk Ferentz will ultimately make the right decision.
Padilla met with the media after Saturday's practice and he talked about why he chose to stay at Iowa rather than enter the transfer portal.
He mentioned a conversation that he had with former NFL head coach Jim Caldwell, who played football at Iowa in the 1970s.
"He came to an alumni panel here and he talked about the transfer portal and how it's changed football," Padilla said. "If you're transferring because you're not playing, you're really running away from the problem. And that's not the way I was raised."
Padilla said it wouldn't have been in his best interest to transfer after last season because he would've had to start all over in a new offense and because he felt he had made strides last season while starting three games when Petras was injured.
There also are risks with entering the transfer portal.
"You're playing with fire when you go in there," said Padilla, a fourth-year junior from Greenwood Village, Colorado. "You never really know what's going to happen.
"But I love it here and love the coaches and I love all the guys on the team."
Padilla said he took about a week after the Citrus Bowl to evaluate his situation before deciding that staying at Iowa would be his best option.
"It really comes down to football at the end of the day," Padilla said. "But there's a lot more factors and influences as well."
While some fans have voiced dissatisfaction with how the quarterback competition has played out, Padilla showed no signs on Saturday of being frustrated with where he stands.
Of course, he wants to be the starter.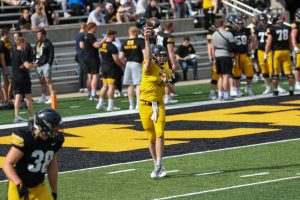 But Padilla also wants to be treated fairly, and he gave every indication on Saturday that he is being treated fairly.
"Coaches have said the best man is going to play and that's the way it goes for not just the quarterback position, but for any position," Padilla said. "Coach Ferentz says it all the time that nobody's job is safe."
Padilla said it only took him about one week after the season to decide to return because he likes his situation at Iowa, on and off the field.
"It didn't take very long because I knew the situation I was going to be in and all the people that are around me," Padilla said.
It also helps that Padilla and Petras are friends despite the competition because that isn't always the case with quarterbacks fighting for a starting position.
"I feel like if you're going into work every day with someone you dislike it wouldn't be as fun just like with any job," Padilla said. "The fact that we're such great friends and we're competing with each other makes it easier."
As for Saturday's practice, Petras faced the daunting task of competing against Iowa's No. 1 defense, and it's fair to say that the defensive line had its way with the starting offensive line as Petras faced constant pressure in the pocket.
Padilla also practiced against a starting defense that was missing several key players, including the top three linebackers, while Labas worked mostly against third- and fourth-team defenders.
The No. 1 defense looked vastly superior to the No. 1 offense on Saturday, but that really shouldn't come as a surprise since Iowa is expected to have one of the top defenses in the Big Ten next season.
Padilla credited offensive coordinator Brian Ferentz, and offensive analyst Jon Budmayr for helping to simplify things this spring.
Brian Ferentz switched from coaching tight ends to quarterbacks after former quarterback coach Ken O'Keefe stepped away from coaching in February.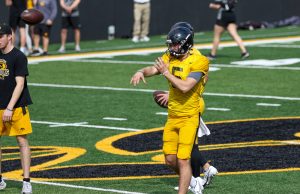 "He has a real large conceptual knowledge of our offense and him bringing Jon in as well, who's more of a quarterback guy, to kind of help him out," Padilla said of Brian Ferentz. "They've been kind of working in conjunction with one another to kind of re-event our thought process."
When asked to assess the competition at quarterback, Padilla talked mostly about just getting better.
"I feel like for Spencer, Joey and myself, we're all kind of focused on individual improvement and that's something Brian has talked about, just improving in areas that you need to work on.," Padilla said "We're trying to do that every day and we talk about it all the time. We want to get a little bit better every day and just focus in on the things we need to work on. We're not really concerned with the competition or whatever. With the reps you get, make the most out of it."
The challenge for Labas as a redshirt freshman is to earn the trust of the coaches.
Based on what Kirk Ferentz said Saturday, that still is a work in progress for the Ohio native, although, Labas gained some valuable experience earlier in the spring when Padilla was out with a minor injury.
"Joe obviously, as I said back five weeks ago, he's behind the other two as far as knowing what to do," Kirk Ferentz. "This was huge for him, to get 15-set practices when Alex was out. That increased his workload a little bit, which was good.
"This will be really helpful for him. Not that he's a first-year guy. This isn't his first spring, if you think about the young guys that came in, too. Having these 15 days, that will really help them accelerate between now and August. Hopefully, they'll be further down the road when we get going then."
Petras has worked in the offseason to improve his quickness and mobility, but it was hard to evaluate him in that respect on Saturday.
He didn't look any different, nor did the offense.
But again, it was just one spring practice, and regardless of what transpired, the starting quarterback job still appears to be Petras' to lose.
And if Alex Padilla has a problem with that, he certainly didn't show it on Saturday.