By Pat Harty
IOWA CITY, Iowa – It was just one practice that lasted less than two hours, and that was hampered by windy conditions.
So, that's why it's probably premature to say that the Iowa football team has serious problems on the offensive line, and with trying to replace Caleb Shudak at kicker.
A argument could certainly be made in both cases, but the sample size is so small that it would seem unfair to assume that the worst will happen based on Saturday's results.
But there is no denying that the No. 1 offensive line was little to no match for the No. 1 defensive line during Saturday's open practice at Kinnick Stadium that marked the end of spring practice.
Quarterback Spencer Petras faced a collapsing pocket on numerous plays, and that certainly speaks well for a veteran defensive line that could be the team's biggest strength next season.
However, it doesn't speak well for the offensive line, but again, it was just one practice.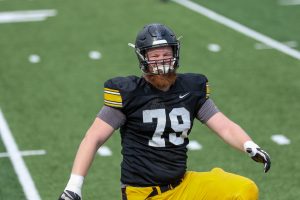 Iowa head coach Kirk Ferentz said after Saturday's practice that he saw the offensive line make progress this spring, and he singled out Jack Plumb and Mason Richman for helping to lead the way.
Iowa has multiple offensive linemen with multiple starts under their belt.
But what Iowa doesn't have on the offensive line is a proven star now that All-America center Tyler Linderbaum has moved on to the NFL as a fourth-year junior.
But even with Linderbaum, Iowa only averaged 123.6 rushing yards per game and 3.4 yards per carry last season.
In fairness to the offensive line, it was pitted against not only a great defense on Saturday, but a defense that knows the Iowa offense perhaps more than any other defense.
But excuses aside, the offensive line has to be better than it was on Saturday.
The running backs hardly had any room to maneuver, while Petras and fellow quarterback Alex Padilla had little time to throw.
The Iowa defense also was missing its top three linebackers due to injuries.
As for the situation at kicker, neither Alex Blom nor Drew Stevens made a strong impression on Saturday.
They both missed about half of their field-goal attempts, with the wind certainly to blame for some of it.
But some of it was due simply to inconsistency, which Kirk Ferentz said is the biggest challenge facing his two kickers right now.
The two kickers also might have been nervous since there were some fans in the stadium, and since it was the last spring practice.
It's easy to take for granted the success of the Iowa kickers over the past five or six seasons with Keith Duncan, Miguel Recinos and Caleb Shudak all having performed at a high level.
Shudak made 24-of-28 field-goal attempts last season, and all 36 of his point-after kicks.
He was arguably Iowa's most valuable player, and he will be missed, on and off the field.
How much he will be missed on the field remains to be seen.
But if Saturday's practice is an indication, Iowa has some work to do at kicker, and on the offensive line.
That's probably the nicest way to put it without getting carried away.