By Pat Harty
IOWA CITY, Iowa – The 2022 Iowa football team concluded spring practice on Saturday with a short practice at Kinnick Stadium that was open to the public.
It was hard to gain much insight from watching just one practice that didn't even last two hours, and that was hampered by injuries and by windy conditions.
But you do what you can.
So, here are 10 observations/opinions from Saturday's practice, and from what Iowa head coach Kirk Ferentz and some of the Iowa players said afterwards:
Spencer Petras is Iowa's starting quarterback and has been the unquestioned starter since heading into the 2020 season.
At least, that's sure how it seems and Kirk Ferentz said as much after Saturday's open practice when asked if Petras was leading the competition at quarterback right now.
"Overall, yeah," Kirk Ferentz said. "But we're going to keep an open mind. With our whole football team, we'll keep competing."
Petras has been leading the quarterback competition since Nate Stanley finished playing at Iowa in 2019.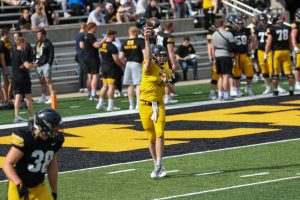 The only thing that has changed since the start of last season is that fourth-year junior Alex Padilla has three starts under his belt and has shown that he can play winning football.
Padilla performed well enough last season when Petras was injured to earn the trust of Kirk Ferentz, but Padilla apparently didn't perform well enough in the three starts to convince Ferentz that he should start over Petras.
It could be that Petras' leash is now shorter, but the fact that Petras, who is 13-6 as a starter, played the entire Citrus Bowl despite struggling in the first half might suggest otherwise.
Padilla said all the right things to the media after Saturday's practice when asked about the quarterback competition. If he is upset with still being behind Petras, he certainly didn't show it.
Padilla also dismissed any talk of him entering the transfer portal, saying he wasn't raised to run from a problem.
Padilla deserves praise for staying the course at a time when many quarterbacks transfer at the first sign of trouble, because it seems pretty apparent that he is still the backup.
**********
2. The Iowa defensive line has a chance to truly be special, even without All-Big Ten defensive end Zach VanValkenburg, who exhausted his eligibility last season.
If Joe Evans can handle being a three-down defensive end after having mostly been used as a pass rusher in each of the past two seasons, the defensive line could be the strongest unit on the team.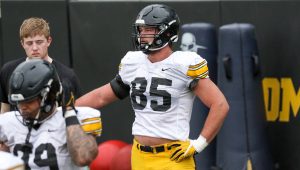 The tackle positions are rock solid with Logan Lee, Noah Shannon, Lukas Van Ness and Yahya Black all having established themselves.
John Waggoner also returns at defensive end after having started all 14 games last season.
"These guys, they live it every day, just the way they operate, everything they do is really first class," Kirk Ferentz said of the defensive linemen. "That's good for guys like Lukas to see this is the tempo these guys work at, this is how we do it.
"Noah especially has done well. John has done very well, in a quiet way. But they're going hard. That makes our offensive line better, too."
**********
3. Redshirt freshman quarterback Joey Labas showed good mobility and the ability to throw on the run in Saturday's open practice.
The Ohio native rolled out either to his right or left on nearly every pass he attempted, and he looked comfortable doing it.
However, it still sounds as if playing time is a long way off for Labas, but there is no denying that he can move a little bit.
"Right now Joe has a ways to go for us to have confidence that he can go out and play," Kirk Ferentz said. "We've seen the other two guys win games for us as the starting quarterback. Not that they won the games on their own. We've won football games with those.
"We played an opponent last year that we knocked their quarterback out and they couldn't respond. That's part of winning football: somebody has to come out and get the job done. I think Joe has a chance."
Labas has become a favorite with some fans as the backup to the backup quarterback.
Since fans already have seen both Petras and Padilla play multiple games, and since the offense struggled with both behind center, there is hope that Labas might be what the offense needs at quarterback.
It's easier to envision greatness from somebody who has yet to play because there is no proof, or evidence, to show why it won't happen.
**********
4. Sam LaPorta's decision to return for his senior season was huge for not only what he brings to the tight end position, but also for his leadership.
"Some guys just have a certain knack or air about them. He's had that," Kirk Ferentz said of when LaPorta arrived at Iowa. "It's a little bit ironic because he was not a five-star recruit. Took us a while to figure it out. Thank goodness we did.
"Since the day he walked in here, he acts like a football player. I hate to use the word 'natural' because it suggests guys haven't worked at it. He makes decisions, has a knack for doing things the right way. That's good to see. He's got a confidence about him, an air about him, just the way he is naturally. He's one of those guys that people gravitate towards."
LaPorta is the latest in a long line of standout tight ends at Iowa, and he is without question the favorite target for Spencer Petras.
LaPorta led Iowa with 53 receptions and 670 receiving yards last season. He can make difficult catches in traffic, and he can gain yards after the catch.
His blocking also has improved.
The Illinois native is everything you want in a tight end, and in a teammate.
"I hope it's an amazing year for myself and my teammates alike," LaPorta said after Saturday's practice.
"I think we all have high expectations and high goals set for ourselves, and we're really excited for the season.
"I'm so glad every day that I came back and made that decision."
**********
5. Jermari Harris' recent arrest for driving under the influence will almost certainly cause the junior cornerback from Chicago to miss the 2022 season opener barring a change in his case.
"Unless something else comes up, that's kind of been our standard, yep, with football," Kirk Ferentz said Saturday when asked if Harris would be suspended for the 2022 season opener.
Ferentz was asked Saturday for his reaction to Harris' arrest.
"'I'm not happy," Ferentz said. "Most importantly I think he feels bad about it. Seems to really feel bad about it. If there's a positive, he was able to walk away without hurting another person or himself.
"That's going to be a hard price to pay. It's unfortunate. You have to remind yourself you have a hundred-plus people that sometimes make bad decisions."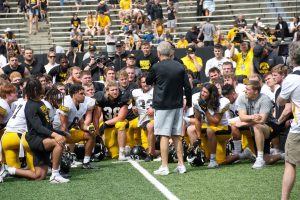 The Iowa football program has dealt with more than its share of adversity over the past two to three years, due mostly to the global pandemic, and to the racial unrest from the summer of 2020.
But as far as being good citizens, the players have mostly held up their end of the deal.
While one drunken driving arrest is too many, there is no pattern of behavior.
It is difficult to think of Iowa players who have ran afoul of the law in recent years.
Harris will learn from his mistake, and will move on, hopefully, with a better understanding of the risks with driving while impaired.
Some of the best players in program history have made the same mistake. They were disciplined and then made sure it never would happen again.
Jermari Harris now faces that same challenge.
**********
6. The Iowa offensive line looked overmatched and overwhelmed during much of Saturday's practice when competing against the No. 1 Iowa defensive line.
You figured the veteran defensive line would have its way with the Tyler Linderbaum-less offensive line. But it was maybe even more one-sided than expected.
That's a concern for sure.
But it also might ultimately be a positive if the offensive linemen learn from being outperformed in practice.
They spent the past five weeks competing against what should be one of the top defensive lines in college football.
Sometimes, being humbled, even humiliated, can be beneficial down the road, and can light a spark.
**********
7. The injury factor is always a storyline during spring practice, but this spring it became perhaps the storyline due to the high number of injuries.
For example, Iowa's top three linebackers, Jack Campbell, Seth Bensen and Jestin Jacobs, missed all of spring practice due to injuries
Receiver Keagan Johnson didn't participate in the open practice on Saturday, presumably due to an injury.
Safety Kaevon Merriweather has been out this spring because of an injury.
Quarterback Alex Padilla missed some practice time this spring due to an injury.
In fact, Iowa had to lessen the practice load somewhat this spring to compensate for the injuries.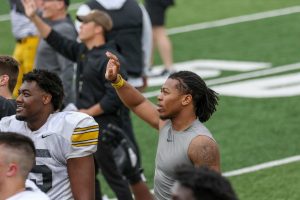 Kirk Ferentz was making his opening statement to the media following Saturday's open practice when he brought up injuries.
"Then the other thing you notice the volume of work we're doing right now is a little bit less, it's been like that all spring because of the injuries," Ferentz said. "We had talked how we're going to do spring practice a couple months ago, then injuries almost kind of forced our hands, cutting back some of the reps, especially for guys that have played. We have a couple guys you can predict what they'll look like when we get going."
This is probably just one of those strange occurrences rather than a sign that this Iowa team is injury prone.
It's also reasonable to assume that some of the injured players were just being extra cautious, because as important as spring practice is from a developmental standpoint, it's still not the real thing.
**********
8. Saturday's open practice was stopped briefly so the players, coaches and fans could perform the Wave, which is now being called the greatest tradition in sports.
While that is a matter for debate, what is certain is that the Wave is now a huge part of Hawkeye football. The bond between the children in the hospital and the players and coaches is deeply embedded in the Iowa culture and will only get stronger.
**********
9. How will this team respond if kicker isn't a strength next season?
It's been a while since Iowa hasn't had a star kicker, thanks to Keith Duncan, Miguel Recinos and Caleb Shudak.
But if the performance of Iowa's two kickers in Saturday's open practice is a sign of things to come, that could change next season.
Aaron Blom and Drew Stevens both missed about half of their field-goal attempts, and while it was windy, Kirk Ferentz didn't seem willing to use that as an excuse.
"We are going to play in games conditions like this most likely next fall if not every week," Ferentz said. "Going to have to learn that, too. Whole different discussion. Hasn't been a great spring weather-wise."
**********
10. Iowa has to replace three starters in the secondary, which is a concern, but defensive coordinator Phil Parker usually rises to the occasion in these kinds of situations.
He reloads in the secondary rather than rebuilds, at least most of the time.
And there is usually an unheralded walk-on in the mix at a safety position.
From Derek Pagel to Sean Considine to Brett Greenwood to Jake Gervase to Jack Koerner, the list of former walk-ons who became multi-year starters at safety is long and distinguished.
Cedar Rapids native Quinn Schulte, a fourth-year junior, could be next in line.
He was listed as the starter at free safety on the spring depth chart and Kirk Ferentz spoke highly of the former Cedar Rapids Xavier standout after Saturday's open practice.
"He's quietly done a really good job," Kirk Ferentz said. "You think about a guy like Jack Koerner who played so well, so long. Q, he's improved with every turn. We were talking about Cooper (DeJean), him getting more comfortable, growing. I think Quinn has done the same thing.
"He's done a really good job. Hasn't really been noticeable, I don't mean that in a bad way. Always start there. Balls aren't going over his head. That's a really good thing. He just plays steady. He's where he should be, makes the plays he should make. That's really good. He's still a young player. He's done a really good job."