By Pat Harty
IOWA CITY, Iowa – When trying to pick one thing that Kirk Ferentz does better than anything else as a head football coach, his knack for putting players, especially linemen, at the right position would deserve serious consideration.
It might take a while in some cases for success to happen, but more times than not it seems that Kirk Ferentz gets it right with position changes, his latest shining example being former Iowa All-America center Tyler Linderbaum, who is considered a lock to be selected in the first round of the 2022 NFL Draft on Thursday.
Linderbaum was recruited as a defensive tackle and played that position throughout the 2018 regular season as a true freshman before switching to center during preparation for the 2019 Outback Bowl.
Kirk Ferentz had a feeling that Linderbaum was better suited to play center, and to say that Ferentz was right in this case would be an understatement.
Iowa's 66-year old head coach looks like a genius in this case.
His offense might be boring and predictable at times, but Kirk Ferentz knows a potential star offensive lineman when he sees one.
And it doesn't take being an offensive lineman for Ferentz to recognize potential greatness.
Some of Iowa's best offensive linemen under Kirk Ferentz, including Robert Gallery, Eric Steinbach and Bruce Nelson, played a different position when they joined the team.
That's why it's easy to get excited about the recent decision to switch Logan Jones from defensive tackle to center because the circumstances are so similar to Linderbaum's position switch that you can't help but get excited.
And then on top of that, Jones is now wearing Linderbaum's jersey No. 65, and that only strengthens the connection.
"Obviously, Lindy is a great player and if I can live up to what he's done, not only as a player, but a person, I'll be proud of myself," Jones said after last Saturday's open practice at Kinnick Stadium, which marked the end of spring practice.
Jones said he texted Linderbaum to ask if he could wear his number.
"He was like, yeah, I don't care. It's a number," Jones said. "So, he was cool with it."
It actually is more than just a number.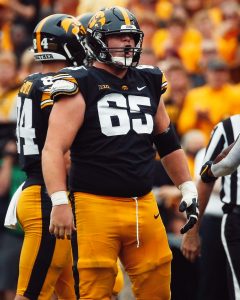 Linderbaum set an incredibly high standard as a Hawkeye center, winning the 2021 Rimington Award as the best collegiate center, and now Jones has a chance to live up to that standard, or at least strive for it.
"It's a lot of pressure," said Jones, who is a third-year sophomore from Council Bluffs.
There also are two big obstacles standing in the way of Jones succeeding Linderbaum as the starting center, and that would be senior Matt Fagan and sophomore Tyler Elsbury.
They both were listed ahead of Jones at center on the spring depth chart, with Elsbury listed first.
It's easy to get caught up in the Linderbaum comparison and forget that Jones still has to win the starting job, and that he's playing center for the first time.
Jones is inspired by Linderbaum's improbable rise to stardom because it shows that anything is possible, and that Kirk Ferentz knows how to identify potential star centers.
Jones admires the way Linderbaum conducted himself as a Hawkeye, setting a high standard on and off the field.
"It was not just what he did on the field," Jones said. "In the locker room everything."
Linderbaum also impressed Jones with his humility.
"He's the Rimington Trophy winner, you'd think he's like some God, but he comes in and he's humble," Jones said. "You just look up to people like him."
Jones said he reached out to Linderbaum for advice while going through the process of switching positions, and that Linderbaum encouraged him to embrace the switch.
"He was like, you should do it," Jones said.
The move itself isn't easy, to go from tackling and shedding blocks as a defensive tackle to snapping the football, calling out blocking responsibilities pre-snap and blocking as a center.
Linderbaum just made it look easy.
"When changing positions there are a lot of challenges," Jones said. "Snapping was brutal. Getting the plays down, my footwork and going against the defensive line guys."
Jones had to get used to competing against his former defensive line buddies. They had spent countless hours together over two seasons, so it wasn't easy to leave the group.
"Just going against them it was hard to really be serious about it, and then I had day where I was like, okay, I've got to beat these guys, just like beating my old brothers" Jones said.
Even though he was recruited as a defensive lineman, Jones said switching to center was in the back of his mind when he came to Iowa in 2020.
Linderbaum already had started at center for one season in 2019 when Jones joined the team.
"I mean, kind of yeah, it was in the back of my mind because I know Lindy did it and they were kind of talking about it like it's a joke when I first got here," Jones said.
Jones met with Kirk Ferentz to discuss switching positions and Ferentz told Jones to think about it and that he wanted what is best for Jones as a football player, and what is best for the team.
Jones said it took about a week for him to decide to make the switch.
He struggled with having to leave his friends on the defensive line, and with having to leave defensive line coach Kelvin Bell, with whom he had built a strong relationship.
"I think the biggest thing for me was just leaving the defensive linemen," Jones said. "We created such a strong bond and leaving them and going to another room was probably the hardest part for me. Especially coach Bell, he recruited me and everything, so leaving him was hard.
"But they understood, and they supported the decision,"
It's also hard to question the position switch, given Kirk Ferentz's track record.
Ferentz explained his reason for wanting to switch Jones to center after last Saturday's open practice.
"It's a combination of what he might be able to do, then a combination of what our depth is," Kirk Ferentz said. "That's really what led us to this move. We try not to move guys just to move them. If there's a good rationale for it, we'll have a discussion."
Ferentz said the decision to switch Jones to center was his almost exclusively, and had been in the back of his mind since Jones became a Hawkeye.
"This one I might have gone – what do they call it – rogue, where you go on your own and do it," Ferentz said. "The defensive guys are talking to me again now, all that stuff. We've moved beyond it. They weren't happy."
Ferentz was joking about the defensive guys not being happy because they all want what is best for the team, and for Logan Jones.
It was the same way when Linderbaum made the switch that ultimately changed the course of his life.