By Pat Harty
IOWA CITY, Iowa – Iowa offensive coordinator Brian Ferentz seemed stunned, but was also flattered by the question.
A reporter wanted to know what separated Brian Ferentz from Tyler Linderbaum as a center in football.
The reporter pointed out when asking the question in late March that Brian Ferentz actually had a lot in common with Linderbaum as a former Hawkeye center who also had started multiple games and was a team captain.
Brian Ferentz was also similar in size to Linderbaum when Brian played for the Hawkeyes from 2003-05, and they both grew up just miles from the University of Iowa campus, Brian Ferentz in Iowa City and Linderbaum in Solon.
The reporter pointed out all their similarities, and yet, Brian Ferentz still seemed sort of dumbfounded by the question.
"I'm so flattered right now," Brian Ferentz said at a press conference. "I'm serious, I just swelled with…that's insanity and that will be the last time I'm ever mentioned in the same breath with Tyler Linderbaum as a player. Let me just relish it for second."
Brian Ferentz then spoke in great detail about why comparing him as a center to Linderbaum is insane.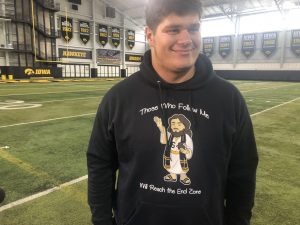 Brian Ferentz compared Linderbaum's approach to the game to how former Iowa offensive linemen and current NFL All-Pros Brandon Scherff and Tristan Wirfs play football.
"What separates him, his physical ability, that's probably number one that separates him," Brian Ferentz said of Linderbaum, who as a fourth-year junior is considered the top-rated center in the 2022 NFL Draft, which starts on Thursday with the first round in Las Vegas. "It's like Brandon or Tristan when you combine someone's physical ability.
"But what always separated Brandon in my mind was the way he chose to play football. He had all the ability in the world, but I've coached a lot of guys that had a lot of ability, and I've seen a lot of guys that have ability, and I've played with a lot of guys that had ability. He maximized every ounce of what he had at all times. And that's how Tyler Linderbaum plays the game."
Brian Ferentz, who is the son of Iowa head coach Kirk Ferentz, isn't the only person that feels that way about Linderbaum, who started 35 consecutive games at center for Iowa after switching from defensive tackle late in his freshman season in 2018.
Linderbaum is poised to become the 11th first-round pick of the 24-year Kirk Ferentz era, the sixth offensive linemen under Kirk Ferentz to be taken in the first round and the first center to be picked in the first round under Kirk Ferentz.
The five previous Ferentz-era first-rounders on the offensive line are Robert Gallery (No. 2 overall in 2003), Bryan Bulaga (No. 23 in 2010), Riley Reiff (No. 23 in 2012), Brandon Scherff (No. 5 in 2015) and Tristan Wirfs (No. 13 in 2020).
There are reports that Linderbaum's stock has fallen and that he might slip to the second round, but it only takes one team to like you, even in the first round where there are financial advantages to being a first-round pick. There are 32 picks in the first round and with it comes a four-year rookie deal worth millions, and with a potentially lucrative team fifth-year option.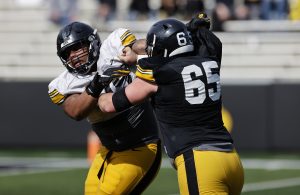 NFL teams conduct extensive background checks and the more you learn about Linderbaum, the better he seems.
His arm length at 31⅛ inches is considered short for an NFL center where 33 inches is considered typical.
But that's about the only blemish on Linderbaum's portfolio.
His film from Iowa certainly speaks for itself, as does his high character, which Brian Ferentz also raved about during his extended answer to the question about what separated Linderbaum from him as a center.
"And that's why you miss him even more as a person, as a teammate, as an example for the rest of the football team than you miss him as a player," Brian Ferentz said. "We've played with bad centers and won games, so we got away with it. But I look at any of our good centers and it's a mentality. We've had a good run, but his mentality and his physical ability combined, that's why he is rare.
"He's like a unicorn. You'll be chasing those forever. But when get one, just enjoy it and then when somebody walks in here and is crazy enough to make a comment like (that), or like a comparison you made, really enjoy it because the hard part for me, because I feel confident that I know football and I know offensive line play, the hard part for me is the absurdity of what you just said. It's an insane comparison."
On a different level
Brian Ferentz still wasn't finished gushing over Linderbaum.
He even praised Linderbaum at the expense of former Iowa offensive lineman Austin Blythe, who currently plays in the NFL after having been a multi-year starter at Iowa.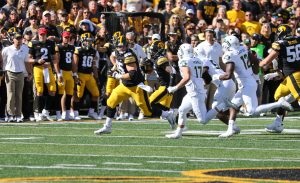 "He's so good. I mean that," Brian Ferentz said of Linderbaum. "He is so good. He's on a different level than most players, guys that I have a tremendous amount of respect for as players.
"Austin Blythe, I think he's a great football player and I love him. But if we're playing pickup football and I've got one pick, I'm taking Linderbaum. Now Blythe is going to be mad at me, but that's just the truth."
Kirk Ferentz, whose are of expertise is the offensive line, deserves credit for changing the course of Linderbaum's life with the position switch.
Kirk Ferentz was an NFL offensive line coach for six seasons from 1993-98, so he knows what is waiting for Linderbaum, and hardly seems concerned about Linderbaum's arms being a little short by NFL center standards.
"It's funny, every draft is different," Kirk Ferentz said. "Every team is different in how they do it. But Tyler is kind of unusual. I told the guys at pro day, there's really not a lot to tell you because everything he is, it's on film. I guess his arms weren't quite as long as somebody wants. We have a lot of guys like that, too. Had a bunch of them. (Brandon) Scherff just signed a pretty good contract. I'd rather have a guy that has his arms half an inch short that can actually block guys trying to block them.
"Everything he does, his résumé is on film. You meet the guy, had a couple teams comment on what their interview was like. One guy said he could probably coach our offensive line. It was that detailed, that thorough."
Kirk Ferentz believes that whichever NFL teams picks Linderbaum will benefit greatly, on and off the field.
"I've sat on that side of the fence for six years." Kirk Ferentz said. "The one nice thing, any coach appreciates just knowing what you're going to get, really knowing. I think that's the best thing I can say about Tyler. Whatever they think they're getting, that's what they're getting, probably plus some.
"He'll be a guy in my mind that's going to play the next 10, 12 years, play really well. Be a great guy on the team, in the locker room, all those things that are really invaluable."
He was just incredible
Former Iowa All-America tight end Marv Cook has no doubt that Linderbaum will thrive in the NFL, just as Cook thought Linderbaum would thrive at Iowa.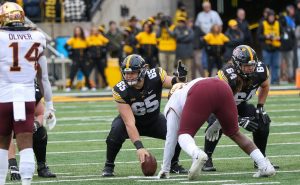 Cook has a unique perspective as a former NFL All-Pro tight end, and as the former head football coach at Iowa City Regina where he faced Linderbaum and the Solon Spartans on a yearly basis.
Linderbaum in addition to football, also played baseball, wrestled and competed in track and field in high school.
And he was really good in all four sports.
"He's got a chance to be incredible, and he is incredible," said Cook, who retired from coaching after the 2020 season, and after having led Regina to seven state titles. "In high school, he was a phenomenal athlete first and foremost. Whatever he was doing, he was great at it.
"And then in football, he was just incredible, physical. He played fast and played physical and was dominant. He elevated our kids and then moved them. Our kids would get after you, but he was just incredible. He played with great leverage all the time, great hands. And if he got into you, you were in big trouble."
Linderbaum drew similar praise as a Hawkeye.
He was named the winner of the 2021 Rimington Award, which goes to the nation's top collegiate center.
Linderbaum made the switch from defensive tackle to center look incredibly easy, but those with knowledge of the game say that is rare.
Cook thinks Linderbaum would've also been a great defensive tackle for Iowa, but Cook certainly understands why Kirk Ferentz moved him to center.
"The other thing you don't notice is how great a snapper he is," Cook said. "I don't ever remember him having a bad snap in the shotgun.
"It's so critical in the passing game and the running game to have a great snapper."
Linderbaum suffered a scare in the 23-20 loss to Kentucky in the Citrus Bowl when he limped off the field with about 6 minutes left in the fourth quarter with what was later diagnosed as a Lisfranc mid-foot injury. The good news is that the x-ray was negative for a fracture and he is now fully recovered.
Linderbaum returned to the game after missing just one series, showing both his toughness and his loyalty to Iowa.
As for his short arms, NFL draft guru Mel Kiper Jr. doesn't seem too worried.
"Some NFL teams are put off by Linderbaum's short arms, but just watch the tape," Kiper Jr. wrote recently. "He has the physical traits to be an All-Pro and is exceptional as both a run and pass blocker. He's exactly what the Jets need, and this is tremendous value."
Linderbaum is among three former Iowa players that could be selected in the seven-round draft with running back Tyler Goodson and defensive back Dane Belton the other two.
All three players declared as juniors, but unlike Linderbaum, who is a fourth-year junior, Goodson and Belton only played three seasons at Iowa.
Round 1 of the 2022 NFL draft will kick off on Thursday at 7 p.m. CST and rounds 2-7 will follow on Friday and Saturday.
Iowa has had 79 players under Kirk Ferentz selected in the NFL Draft dating back to the 2000 draft.
https://twitter.com/HawkeyeFootball/status/1513624635228803092?s=20&t=DMadadZsK1Czsn11eLCZhA