By Pat Harty
IOWA CITY, Iowa – The next to last day in April will forever be an emotional day for Eppy Epenesa because that was the day his friend and former Iowa teammate Ryan Driscoll was born on April 29, 1974.
This Friday would have been Ryan Driscoll's 48th birthday, and Epenesa would've loved nothing more than to be able to wish his friend and former Iowa football teammate a happy birthday.
But sadly, Driscoll passed away on Dec. 5, 2018 of an apparent heart attack.
His death left Epenesa feeling gutted and in shock.
It came with no warning, as so many heart attacks do.
One minute Driscoll, a former Iowa quarterback under Hayden Fry, was living his life in Illinois as a husband to his high school sweetheart and father to two daughters, and the next minute he was dead.
"I cried like a baby. I couldn't speak. I couldn't talk," Epenesa said Wednesday in a telephone interview. "There were so many of our friends that called to get a hold of me, but I didn't want to talk to anybody. I didn't want them to tell me that it was true. I didn't want them to tell me that it was real."
Epenesa eventually came to accept the cruel fact that his friend and former Iowa teammate was gone, the teammate who had helped Epenesa make the transition from being a little-known walk-on defensive lineman from American Somoa to being an Iowa Hawkeye go so much smoother.
Epenesa still struggles with the sobering reality that his friend is gone.
"Sometimes, if I'm by myself, I'll just start crying if I think about Ryan," Epenesa said.
Friday will be bittersweet for Epenesa as he and others whose lives Driscoll touched will pay tribute to Driscoll on his birthday.
"We always send messages to each other to never forget," Epenesa said. "Gone too early, but never forget."
A special t-shirt
Epenesa does a lot more than just send messages to keep Driscoll's memory alive.
That was apparent last Saturday at Iowa's open practice to conclude spring practice.
Epenesa was there to support his son, redshirt freshman walk-on linebacker Eric Epenesa, but also to support and promote the memory of Ryan Driscoll.
That's why Eppy Epenesa, as he so often does at Iowa football games, wore a black t-shirt with the number seven on the front and Driscoll's name on the back to Saturday's practice at Kinnick Stadium.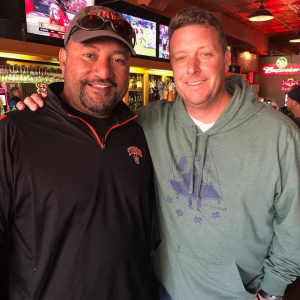 Epenesa has made it his mission to keep Driscoll's memory alive.
"I always like to make him fly wherever we go because we used to go to these games with him and we always talked about cheering for Iowa," Epenesa said. "So, it always reminds me of that guy because he is Iowa. To me, that guy is Iowa, everything Iowa."
Epenesa's oldest son, A.J. Epenesa, was an All-America defensive end at at Iowa where he played from 2017-19, and he now plays for the Buffalo Bills.
Eppy Epenesa is proud that both of his sons chose to follow in his footsteps by playing for Iowa, and he sometimes will wear their Hawkeye jersey to express how he feels.
But Eppy Epenesa also wears Driscoll's number seven jersey, and his two sons understand and admire his reasons for doing it.
"My kids don't care," Eppy Epenesa said. "They know I love Ryan. So, sometimes I wear my kids' jersey and sometimes I wear Ryan's just to remind myself and my family that somebody reached out and helped me. I share those stories with my kids. It's like when you get a chance to help somebody don't be afraid to go all the way."
Birth of a friendship
Eppy Epenesa had lots of friends on the Iowa football team, from Tim Dwight to Jared DeVries to Casey Wiegmann to Randy Reiners, but Driscoll stood out.
His friendship with Driscoll started in many ways with a ride in Driscoll's Jeep one day after practice.
Driscoll saw Epenesa walking from the football facility and pulled over to offer him a ride.
From their a life-long bond was formed.
"He didn't have to do it, for an island boy who comes from the island, nobody knew who I was," Epenesa said. "I'm probably the only person that walked from the (football) facility to Slater Hall after practice. Everyone else had cars. I'm the only one that walked.
"But he had a Jeep and he stopped one time and picked me up and he never stopped picking me up. Ryan was always coming with that Jeep and stopping when he saw me walking. He'd make a point to come over and pick me up and drop me off at the dorm and then go back to his house. And he always offered me a car because he knew I didn't have a car to go to the grocery store or do something like that."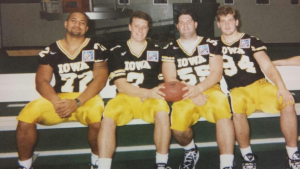 Epenesa transferred to Iowa after having started his college football career at NAIA Iowa Wesleyan in Mount Pleasant. He wanted to play on a bigger stage and he wanted to get the most out of his decision to leave his homeland to play college football.
In fact, Epenesa wanted to be a Hawkeye so much that he chose to walk-on and move to a place he knew little about.
Epenesa was in a strange and far away place with no car and very few friends, or even acquaintances outside of the Iowa football program when he first arrived in Iowa City.
He was at risk of becoming homesick and overwhelmed by his circumstances in Iowa City, and it's as if Driscoll knew that Epenesa was vulnerable.
So, he became his friend, which is exactly what Eppy Epenesa needed at the time.
Epenesa was in a strange and far away place with no car and with very few friends, or even acquaintances outside of the Iowa football program when he first arrived in Iowa City.
"He didn't have to reach out and help me, but he did," Epenesa said. So, when he passed, it was really hurtful. It was a sad time. It still makes me sad because I miss my friend every day.
"His birthday on Friday will be very emotional."
Driscoll after visiting his parents in Marion would often bring back a casserole or some other type of dinner dish for Epenesa to have.
Driscoll's family only lived about 30 minutes from the Iowa campus, while Epenesa's hometown was over 6,000 miles from Iowa City in the South Pacific.
"I'd come home and there would be a casserole or something else in the refrigerator waiting for me," Epenesa said. "Ryan was always doing little things to make my life easier when he didn't have to. That's just how he was, a great friend."
After having lived in the Slater Hall dormitory during his first year at Iowa, as most first-year players do, Epenesa had the opportunity to live off campus if he so desired.
And once again, Driscoll came through for his friend by offering Epenesa a place to stay in a house in which Driscoll and Iowa teammates Jared DeVries, Casey Wiegmann and Ian Davis were all renting.
"He's the one that offered me a spot where all the veterans lived," Epenesa said. "He offered me a place to stay.
"He was always thinking of me and doing whatever he could to help me. He was my friend."
Epenesa and Driscoll remained close after college as they would often attend Iowa football games together, and with other former Iowa teammates, including former quarterback Randy Reiners.
However, finding the time to attend Iowa games became more difficult after Epenesa and his wife started to raise a family.
But he and Driscoll still remained close friends up until that horrible December day in 2018.
"It's just emotional talking about Ryan most of the time, and especially when I wear a shirt with his name or something like that to Iowa," Epenesa said. "There are just so many people that approach me that say they know the family, they're from Cedar Rapids, they went to Linn-Mar, or played with him, or coached him.
"I really touches me because I know when I left Iowa, he and Randy Reiners were always inviting me to to go to football games and to other sporting events. Ryan always included me in everything, but I was so busy when I left Iowa with my kids."
Just be nice
Epenesa said he raised his kids to understand and appreciate the importance of helping people and just being nice to people. He would often use the way Driscoll befriended him at a critical point in Epenesa's life to help convey his message.
"When I first came to Iowa, I was the outsider coming in and nobody knew who I was, but for Ryan to give me a chance to flourish as who I am and flourish in my way of playing, it's super important to me that somebody reached out to help me," said Epenesa, who lettered at Iowa in 1997. "So, that's what I'm always trying to teach my kids, wherever you go, just be nice. You never know who you could be meeting when you go to these places."
Driscoll treated Epenesa the way in which Epenesa was raised to treat people, with kindness and with compassion because that's what good and honorable people do.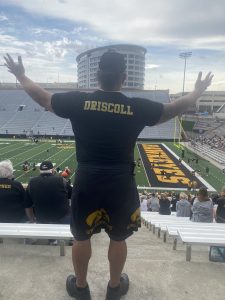 "We were brought up that way," Epenesa said. "I was brought up that way by my parents. Make sure that we respect our elders and make sure that we respect the people around us. And then take care of people. Just take care of them. Love them and take care of them.
"And for Driscoll to do that to me is something that I will never forget. So, I'm just trying to continue his legacy by wearing his shirt."
Some fans make the mistake when they see Epenesa wearing a jersey or a t-shirt with the number seven that he's honoring current Iowa quarterback Spencer Petras.
"People came up and say number seven ,you like Spencer? And I say, of course, I like Spencer," Epenesa said. "But this is not Spencer's number, and then I'll show (the name) on my back and say this is a quarterback way before Spencer. I always tell them this is a different guy.
"Most of the parents don't know. I've explained to a lot of the parents who this guy is. But Iowa folks, people from the state of Iowa, they know who is."
Driscoll was a multi-sport star at Linn-Mar High School in the early 1990s, and was considered one of the top high school quarterbacks in the country as a senior.
And though he never achieved stardom as an Iowa quarterback, Driscoll never let that effect the way he treated people, and he also stayed the course at Iowa instead of transferring.
Epenesa said it means so much to him when Iowa fans acknowledge Driscoll's jersey because Epenesa knows that he's helping to keep his friend's legacy alive.
"When I come back wearing something Driscoll and people say something to me about Driscoll and what I'm wearing, number seven, I always know he's there," Epenesa said. "I say he's here because all his people are coming over to speak to me. So, he's here.
"It's just super special, but it gives me a teary eye when somebody talks to me about him. I'm like, 'okay, my man is here again.' It doesn't matter where I go in Iowa, every time I wear something with his name on it, it really melts my heart when people come up and talk to me about it."