By Pat Harty
IOWA CITY, Iowa – Tyler Linderbaum became the 11th Iowa player under Kirk Ferentz to be selected in the first round of the NFL draft, and the eighth since 2010, as the Baltimore Ravens selected the former All-America center with the 25th pick overall on Thursday.
Linderbaum is also the sixth Iowa offensive lineman under Kirk Ferentz to be taken in the first round, the first center to be picked in the first round under Ferentz, and the 80th Hawkeye overall to be selected under Ferentz.
A native of Solon, Linderbaum soared to stardom as a Hawkeye after swithing from defensive tackle to center late in his true freshman season in 2018. He was recruited to play defense, but Kirk Ferentz felt that Linderbaum had more potential as a center, and Ferentz obviously was right in this case.
Linderbaum would go on to start 35 consecutive games at Iowa and is considered the top center in the 2022 draft.
He suffered a scare in Iowa's 23-20 loss to Kentucky in the 2022 Citrus Bowl when he limped off the field with about 6 minutes left to play with what was later diagnosed as Lisfranc mid-foot injury. Linderbaum returned to the game after missing just one series and there was no fracture.
He has since fully recovered and is now ready to compete at the highest level of football as a first-round pick, which brings with it a multi-million, four-year contract.
There were reports that Linderbaum's draft status had fallen and that he could slip out of the first round due partly to having arms that are considered short for an NFL center at 31 1/8 inches.
The typical arm length for an NFL center is 33 inches.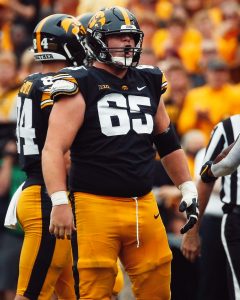 "His short arms showed up and that scared everybody to an extent," said NFL draft guru Mel Kiper Jr. "But he's an Iowa kid coming in with that wrestling background. He's a very athletic center, He's a great leader. He's flawless in pass protection. He's got all the skills in the world necessary to be a Pro Bowl-caliber player."
Linderbaum was a standout wrestler at Solon High School, and perhaps his most impressive win was when he pinned Mount Vernon native Tristan Wirfs, who would go on to be a star offensive lineman at Iowa and a first-round pick by the Tampa Bay Bucceneers in 2020.
Former NFL defensive lineman Anthony "Booger" McFarland, who works for ESPN, dismissed the concern about Linderbaum's arms being too short.
"I don't care about short arms," McFarland said.
McFarland believes that Linderbaum's wrestling background could help him in the NFL.
"How does a wrestling backgound play into football?" McFarland asked. "The ability to drop your butt and anchor, low man wins and with a wrestling background you know how to do it all.
"Let's see how it translates to the football field, the wrestling background."
The Ravens already have hit the jackpot once by selecting an Iowa offensive lineman as Marshal Yanda would go on to become an All-Pro guard for Baltimore after being selected in the third round of the 2007 draft.
There could be at least two more Iowa players taken in the seven-round draft with defensive back Dane Belton and running back Tyler Goodson both considered potential picks.
Belton and Goodson are also juniors, but unlike Linderbaum, who is a fourth-year junior after having been redshirted, Belton and Goodson only played three seasons at Iowa.
Rounds two and three of the draft will be held Friday followed by rounds four through seven on Saturday in Las Vegas.
The Call.
The Celebration.@TLinderbaum#NFLHawks | #NFLDraft pic.twitter.com/nHGHorp0FD

— Hawkeye Football (@HawkeyeFootball) April 29, 2022
https://twitter.com/HawkeyeFootball/status/1519877535558950912?s=20&t=D8j2J44Td2VmcbX4HBFi_Q