By Pat Harty
IOWA CITY, Iowa – Imagine breaking rules as a football program, but still performing woefully at what caused you to break rules.
Actually, it doesn't have to be imagined, thanks to Scott Frost and the Nebraska football program.
It was announced on Monday that Nebraska received a one-year show cause penalty from the NCAA and a five-day suspension from all coaching duties during the upcoming season.
The school was also fined $10,000 after it was determined by the Division I Committee on Infractions that Nebraska violated NCAA rules for countable coaches during the 2020 season, and that Frost violated head coach responsibility rules.
An investigation showed that Nebraska failed to monitor former special teams analyst Jonathan Rutledge.
He was allowed to provide technical and tactical instructions to players during practices and film sessions, and he also participated in tactical decisions during games.
However, because Rutledge was a non-coaching staff member, his instruction and consulting with student-athletes exceeded the number of permissible coaches, which is an NCAA violation.
It might appear to be a minor violation in the big scheme of things, but on the other hand, rules are rules.
As for Frost, it was determined that he did not appropriately monitor Rutledge or notify compliance staff that violations had occurred.
So, all of this was going on, and yet, Nebraska still was lousy on special teams during the 2020 season, and has been lousy during most of Frost's time as head coach for his alma mater.
Nebraska finished ranked 115th nationally in ESPN's specials teams efficiency ratings in 2020 and 128th last season, and 64th among 65 Power Five teams.
Nebraska also finished 120th nationally in 2019.
Those are dreadful numbers, and they make you appreciate the stability on special teams that Kirk Ferentz has established at Iowa.
Iowa won the Big Ten West Division last season and finished 10-4 overall, thanks mostly to special teams and defense.
Kirk Ferentz's decision to name LeVar Woods as special teams coordinator in March 2017 has made a team strength even stronger.
Every coach will tell you that special teams is just as important as offense and defense, but for some coaches, the emphasis stops right there.
Iowa practices what it preaches about special teams and it often pays dividends on the field.
Of all the statistics that contributed to Iowa's success last season, Caleb Shudak making 24-of-28 field-goal attempts and Tory Taylor averaging 46.1 yards on 80 punts were arguably two of the most impactful.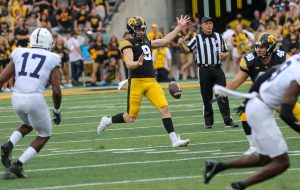 "He goes over everything in such great detail," Taylor said of Woods during the regular season. "We're prepared for anything that happens on special teams because we work so hard to be prepared."
Iowa often won the battle for field position last season, thanks to Taylor's booming punts, and that's a big part of how Iowa wins under Kirk Ferentz.
Nebraska scored 335 points in 12 games last season, which is seven more points than Iowa scored in 14 games last season.
And yet Iowa won 10 games, which is seven more games than Nebraska (3-9) won last season.
While many factors contributed to Iowa winning seven more games than Nebraska last season, the gap between the two teams on special teams was perhaps the biggest factor.
Iowa found ways to win games last season, thanks often to special teams, while Nebraska found ways to lose games because of special teams.
Iowa defeated Nebraska 28-21 last season and the difference on special teams was glaring as Shudak made all four of his field-goal attempts, while Henry Marchese blocked a punt that was returned 14 yards for a touchdown by linebacker Kyler Fisher in the fourth quarter.
Former Iowa kickers Keith Duncan and Miguel Recinos also made last-second field goals to beat Nebraska.
Frost has gone from being the savior of Nebraska football to now coaching for his job next season.
His inability to fix things on special teams, even despite breaking rules, could be what ultimately leads to his demise.