By Pat Harty
IOWA CITY, Iowa – Connor McCaffery will look back some day at the 2021-22 Iowa men's basketball season and feel good about what was accomplished because there is a lot to feel good about.
But that day isn't here yet.
Nearly two months after Iowa's 67-63 loss to Richmond in the first round of the NCAA Tournament, Connor McCaffery still feels horrible when he thinks about losing as a five-seed to a 12-seed, and about what could've been for an Iowa team that won the Big Ten Tournament and 26 games overall.
"I still get sick to my stomach about the Richmond game," Connor McCaffery said Wednesday on the Hawk Fanatic radio show and podcast.
In just four days in March, Connor McCaffery and his teammates and coaches went from being on top of the Big Ten world to being one of the early upsets in the NCAA Tournament.
A postseason that had shown so much promise and potential ended abruptly as Iowa only made 6-of-29 shots from 3-point range in the loss to Richmond.
"I know it's something to be proud of and we are," Connor McCaffery said. "But personally, I will use it as motivation because I got nauseous watching the tournament after we lost. The NCAA (tournament) is literally my favorite four weeks or whatever it is year after year, and I just couldn't do it, mentally, physically all the above.
"So, I'm hoping that feeling wears off, but maybe it doesn't, and I can just wake up every day more pissed off and start working towards next year."
Connor McCaffery recently announced that he will return for a sixth season, giving Iowa a 6-foot-5 combo guard who has a wealth of experience and a chip on his shoulder because of how this past season ended.
The fact that Connor's father, Fran McCaffery, is the Iowa head coach made the loss to Richmond even worse for Connor.
Iowa was trying to advance to the NCAA Sweet 16 for the first time since 1999, and with its regional having been held in Chicago, it would've worked out nicely for Iowa fans.
But it just wasn't meant to be.
And that's still hard for Connor McCaffery to digest.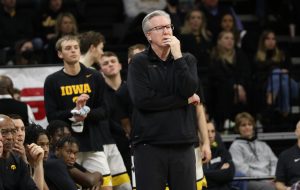 "Maybe more sad for my dad because we had a chance and I think it was just kind of everything hitting at once, nothing went right, like if you could name what could've went wrong, it went wrong," Connor McCaffery said of the Richmond loss. "And I just think for me looking back at it for my dad, I just wanted to put together a better performance for him.
"I'm not saying we would have made any type of crazy run, like everyone was picking us. Providence was going to be a really tough game the next game. If we could have gotten to Chicago in the Sweet 16 with all those Iowa fans; there's just so many things that I look back on and I think are still going to bother me for a real long time with my dad being at the top of the list."
While the loss to Richmond still haunts Connor McCaffery, he gets satisfaction in knowing that Iowa proved a lot of doubters and skeptics wrong last season just by making the NCAA Tournament.
Iowa was hardly considered a lock to the make the NCAA Tournament heading into last season due to having to replace four starters, including national player of the year Luka Garza and All-Big Ten swingman Joe Wieskamp to the NBA.
Shooting guard C.J. Fredrick and forward Jack Nunge, both of whom started multiple games, also transferred to Kentucky and Xavier, respectively.
So, there certainly was reason to question Iowa heading into last season, and that's what happened at Big Ten media day last October when Connor McCaffery and Jordan Bohannon both represented Iowa at the annual event.
"In the future, I'll probably look back and be like, wow, that was a great year, and it was. I don't want to take away what was a great year," Connor McCaffery said. "We were doubted for so long. Jordan and I are sitting at Big Ten media day and nobody is talking to us. It was like how are you going to make up for Luka and Wieskamp and Fredrick, Nunge, everybody?
"And we just said, hey, we're just going to keep winning, and that's what we did. Twenty-six wins, not a lot of teams put up a tally like that and winning a Big Ten championship, we hadn't done that here in a long time."
Connor McCaffery has been both a starter and a key reserve as a Hawkeye.
He played a key role during Iowa's late-season surge, especially when he got hot from 3-point range.
Connor said Wednesday that he is working hard on his 3-point shot during the offseason by playing in pick-up games and by just shooting over and over.
He knows that the loss of Bohannon, who is the Big Ten all-time leader in 3-point field goals, will have a big impact on how team's defend Iowa on the perimeter next season.
Other players will have to step up, and Connor wants to be one of those players.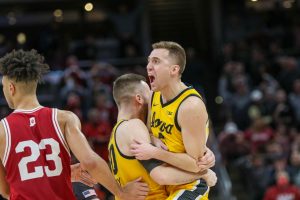 "Teams always had to account for Jordan and that helped so much with spacing the floor," Connor McCaffery said.
The Iowa roster is currently in flux with sophomore forward Kris Murray testing the NBA draft process and with Iowa trying to land a frontline player from the transfer portal.
But there is also a solid nucleus returning that includes Connor McCaffery's younger brother, Patrick McCaffery, a 6-9 forward, 6-4 shooting guard Tony Perkins, 6-7 shooting guard/small forward Payton Sandfort, 6-3 point guard Ahron Ulis and 6-9 forward Filip Rebraca, who played out of position last season at center.
Should Iowa land a post player from the portal, or if current post players Josh Ogundele and Riley Mulvey show they deserve minutes, that could allow Rebraca to play more at power forward.
"He's been playing really, really well in pick-up, killing" Connor McCaffery said of Rebraca, who played his first three seasons at North Dakota before transferring to Iowa. "And then you have Sandfort playing more minutes and I'm really excited to see what he's doing.
"(Tony Perkins) his third year, and (Ahron Ulis) has been playing real well in workouts. I could keep going down the line. "
Iowa lost point guard Joe Toussaint, who transferred to West Virginia, but will gain two guards with the addition of incoming freshmen Desonte Bowen and Josh Dix.
And of course, the significance from losing All-America forward Keegan Murray to the NBA draft can't be understated.
But even without Keegan Murray, Connor McCaffery likes Iowa's potential for next season, especially if Kris Murray decides to return for his junior season.
"I think it's going to be a fun team to watch," Connor McCaffery said. "We're going to get up and press, the same thing we did this year. We're going to get after it and keep trying to get after it defensively and make improvements there. I think we were better last year, but Keegan also blocked a lot of shots for us, so we're going to need production on that end as well."