By Pat Harty
IOWA CITY, Iowa – Nic Ungs was walking to his car on Monday when he crossed paths with Iowa baseball player and Georgia native Keaton Anthony.
It was unseasonably warm and humid for early May in Iowa City with the temperature in the high 80s.
Anthony asked Ungs, who is Director of Operations for the Iowa baseball team, if he planned on playing golf later that day.
"And I'm like, 'no, not today,'" Ungs said Tuesday in a telephone interview. "It was funny because then he goes, 'oh my gosh, it's so hot out here.' And I said, the Georgia boy said it's hot out here. That's kind of funny.
"He then said you know I love (the warm weather). And I was like, I know you do, but it's still kind of funny hearing that come out of your mouth."
Keaton Anthony has had to adjust to a lot of things since joining the Iowa baseball team last year, including the chilly Midwestern weather.
The current heatwave is in stark contrast to how the weather has been for most of Iowa's Big Ten schedule this spring, but Anthony hasn't let the cold temperatures and strong winds hinder his performance.
The redshirt freshman from Hoschton, Georgia, which is about 35 miles northeast of Atlanta, has emerged as one of the top hitters in the Big Ten in his first season as a full-time starter.
Anthony has been on fire at the plate recently and will take a .352 batting average into Friday's game at Michigan State. He also has driven in a team-leading 44 runs and is tied with Peyton Williams for the team lead in home runs with 10.
Anthony is coming off a 2-1 series win over Purdue in which he belted a 3-run home run in last Saturday's game and a 2-run blast in Sunday's game.
"I'd say I'm feeling pretty good up there," Anthony said.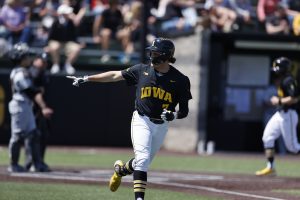 Iowa coach Rick Heller has shown a willingness to recruit from all over the United States and beyond as Iowa's current roster in addition to Anthony being from Georgia has players from Arizona, Washington, Montana and Edmonton, Alberta.
Georgia is not a state that Iowa has recruited heavily, but in Anthony's case, Iowa had a built-in advantage, thanks to Ungs.
Prior to joining the Iowa staff in 2018, Ungs worked in information technology and spent nine years as the pitching coordinator with the Georgia Bombers Baseball Club in Atlanta.  Ungs coached 45 players that have gone on to play Division I baseball and nine players were drafted in the 2016 and 2017 Major League Baseball First-Year Player Drafts.
The club is owned and operated by Ungs' close friend and former professional baseball teammate, Aaron Alvarez, and the club is also where Anthony blossomed as a player starting at the age of 14.
Alvarez told Ungs that he felt Anthony would be a good fit for Iowa and that got the recruiting process rolling.
"We kept our eye on Keaton and the next thing you know he's a Hawkeye," said Ungs, who was star pitcher for Rick Heller at Northern Iowa before climbing all the way to triple-AAA as a professional pitcher with Alvarez as his catcher.
Ungs also played internationally in Venezuela, Taiwan, Australia, and Cuba and was a member of the United States Olympic Team in 2005 and 2006.
Heller was raving about Anthony's prowess at the plate after last Sunday's 9-1 victory over Purdue when Heller was reminded that Iowa rarely recruits in Georgia.
"That comes via Nick Ungs who coached (Keaton) when he was little and was living down there after pro ball and before he came up here," Heller said. "So, we're really happy to have him, that's for sure."
Anthony shared some of his approach to hitting when asked by the media after last Sunday's win over Purdue to take them through his 2-run homer. He spoke in great detail and still remembered every pitch and the order in which it was thrown.
"I saw a slider 1-0 and was not expecting that," Anthony said. "He hung it a little, so I felt it was a pitch I should have ambushed. He came back with fastballs and I fouled them off.
"On 2-2, he threw a fast ball and I fouled it off, I was on that one. I was expecting, when he shook, I thought he was shaking to slider, and I wanted to make sure I didn't miss it. It was a nice day to hit today with the wind blowing out to left field."
And while the 6-foot-4, 210-pound Anthony has the physical attributes needed for being a force at the plate, his success goes far beyond his quick wrists, powerful upper body and eye-hand coordination.
"When you're in that zone, to me, it's all about concentration and focus," Heller said. "And combine that with you're going to be really confident when things are going well."
Anthony was recruited by Iowa as both a pitcher, where he has a fastball that has been clocked in the mid-90s, and as a position player.
His true freshman season was hampered by a hamstring injury, but Anthony has stayed healthy this season and is now one of the best hitters in the Big Ten.
And though he hasn't stopped pitching all together, Anthony's productivity at the plate, coupled with Iowa's depth on the mound has allowed him to focus almost exclusively on his hitting.
"I think if we were in a pinch and didn't have some of the depth we do have on our pitching staff, he would definitely have more innings," Ungs said of Anthony. "If it hadn't gone the way it has on the mound, I think then we would have seen Keaton on the mound a little bit more.
"But when he's one of your best hitters, you want to try and keep him in the lineup because it's definitely hard."
Trenton Wallace, who was last year's Big Ten Pitcher of the Year, is one of few players that have pitched and hit as a Hawkeye.
"Trenton Wallace was an outstanding dual guy as well," Ungs said. "But it's a hard thing to do, pitch and hit at the same time."
Anthony just makes the hitting part look easy.
He has that rare blend of power and the ability to make consistent contact as a right-handed hitter.
"You always knew it was in there because he's such a big kid and his shoulders are so wide," Ungs said of Anthony's ability to his with power. "And I think he's grown since he got here. I think it's not missing the pitches that he gets his swing off on. That's the big thing, his contact ratio is close to 85 percent, and now doing that with power, I think that's really the exceptional thing."
Anthony used to hit mostly to the opposite field, but that is no longer the case as Anthony showed against Purdue when he belted a home run over the scoreboard in left-center field.
Teams tried to jam Anthony earlier in the season when he was hitting balls mostly to right field.
But he has since made the necessary adjustments and is now hitting to all fields, and with power.
"The thing that's really impressive is that in the first half of the season everything was to the opposite field and he's really done a nice job as people have adjusted trying to pound him inside and now he's hitting balls over the scoreboard to the pull side," Heller said. "That's a big, big improvement and a testament to Keaton's ability."
Anthony's breakout season has helped to put Iowa on the radar for more high school players in Georgia.
"Since Keaton has been up here, I know that more people down there have talked about Hawkeye baseball," Ungs said of Georgia. "I've gotten more e-mails on different guys, even from different programs because I know a lot of the high school coaches down there that I either helped train some of their kids throughout the years or they were assistant coaches on some of our travel ball teams during the summer.
"But definitely a lot of people are reaching out a lot more knowing that we're a good conference and this conference has come a long way."
Iowa has won four consecutive Big Ten series and is 28-16 overall and 12-6 in conference play. Iowa is also just two games out of first place in the Big Ten standings with six conference games remaining.
Multiple factors have contributed to Iowa's success this season, with Anthony's rise at the plate among the biggest factors.
He and Johnston native Peyton Williams are both thriving at the plate right now and they give Iowa perhaps the most potent combination in the Big Ten.
Anthony could've stayed closer to home and played college baseball in better weather, but there are also advantages to being a Hawkeye.
"I'm not saying that he couldn't go anywhere and do the same thing he's doing here," Ungs said. "But I think his opportunity probably came a little bit faster than it would have at another school."
Perhaps the only potential downside to Anthony's rise to stardom this season is that it could make him a target for the transfer portal.
Two of Iowa's three starting pitchers this season – Adam Mazur and Connor Schultz – came via the transfer portal.
However, Ungs said Iowa takes steps in being pro-active about the transfer portal by always communicating with the players and knowing where they stand about issues on and off the field.
"Each coach meets with a different group of players and we talk about everything," Ungs said. "We talk about baseball. We talk about family. And you talk about classes. You just have conversations, so if there is something maybe they aren't seeing eye-to-eye with or something is bothering them, I think we've developed a pretty decent relationship with all of our players to where we're trying to nip some of that stuff in the bud.
"These guys are Hawkeyes right now. I don't know if we have anything to worry about, but it's definitely on your mind."