By Pat Harty
IOWA CITY, Iowa – Anytime Fran McCaffery has to replace one of his three full-time assistant coaches, it's a big deal.
It also hasn't happened very often during his 12 seasons as the Iowa men's basketball coach.
But McCaffery now has to find a replacement for assistant coach Kirk Speraw, who announced Wednesday that he was retiring after having spent over three decades in coaching, including the last 12 seasons at Iowa.
It marks the second time in less than a month that McCaffery has had to replace a departing assistant coach as Billy Taylor left Iowa in mid-April to become the head coach at Elon University.
Iowa had a person in waiting to replace Taylor, and to no surprise, Courtney Eldridge was promoted from Director of Recruiting/Player Development to full-time assistant coach shorly after Taylor resigned.
Eldridge has spent the past five seasons on the Iowa staff, and he also played point guard for Fran McCaffery at North Carolina-Greensboro from 1998 to 2002.
Eldridge seemed the obvious choice to replace Taylor, and that proved to be the case.
But now the circumstances are different for Fran McCaffery as he looks to hire Speraw's replacement.
There is no obvious candidate already working for the team as there was with Eldridge.
It also seems unlikely that Fran McCaffery would hire somebody with Speraw's experience, which includes 17 seasons as the head coach at Central Florida.
Speraw was a unique case, a homegrown former Iowa player who had his run as a head coach, but wasn't ready to retire when he joined McCaffery's staff in 2010.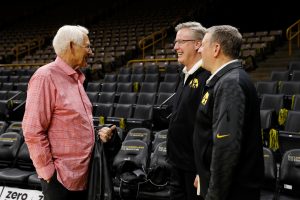 The program is in much better shape now compared to 12 years ago, and some of the credit has to go to Speraw.
You can be certain that Fran McCaffery has a short list of names to consider because most head coaches do.
It also seems reasonable to assume that the job will attract some interest because it's a good job, at a good school, in a good conference and in a good town.
One candidate that comes to mind is former Iowa point guard Dean Oliver, who is currently an assistant coach at Wisconsin.
Oliver grew up in Mason City and was the starting point guard on the last Iowa team to advance to NCAA Sweet 16 in 1999 in Tom Davis' final season as head coach.
Oliver also played briefly in the NBA before embarking on a coaching career.
Oliver joined Greg Gard's staff at Wisconsin in 2017, so it could be hard for Fran McCaffery to convince Oliver to leave one of the best programs in the Big Ten and a place where Oliver has established roots.
Jeff Horner would seem to be another worthy candidate, and just like with Oliver, Horner is a former Iowa point guard who grew up in Mason City.
Horner is currently the head coach for Division II Truman State and has performed well in that job.
Former Iowa player Matt Gatens, who is currently an assistant coach at Drake, is another named being mentioned as a possible candidate. Gatens played his final two seasons at Iowa under McCaffery and helped to lay the foundation.
There is obviously a strong connection between Gatens and Fran McCaffery, but it could come down to how Fran McCaffery wants to organize his staff.
McCaffery has plenty of experience with veteran assistant coach Sherman Dillard, who has been on the staff since McCaffery took over in 2010. Dillard has over three decades of coaching experience and was the head coach at Indiana State from 1994-97 and at his alma mater, James Madison, for seven seasons from 1997-2004.
Dillard's experience could allow Fran McCaffery to hire a coach whose biggest strenght is recruiting because that would seem to be what Iowa needs the most.
Fran McCaffery and Dillard both have loads of experience from a coaching and from a strategizing standpoint.
But a coaching staff, especially at the Power Five level, can never have enough top-notch recruiters.
And while it's easy to put former Hawkeyes on the list candidates, Fran McCaffery is well-connected and has coached for over three decades at multiple schools.
He knows this is an important hire, and he knows better than anyone what Iowa needs in an assistant coach.