By Hawkeyesports.com
MINNEAPOLIS, Minn. – University of Iowa track and field tallied two runner-up performances and advanced 14 finalists on day two of the Big Ten Outdoor Championships. Including Friday, the Hawkeyes combined to punch 24 tickets to Sunday's finals (14 men, 10 women).
Sophomore Austin West (decathlon) and junior James Carter, Jr. (long jump) each earned silver medals in their respective events. West (7,703 points) won the javelin on day two of the decathlon, coming just short of the win and improving upon his third-place finish a year ago. West was also the indoor Big Ten runner-up in the heptathlon in February.
"Austin (West) had some ups and downs this weekend," Iowa Director of Track & Field Joey Woody said. "He started off well in the 100 and had a strong finish in the javelin. He pulled a big one out on that last throw. He competed really well through the finish to get another runner up finish."
Carter, Jr. (7.84 meters/25'8.75") also improved on his third-place finish from last year and will refocus his attention to Sunday's triple jump – an event that he is coming into the weekend ranked second in the Big Ten.
"James (Carter) is the ultimate competitor," Woody said. "He's finished first or second several times to top the podium. The guy is a monster competitor. He came out with a really big jump and put himself in good position. Someone else came out on top today, but James is excited about tomorrow's triple jump."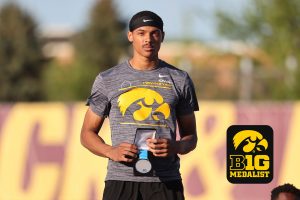 The Hawkeye men and women had four additional podium finishes on the afternoon. Junior Tionna Tobias wrapped up her two-day heptathlon with a sixth-place finish (5,124 points), setting a career-best point total and moving to sixth in program history. Sophomore Kat Moody also turned in a sixth-place finish in the women's discus, thanks to a big personal-best throw (53.23 meters/174'7") that ranks her fifth on Iowa's all-time list. In the men's shot put, senior Nik Curtiss (19.05m / 62'6") and junior Elijah Barnes both made the podium, finishing fourth and seventh, respectively. It was a career-best throw for Barnes who now occupies eighth on Iowa's all-time list.
On Friday, Iowa qualified 10 athletes to Sunday's finals, and 14 more athletes punched tickets Saturday. Sophomore Tesa Roberts got things rolling in the 400 meters (54.62), and two men got through to the final (Khullen Jefferson – 46.28, Everett Steward – 46.42). Jefferson, a sophomore, qualified third-fastest overall and won his heat with the 10th-fastest time in school history.
Sophomore LaSarah Hargrove became the second woman to punch her finals ticket on Saturday (11.25w). Hargrove won her heat by a good margin and qualified second-fastest overall behind Ohio State's Anavia Battle. Sophomore Austin Kresley qualified for the men's 100-meter final (10.34w) coming in eighth-fastest.
Sophomore Paige Magee (13.59w) was the first of five Hawkeyes to qualify in the hurdles in the women's 100-meter race. The men went four-for-four – senior Josh Braverman (13.66), junior Gratt Reed (13.67), sophomore Grant Conway (13.96) and freshman Kalil Johnson (14.00) all qualified to tomorrow. Braverman (No. 6 all-time) and Reed (No. 8 all-time) both moved up Iowa's all-time list.
"The guys came out on fire," Woody said of the 400-meter hurdle group. "They are on a mission to get that trophy. I was excited to see four women in the 400 hurdles and four men in the 400 hurdles finals. That's really impressive, so I'm really excited about that."
Four Hawkeyes advanced to the 800-meter finals. Freshman Alli Bookin-Nosbisch (2:07.20) and sophomore Clare Pitcher (2:08.30) qualified on the women's side, and junior Alec Still (1:50.24) and freshman Antonio Abrego (1:50.49) advanced for the men.
"We gave ourselves a shot by advancing to a lot of finals tomorrow," Woody said. "There are going to be ups and downs for every team, but we're in a really good spot. We have a shot, so we just got to go out and focus on ourselves and just compete our tail ends off."
The men currently sit fourth in the team race with 23 points, and the women are tenth with 16 points. The Hawkeyes are back on the track at 11 a.m. CT Sunday morning, starting with the women's triple jump and men's javelin.
HAWKEYE RESULTS:
Decathlon
2. Austin West – 7703 pts.
Day 1
100m – 2. West (10.68)
Long Jump – 3. West (7.02m / 23'0.5")
Shot Put – 2. West (13.97m / 45'10")
High Jump – 7. West (1.91m / 6'3.25")
400m – 1. West (47.18)
Day 2
110m Hurdles – 5. West (14.79)
Discus – 6. West (39.74m / 130'4")
Pole Vault – 10. West (4.00m / 13'1.5")
Javelin – 1. West (60.07m / 197'1")
1,500m – 4. West (4:42.69)
Heptathlon
6. Tobias – 5124 pts., PR, No. 6 all-time
12. Brines – 3960 pts.
Day 1
100m Hurdles – 2. Tobias (13.68), 5. Brines (14.09, PR)
High Jump – 6. Tobias (1.65m / 5'5"), 12. Brines (1.56m / 5'1.25")
Shot Put – 7. Tobias (10.86m / 35'7.75", PR), 11. Brines (9.12m / 29'11.25")
200m – 4. Tobias (25.37), 7. Brines (25.75)
Day 2
Long Jump – 3. Tobias (5.55m / 18'2.5"), 5. Brines (5.35m / 17'6.75")
Javelin – 8. Tobias (28.06m / 92'1"), 10. Brines (23.64m / 77'7")
800m – 6. Tobias (2:28.58), 12. Brines (DNF)
Men's Shot Put
4. Curtiss – 19.05m / 62'6"
7. Barnes – 18.51m / 60'8.75", PR, No. 8 all-time
11. Dawson Ellingson – 17.67m / 57'11.75"
13. Quintin Lyons – 17.52m / 57'5.75", PR
Women's Discus
6. Kat Moody – 53.23m / 174'7", PR, No. 5 all-time
13. Alivia Bauer – 48.27m / 158'4", PR
16. Jamie Kofron – 47.47m / 155'9"
Men's Long Jump
2. James Carter, Jr. – 7.84m / 25'8.75"
22. Deandre Stapleton – 6.37m / 20'10.75"
Women's 400 Meters Prelim
9. Tesa Roberts – 54.62 q
17. Laney Fitzpatrick – 56.50
18. Sarah Bova – 56.57
Men's 400 Meters
3. Khullen Jefferson – 46.28 Q, PR, No. 10 all-time
5. Everett Steward – 46.42 q
10. Chadrick Richards – 47.41
25. Evan Schuster – 49.05
Women's 100 Meter Prelim
2. LaSarah Hargrove – 11.25w Q
13. Lia Love – 11.67
Men's 100 Meter Prelim
8. Austin Kresley – 10.34w q
Women's 100-meter Hurdles Prelim
8. Paige Magee – 13.59w q
20. Tionna Tobias – 14.12
21. Jade McDonald – 14.16
25. Myreanna Bebe – 15.91
Men's 110-meter Hurdles Prelim
3. Josh Braverman – 13.66 q, PR, No. 6 all-time
4. Gratt Reed – 13.67 Q, PR, No. 8 all-time
6. Grant Conway – 13.96 Q
7. Kalil Johnson – 14.00 q, PR
Women's 800 Meters Prelim
2. Alli Bookin-Nosbisch – 2:07.20 q
5. Clare Pitcher – 2:08.30 q
16. Grace Bookin-Nosbisch – 2:11.34
22. Katie Moore – 2:13.06
Men's 800 Meters Prelim
6. Alec Still – 1:50.24 q
7. Antonio Abrego – 1:50.49 q
10. Spencer Gudgel – 1:51.02
14. Armando Bryson – 1:51.52
36. Martin Strong – 1:57.88
Women's 3K Steeplechase
18. Brooke McKee – 10:48.19
Men's 3K Steeplechase
15. Jack Pendergast – 9:26.58