By Pat Harty
IOWA CITY, Iowa – May 19, 2022 is a date that Iowa baseball player Kyle Huckstorf will remember forever.
And deservedly so after what he pulled off against Indiana on Thursday.
Iowa's No. 9 batter belted three home runs, including a grand slam, and drove in a Big Ten record 12 runs as the Hawkeyes overcame a 11-run deficit to defeat Indiana 30-16 at Duane Banks Field.
That's right, 30 runs on 23 hits.
Huckstorf and his cohorts were just one grand slam from matching the points scored by the Iowa football team in its 34-6 win over Indiana in the 2021 season opener.
"This is going to be the day that I take with me until I die, said Huckstorf, a redshirt sophomore from Watertown, Wisconsin. "There's going to be stories that live on forever and have fun with it."
Huckstorf entered Thursday's game with one home run in 148 plate appearances and with 18 RBI on the season. But it only took him two innings to drive in 10 runs in Thursday's game.
His six hits also tied a Big Ten record.
Huckstorf had stood out more on defense before Thursday's record-breaking performance and he continued to perform well with his glove, including making a diving catch in right centerfield to end the fourth inning.
It was one of many diving catches that Huckstorf has made this season as Iowa's starting centerfielder.
On this night, however, Huckstorf's glove was overshadowed by his bat in what was arguably the greatest offensive performance in program history.
He probably won't ever come close to matching this kind of performance again, but most players never come close to doing what Huckstorf did at the plate in Thursday's victory, which improved Iowa's record to 31-17 overall and 15-7 in conference play.
"This is going to stick with me forever, setting the Big Ten record for RBIs, I believe it was," Huckstorf said. "This is going to stay with me forever and I'll take it until I die."
The 30 runs are the most in a Big Ten game and the second-most scored in a single game in program history (32 vs. Quincy, 1989). The 46 combined runs are also the most in a game in program history.
Iowa trailed 9-2 after two innings in what proved to be a nightmarish and short appearance on the mound for ace starter Adam Mazur, who was lifted after allowing nine earned runs in just two innings.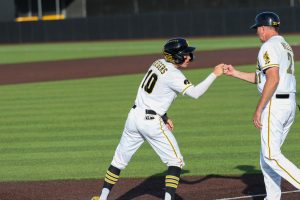 Indiana's lead grew to 13-2 after three innings, but then Iowa answered by scoring 10 runs in the bottom of the fourth inning.
The combination of warm temperatures and the wind blowing out made Thursday's game ideal for the hitters, and Huckstorf took advantage of the circumstances.
"Mazur has been awesome for us all year and it was really our time to pick him up because he's picked us up a lot this year," Huckstorf said. So, we really needed him for that, and we got his back today."
Iowa coach Rick Heller said there was no panic or giving up after falling behind by 11 runs early. But Heller said he had started to think about what he would say to his players after the game if Indiana had gone on to win by a large margin.
"It's funny, one of the messages I was going to give to the team afterwards if they had boat-raced us and we hadn't come back is games like this happen," Heller said. "It's baseball. It happens. You see it every night in Major League Baseball. Good teams beat bad teams that way. Bad teams beat good teams that way. Whatever.
"But that's why those games that maybe you wish you had back where you didn't control the things you could come back to bite you because you're going to have some games where teams are hitting everything."
Huckstorf had plenty of help on offense as Keaton Anthony finished with three hits and smacked his team-leading 12th home run.
Ben Wilmes also had three hits, scored four runs and drove in two runs, while freshman Sam Petersen had three hits, five RBI and scored three runs.
Iowa had six players that finished with at least two hits.
"You don't see many like that," Heller said. "But that's why you keep playing."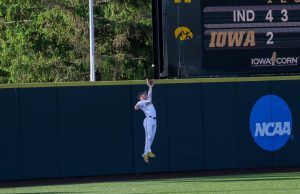 Iowa was trailing 4-2 after the first inning when Heller challenged his players to help Mazur at the plate.
"I'm like, hey listen, Mazur has picked us up a big chunk of the season and today is the day the offense needs to pick him up and just keep fighting and just keep battling and grinding at bats out and we can score some runs tonight, too," Heller said. "And we did.
"We had some guys that just had phenomenal nights offensively. Obviously, Huckstorf was incredible. You don't see that. That's a once-or-twice in a career type game in a game that's meaningful and against a quality opponent."
Junior Duncan Davitt pitched 4 1/3 innings of relief and helped to finally contain the Indiana offense by allowing just two runs.
"Adam just kind of got hit around and that's baseball," Davitt said. "At the end of the day, it's just staying in games and we knew that our bats were going to come alive."
Iowa and Indiana will meet again on Friday with first pitch at 6:05 p.m. at Banks Field.
Iowa already has clinched a spot in the conference tournament, but its NCAA Tournament chances are uncertain at this stage.
"I'd like to hope we're in a better place than people say we are if you look at our body of work," Heller said.