By Pat Harty
IOWA CITY, Iowa – In June 1991, I moved from Des Moines to Iowa City to cover sports for the Iowa City Press-Citizen newspaper.
I rented an apartment on the second floor of a house on Summit Street.
The day I pulled into the driveway to move in there was an elderly man sitting on a lawn chair in the back yard.
At first, I wasn't sure what he was doing, but then it occurred to me that he was soaking up some rays on this bright and sunny June day.
I then introduced myself and learned that that the man was renting the apartment across the hall on the second floor.
His name was Fred Breckner and we would go on to live next door to each other until I moved in 1996.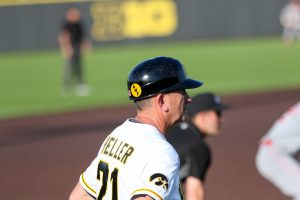 Fred used to read my articles in the Press-Citizen and would often scribble short remarks on what I had written before sliding the newspaper under my door. I used to always look forward to his critiques because he was incredibly bright and insightful.
But oddly enough, Fred was not an Iowa Hawkeye fan, and he would let you know exactly how he felt.
Fred had graduated from Upper Iowa University in 1938 and was a huge fan of Upper Iowa's sports teams, especially the baseball team.
In fact, it was Fred who first told me about Rick Heller, who was the head baseball coach at Upper Iowa when I moved to Iowa City in 1991.
Heller played baseball for Upper Iowa from 1983-86 and would go on to be the head coach at his alma mater for 12 seasons from 1988 to 1999.
Upper Iowa finished 7-30 in Heller's first season as head coach, but then would go on to win at least 30 games in each of his final five seasons, including finishing 38-8 in 1998.
Heller's success at Upper Iowa helped to launch a career that has been on the rise ever since.
He has spent the past nine seasons coaching the Iowa baseball team and the turnaround under Heller has been nothing short of extraordinary.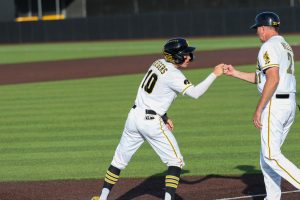 Iowa just finished a regular season in which it won seven of eight Big Ten series while finishing 17-7 in conference play.
The Hawkeyes (33-17) are seeded third in the Big Ten Tournament and will face No. 6 seed Penn State on Wednesday at 9 a.m. in Omaha, Nebraska weather permitting.
It is Iowa's seventh appearance in the Big Ten Tournament under Heller, and Fred Brecker is probably looking down and proudly saying, "I told you so."
Fred Breckner predicted 30 years ago that Heller would have success wherever he coached, and Fred was right.
But Fred also used to say that Iowa was too stupid to hire Heller, but that's where Fred was wrong.
Heller had just finished his fourth season as the head coach at Indiana State in 2013 when he accepted the challenge of rebuilding the Iowa program.
Fred Breckner had passed away by then, but I have a pretty good idea what he would've said when Heller was hired by Iowa: "It's about time you idiots."
Fred never explained why he despised the Hawkeyes so much, but I think it had something to do with his disdain for major college sports, especially football.
He was turned off by all the big money and would often say that watching Upper Iowa compete in sports was how college athletics should be.
Fred felt that Heller was destined for stardom as a baseball coach, and he knew that Heller wouldn't stay at Upper Iowa forever.
Fred even predicted that Heller would be the Iowa head coach someday, but he also wondered if Iowa would ever be smart enough to hire Heller.
Fred used to like to take little shots at Iowa, I think sometimes just to see how I would react.
But he was spot on about Rick Heller.
Fred said back in the early 1990s that Heller was a gifted leader and communicator and that he had the perfect temperament to thrive as a baseball coach.
Much of what we hear now about Hellerball is almost exactly what Fred Breckner said about Heller in the 1990s.
It's amazing that so much of what Fred Breckner said about Heller 30 years ago has turned out to be true.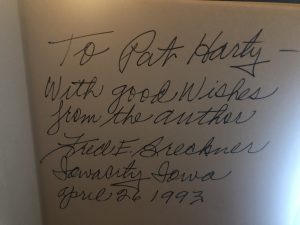 The first time I met Rick Heller in the summer of 2013, I told him about living across the hall from Fred Breckner and that immediately brought a smile to Heller's face.
I still have the notes from that interview from nearly a decade ago, and have kept them all these years in honor of Fred Breckner.
"Fred was a great man and a great supporter of Upper Iowa University," Heller said in 2013. "He cared so much about the kids and about the university. He poured his heart and soul into Upper Iowa."
Fred Breckner wrote a book about the history of Upper Iowa University sports that was published in 1981. He gave me an autographed copy that is proudly displayed in my book case.
I'm guessing that Fred would've learn to like the Hawkeyes if he still were alive, and I can just picture Fred watching Iowa games from the stands with his white hair and mustache and then waiting to greet Heller afterwards.