By Pat Harty
IOWA CITY, Iowa – The circumstances surrounding the Iowa football team's two most recent cases of roster attrition are unusual to say the least.
Incoming freshman defensive back Olando Trader announced Wednesday on Twitter that he has de-committed from Iowa despite already having signed a letter of intent, while sixth-year senior receiver and return specialist Charlie Jones has entered the transfer portal despite expections that he would play a prominent role next season as an All-Big Ten return specialist, and as a receiver.
This is about when incoming freshmen report to campus for summer workouts, so Trader's decision to de-commit this late in the process is a little strange. Maybe he became apprehensive when it finally came time to leave his home in Jackson, Michigan.
The fact that Jones waited this long after the end of spring practice to enter the transfer portal as a graduate student also seems odd from a timing standpoint.
Jones had considered entering the 2022 NFL draft before deciding to return to Iowa.
He participated in spring practice and was expected to be one of Iowa's top offensive threats as a punt and kick returner, and as a receiver.
Jones was named the Big Ten Return Specialist of the Year this past season. His 100-yard kick return for a touchdown against Illinois shifted the momentum in a game that Iowa would go on to win 33-23 after trailing 10-0 at Kinnick Stadium.
Jones averaged 25.4 yards per kick return last season and 7.7 yards in punt returns.
He also caught 21 passes last season for 323 yards and three touchdowns.
The influence from name, image and likeness now often comes up when a student-athlete either transfers or de-commits from a school, but there is no way of knowing if that is a factor in either of these cases.
It would seem unlikely that NIL was a factor in Trader's case, with him having previously been committed to Central Michigan.
As for Jones, it's reasonable to think that some blue blood program that needs a proven return specialist could convince him to transfer by using NIL as part of the appeal.
Or, perhaps Jones, who played his first two seasons at Buffalo before transferring to Iowa in 2019, wants to play his final season of college football for a team that has a more successful passing attack than what Iowa has right now because it's hard to make the NFL as just a return specialist.
Iowa won the Big Ten West Division last season and finished 10-4 despite having one of the worst offenses in the country from a statistical standpoint.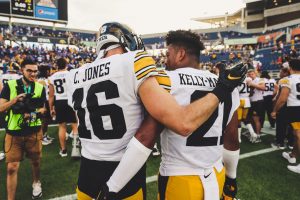 Jones was also listed this spring as the backup at wide receiver behind Nico Ragaini.
Iowa now has just six receivers on scholarship.
Purdue is one school that has been mentioned as a possible landing spot for Jones, who is from Deerfield, Illinois.
The Boilermakers run a spread offense under head coach Jeff Brohm that relies heavily on the pass, and they need help at receiver.
Jones would also be reunited with former Iowa receiver Tyrone Tracy Jr., who transferred to Purdue shortly after last season.
These are unpredictable times in college sports with the portal, and with NIL, so maybe what seems unusual really isn't that unusual anymore, although, the news about Jones and Trader breaking on the same day seems more a coincidence.
Jones seemed excited to be at Iowa when he addressed the media on the final day of spring practice in late April.
He talked about having unfinished business, about what he hoped to accomplish next season and about accumulating as much tape as possible for the NFL to evaluate him as a receiver.
But something obviously changed between now and then.
Did Iowa's offensive woes finally cause Jones to change his mind about wanting to play his free Covid season as a Hawkeye?
Perhaps Jones is concerned about not having an opportunity to show his full potential as a receiver if he were to stay at Iowa.
One thing is certain; losing Charlie Jones to the transfer portal is a major blow for Iowa.
He was arguably Iowa's best return specialist since Tim Dwight, and he would've provided veteran leadership next season as a sixth-year senior.
But Jones' decision to transfer will also create an opportunity for others to step in as the next man in.
Roster changes are happening now more than ever in college sports due largely to the portal, so teams always have to be ready to adjust and then move on.