By Pat Harty
IOWA CITY, Iowa – For the second time in his life, Kris Murray has decided that his best option is to play basketball for the University of Iowa.
The 6-foot-8 forward from Cedar Rapids announced Wednesday that he has withdrawn his name from the 2022 NBA draft and will return to Iowa for his junior season.
The circumstances surrounding this latest decision were much different compared to the first time when Kris Murray decided to play for Iowa.
He and his twin brother, Keegan Murray, were both attending a prep school in Florida the first time they committed to Iowa. Neither was being heavily recruited at the time, and they both were considered projects.
Now less three years later, Keegan Murray is considered a lottery pick in the upcoming NBA draft, while Kris Murray is expected to be one of Iowa's top players next season.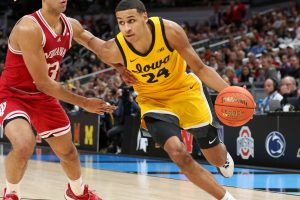 Kris Murray's decision to return to Iowa will mark the first time that he and his twin brother have been separated on and off the court.
Kris Murray was projected as a second-round pick in some mock drafts, but second-round picks aren't guaranteed a roster spot, so he would've been taking a chance by staying in the draft.
By returning to Iowa, Kris Murray can work on the parts of his game that need improvement, and help to fill the huge void left by Keegan Murray, who earned consensus All-America honors this past season as a sophomore forward.
Kris Murray appeared in 35 games last season with one start. He averaged 9.7 points and 4.3 rebounds per game and finished third on the team with 43 3-point baskets despite only playing an average of 17.9 minutes per game.
His minutes are expected to rise significantly next season.
Kris showed his vast potential in a win over Indiana when he scored 29 points and grabbed 11 rebounds.
It was that kind of performance that made Kris Murray intriguing to NBA teams, and why he is expected to be among the Big Ten's top players next season.
The fact that Iowa hasn't landed a post player from the transfer portal this spring also makes Kris Murray's decision to return a bigger deal because the thought of Iowa being without both Murray twins, and without a proven post player, is concerning.
Iowa finished 26-9 this past season and won the Big Ten Tournament with Kris Murray playing a key role off the bench.
The season ended abruptly with a loss to Richmond in the first round of the NCAA Tournament.
The returning players, which now include Kris Murray, will use that as motivation.
https://twitter.com/KrisMurray24/status/1532068787528208385?s=20&t=4Y6q_pxGFlG96CsSFmqF-w