By Pat Harty
IOWA CITY, Iowa – This is a glass-half-full column about the 2022 Iowa football team.
Because say what you want about the sputtering Iowa offense, about Spencer Petras, about having to replace an All-America center, an All-Big Ten kicker, and the Big Ten return Specialist of the Year, and about having to play both Ohio State and Michigan, it's still easy to envision Iowa winning at least nine games next season and being a serious threat to win a second consecutive Big Ten West Division.
The easiest thing would be to pick Wisconsin to win the West Division because it's happened four times since 2014, and because the Badgers have won eight of the last 10 games against Iowa.
Iowa was held to just 24 rushing yards on 30 attempts in a 27-7 loss at Wisconsin last season, but Iowa still would go on to win the West Division with a 7-2 record, finishing one spot ahead of Wisconsin.
Iowa has a 24-11 record in conference play since 2018, while Wisconsin has a 21-12 record in conference play during that time.
The Badgers still seem to have Iowa's number, but the gap between the Badgers and the rest of the West Division seems to have narrowed over the past several seasons, and Barry Alvarez isn't walking through the door.
I'm not saying that Iowa will defeat Wisconsin on Nov. 12 at Kinnick Stadium, but Wisconsin seems more vulnerable these days.
Wisconsin is similar to Iowa in that it has a quarterback who has struggled, but also a rock-solid defense to help compensate.
Where the Badgers appear to have the biggest edge over Iowa is at running back where sophomore Braelon Allen is a rising star, and he fits perfectly in the Wisconsin offense.
It's too early to start breaking down the 2022 season with the season opener still nearly three months away. But it's not too early to say that Iowa has as good, or maybe even a better shot of winning the West Division as anybody, including Wisconsin.
That probably says as much about the West Division as it says about Iowa.
Maybe Wisconsin will rise to national prominence again, but it also has road games at Ohio State, Michigan State, Northwestern, Iowa and Nebraska standing in the way.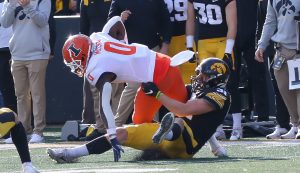 Iowa certainly suffered a huge and expected blow when star return specialist Charlie Jones recently entered the transfer portal and is now reportedly headed to Purdue.
There could be some ready and able replacements waiting to fill Jones' dual role as a punt and kick returner,
But until it happens, his loss is a concern.
Some like to say that Iowa won the West Division and 10 games last season in spite the offense, which is harsh and an exaggeration.
But the offense without question kept Iowa from being elite last season because everything else was in place.
The good news is that a team doesn't have to be elite to win the West Division, as Iowa showed last season.
Iowa should be heavily favored in all three of its nonconference games against South Dakota State, Nevada and Iowa State.
But, of course, that's only paper. The games still have to be played, and upsets happen.
This coming season will be big for both Petras and for Iowa offensive coordinator Brian Ferentz because both have to be better.
Iowa only averaged 181 passing yards per game last season and 123.6 rushing yards.
But Iowa also had one of the best kickers in the country last season in Caleb Shudak, and Charlies Jones to help shift field position.
It's uncertain what Iowa has in those two areas this season.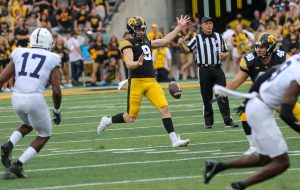 What Iowa does have for sure, though, is a veteran and talented defense led by senior linebacker Jack Campbell, senior cornerback Riley Moss, senior safety Kaevon Merriweather and a top-notch defensive line.
This could potentially be one of the top front sevens on defense in 24 seasons under Kirk Ferentz.
Combine the defense with star punter Tory Taylor and standout tight end Sam LaPorta, and that's enough to inspire hope.
Iowa has struggled to defeat Wisconson, Purdue and Northwestern, but Minnsota, Illinois and Nebraska have struggled to defeat Iowa.
I probably would give the Badgers the slightest edge over Iowa at this point, but this year's game will be played in Iowa City, as will the Oct. 1 game against Michigan.
It's no secret that Michigan coach Jim Harbaugh has struggled to win in Iowa City, and right now, I have Iowa winning that game.
Remember, the glass was half full as I wrote this column.