By Pat Harty
IOWA CITY, Iowa – Matt Gatens is returning home to his beloved college alma mater to help coach the sport that he loves.
The 32-year old Gatens has been hired as an assistant coach for the Iowa men's basketball team.
Gatens will be reunited with Iowa coach Fran McCaffery and will rejoin a program that Gatens helped to rebuild under McCaffery slightly more than a decade ago.
A former All-Big Ten shooting guard, Gatens played his final two seasons at Iowa under McCaffery and helped to lead Iowa to the National Invitation Tournament as a senior in the 2011-12 season.
Gatens also graduated from Iowa City High School and is the son of former Iowa basketball player Mike Gatens.
"I look forward to representing Hawkeye Nation and competing for championships in a place that I call home," Matt Gatens said in a release.
Matt Gatens spent the previous four seasons at Drake University where he was an assistant coach the last three seasons after having previously served as the Director of Operations for the Bulldogs.
Fran McCaffery has shown with previous assistant coaching hires that he prefers to hire coaches with whom he has a personal connection.
That's why from the moment this job opened Matt Gatens seemed the ideal candidate because he checked so many of the boxes as a former Hawkeye star under Fran McCaffery.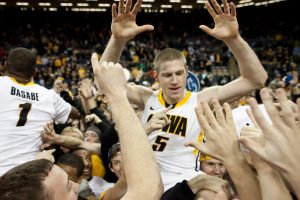 Gatens also has worked his way up the coaching ladder, including spending one season on Bruce Pearl's staff at Auburn, where he assisted in travel, development, scouting, video and camps for the Southeastern Conference Champions.
Gatens will replace former assistant coach Kirk Speraw, who announced his retirement after having spent the past 12 seasons on the Iowa staff.
"We are excited to have Matt Gatens rejoin our program as an assistant coach," Fran McCaffery said in a release. "Matt was a respected leader on my first two teams as Iowa's head coach. I could tell right away that he exhibited all the necessary attributes to be a successful coach. Since transitioning to the coaching profession, Matt has gained valuable experience working on the staffs at Auburn and Drake. He will have an immediate impact on our program."
Gatens was a four-year starter at guard for Iowa where he scored 1,635 career points, the sixth most in Iowa history, and averaged 12.8 points per game while averaging 2.3 rebounds per game. He was just the second Iowa player to record 1,600 points, 450 rebounds, 250 assists and 125 steals in a career. Gatens was a two-time All-Big Ten selection and two-time team captain.
Gatens committed to Iowa as a high school freshman and played his first two seasons at Iowa under Todd Lickliter.
Iowa had suffered through four conseuctive losing seasons when Gatens and his cohorts had a breakthrough season in 2011-12, finishing 18-17 overall and advancing to the second round of the NIT.
Following his Hawkeye career, Gatens played professionally in France, Spain, Turkey and Ukraine. He returned to the United States to play for the Iowa Energy in the NBA Development League, but he suffered a torn ACL just five quarters into the 2016-17 season to end his playing career.
Gatens was named Iowa's 'Mr. Basketball' and the state's Gatorade Player of the Year as a senior at Iowa City High School. He led the team to a 4A state title as a senior in 2008 and holds the City High record for career scoring.
Gatens and his wife, Erin, are the parents of a son, Nash, and daughter, Noa.