By Pat Harty
IOWA CITY, Iowa – This just seemed too right for it not to happen.
From the moment Kirk Speraw retired as an Iowa men's basketball assistant coach, the choice for his replacement seemed a no-brainer.
Matt Gatens was the obvious choice, and the obvious became true on Thursday as Iowa coach Fran McCaffery announced that Gatens had been hired as an assistant coach.
Fran McCaffery likes to reward those who have helped him excel along the way, and he has shown with previous coaching hires that he prefers to hire assistant coaches to whom he has a personal connection.
Matt Gatens certainly fills those two boxes and so many others as a former Hawkeye star who grew up in Iowa City and who committed to play basketball at Iowa as a high school freshman.
Matt's father, Mike Gatens, also played basketball for Iowa in the 1970s, and to say that Mike is proud of his son's latest achievement would be an understatement.
Mike Gatens struggled during a phone interview late Thursday morning to express the pure joy that he was feeling because he couldn't stop crying long enough to say anything. He finally put together a few words that speak to how proud Mike is of his son.
"I know he's really humbled to represent all the lettermen in that program with this job," Mike Gatens said. "I just know that he's just very humbled to do this.
"You're proud of all your kids. But we've been very fortunate."
Mike Gatens then would go on to thank some the key people that have helped his son along the way, from Randy Larson to Steve Alford to Bruce Pearl to Darian DeVries to Fran McCaffery.
Matt Gatens started playing pickup games with the adults when he was in third and fourth grade, because for one, he was good enough to hold his own, but also because Randy Larson, an Iowa City lawyer and restaurant owner, sort of took him under his wing, as did many others in town.
Mike Gatens made a point in saying Thursday how good the people from Iowa City have been to his son.
Mike also talked about the importance of family, which for Matt Gatens includes having two older sisters, and about the special bond that is shared between parents and their kids.
"When you have kids you have a job, and it is your main job," Mike Gatens said. "You've got to have money to do it. But more than money, it's love.
"You have a job, and the main thing is just to spend time with them."
Mike and his wife Julie will now have more time to spend with their son thanks to his new job.
Matt Gatens will start his new job on Monday, which is also his 33rd birthday.
He will join an Iowa program that won the Big Ten Tournament this past season and 26 games overall.
Fran McCaffery has continued to build on the foundation that Matt Gatens helped to lay as an All-Big Ten shooting guard.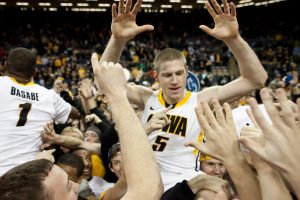 The Iowa program was in disarray when Fran McCaffery was hired to replace Todd Lickliter in 2010.
Players were leaving the program at an alarming rate and Iowa had suffered through three consecutive losing seasons.
However, by his second season, Fran McCaffery had led Iowa to the National Invitation Tournament, thanks largely to the play of Matt Gatens.
A while being a former Hawkeye star certainly helped Matt Gatens get this job, there was so much more to it.
Matt Gatens dove head-first into the coaching profession, starting with the one year he spent as a graduate assistant under Bruce Pearl at Auburn.
His name obviously helped Matt Gatens land the Auburn job, but name recognition only goes so far.
Matt Gatens also had to prove himself and that's what he has been doing over the past five years, with the last four spent on Darian DeVries' staff at Drake.
The news of Gatens being hired by Fran McCaffery has created a buzz because this hire seems right in so many ways.
Hawkeye fans are happy and excited that a favorite son is returning home to coach at his alma mater.
Matt Gatens is probably the closest example of somebody being born and raised as a Hawkeye.
It's in his blood.
It's who he is, and it's who his family is, and will forever be.
Steve Alford was the Iowa head coach when Matt Gatens committed to Iowa as a high school freshman. Alford didn't have the chance to coach Matt at Iowa, but he remains close to the Gatens family.
Bruce Pearl is also close to the Gatens family as a former Iowa assistant coach, and he can take some satisfaction in knowing that he helped Matt Gatens achieve this milestone.
Speraw's retirement left Fran McCaffery without a former Hawkeye on his staff.
That was another reason to hire Matt Gatens.
Speraw was a former walk-on guard at Iowa in the late 1970s, whereas Matt Gatens played at Iowa barely a decade ago, and was a star.
It was Matt's destiny to be a Hawkeye, and maybe this new job is also part of his destiny because it sure seems that way.