By Pat Harty
IOWA CITY, Iowa – Another University of Iowa sports calendar year has come and gone.
The Iowa men's and women's track and field teams both finished their seasons on Saturday at the NCAA Championships in Eugene, Oregon, and that's it.
The next time a team from Iowa competes will be at the beginning of the 2022-23 sports calendar year in about 12 weeks.
This past sports calendar year had a lot of individual star power, and as I always do this time year, I ranked the top UI men's student-athletes from one to 10.
And as usual, it wasn't easy.
I started with a list of 20 candidates and then trimmed it in half.
The 10 who didn't make the top 10 are also listed below.
A strong case could be made for each of the 10 that didn't make the top 10, like baseball player Keaton Anthony, who was named the Big Ten Freshman of the Year, a freshman All-American and second-team All-Big Ten.
Sophomore punter Tory Taylor averaged a whopping 46.1 yards on a Big Ten-leading 80 punts, but he only made honorable mention All-Big Ten, and individual awards, fair or not, does factor in the selection process.
Taylor and Anthony both were given serious consideration for the 10th spot on the list.
This kind of list is so subjective and there are no right or wrong answers, just opinions.
So, have at it.
Keegan Murray, sophomore basketball: His one-year ascent on the hardwood was similar to what Brad Banks accomplished as the Iowa quarterback two decades ago.
Murray's scoring average jumped from 7.2 points per game as a freshman to 23.5 this past season. That's an increase of 16.3 points, which is the largest points per game increase by a Big Ten player in 49 years (Illinois' Rick Schmidt's scoring average improved +17.6 from 1972-73).
The son of former Iowa basketball player Kenyon Murray totaled 822 points, 303 rebounds, 68 blocks, 66 3-point field goals, 52 assists, and 45 steals this past season. Keegan Murray is only the second player in Division I history to amass more than 800 points, 60 blocks, and 60 3-pointers in a single season, with the other being Texas' Kevin Durant in 2007. Murray is also the first player with more than 800 points and 300 rebounds with a field goal percentage of 55 percent or better in a single season since North Carolina's Antawn Jamison in 1998.
The 6-foot-8 Murray, who is from Cedar Rapids, scored at least 20 points in 26 games last season and at least 25 points in 16 games, both of which rank first nationally. Murray was voted the Big Ten Tournament Most Outstanding Player after totaling a tournament record 103 points and 38 field goals made in four games in leading the Hawkeyes to their third tournament championship and first since 2006.
Murray is expected to be a lottery pick in the 2022 NBA draft, and some mock drafts have him going as high as third overall in the two-round draft.
2. Tyler Linderbaum, junior football: The Solon native came to Iowa in 2018 as a defensive lineman recruit and he now leaves as arguably the greatest center in program history.
Kirk Ferentz has a knack for identifying and developing offensive linemen, and his success with Linderbaum is the latest example.
Ferentz didn't make the position switch because Linderbaum was struggling as a defensive tackle. Ferentz made the switch because he felt that Linderbaum had what it takes to be special as a center, and Ferentz now looks like a genius.
Linderbaum won the Rimington Award, which goes to nation's top collegiate center, this past season and was named the Big Ten Offensive Lineman of the Year.
He declared for the 2022 NFL draft as a fourth-year junior and was selected in the first round by the Baltimore Ravens and with the 25th pick overall.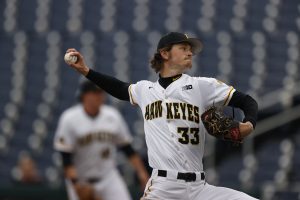 3. Adam Mazur, sophomore, baseball: The Hawkeyes cashed in big by landing Mazur from the transfer portal. The Minnesota native, who began his career at South Dakota State, thrived as the Friday starter, compiling a 7-3 record with a 3.07 ERA in 15 starts. Mazur allowed just 60 hits and 37 runs (32 earned) over 93 2/3 innings, while fanning 98, limiting hitters to a .178 average and walking just 30.
He was named the Big Ten Pitcher of the Year and second-team All-America by Collegiate Baseball. He led the league in batting average against, ranked second in innings and strikeouts, third in wins and fourth in ERA. In league games, the right-hander paced the Big Ten in wins (5), ERA (2.59), innings (55.2), while ranking fourth in strikeouts.
During Big Ten play, Mazur had seven consecutive quality starts from April 2 through May 13, logging eight or more innings in four straight starts. Mazur, who pitched a complete game shutout in the win at Nebraska, had nine quality starts during the 2022 season.
For the season, Mazur's 93 2/3 innings were the 14th most in a single season in program history, while his 98 strikeouts were third-most all-time.
4. Jacob Warner, senior, wrestling: The Illinois native was the 197-pound runner-up at the 2022 NCAA Championships. He earned his fourth career All-America honor and reached the finals to extend Iowa's streak of consecutive NCAA finals appearances to 32 straight national tournaments. Warner finished the season with a 21-6 record. He also registered a team-high six major decisions with 14 wins against ranked opponents and was named Iowa's Most Valuable wrestler.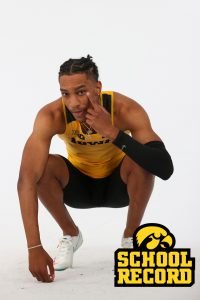 5. Jenoah McKiver, sophomore track and field: Imagine what the North Carolina native could've accomplished if he had just stayed healthy during the outdoor season.
Because his record-breaking indoor season was spectacular, capped by a runner-up finish in the 400 meters at the 2022 NCAA Indoor Championships.
He also won the 600 meters at the Big Ten Indoor Championships, and he was named the Big Ten Men's Indoor Track and Field Athlete of the year.
His outdoor season started on a high note in April as McKiver won the 400 at the Jim Click Shootout in Tucson, Arizona with a blazing time of 44.74 seconds. His time ranked second in the world and set a program record.
6. Riley Moss, senior, football: The Ankeny native was named the Big Ten Defensive Back of the Year despite missing three games with a knee injury. He started the season in spectacular fashion by returning two interceptions for touchdowns against Indiana. He finished the season with four interceptions, which tied for 11th nationally.
Moss considered leaving for the NFL before deciding to use the free Covid year and return for a rare fifth season of competition
7. Peyton Williams, sophomore baseball: The Johnson native made first-team All-Big Ten after hitting .356 with 38 RBIs, 51 runs scored and having 31 extra base hits (17 doubles, 12 home runs and two triples) during the regular season. He also hit safely in 37 games and reached safely in 45 contests. Williams ranks in the top eight in the Big Ten in four categories, including being fifth in on-base percentage (.477) and OPS (1.131), sixth in slugging (.654) and eighth in batting average (.356).
8. Alex Marinelli, senior, wrestling: The Ohio native became Iowa's eighth four-time Big Ten champion and the first since Mark Ironside won his fourth conference title in 1998. Joe Scarpello, Iowa's first four-time conference champion, won his first title 75 years ago in 1947. Marinelli is only the 17th four-time champion in the history of the Big Ten Conference tournament.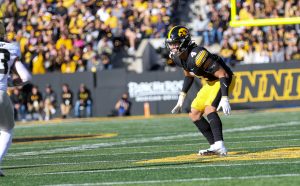 9. Dane Belton junior, football: The Tampa, Florida native led the Big Ten, and tied for second nationally last season, with five interceptions. He earned first-team All-Big Ten accolades and showed how to play the Cash position in Iowa's defense at an extremely high level. The Cash position combines both defensive back and linebacker skills and responsibilities, so it takes somebody who is physical but also light on his feet.
Belton decided to skip his senior season to enter the NFL draft where he was selected by the New York Giants in the fourth round.
He started 26 games over three seasons.
10 . Caleb Shudak, senior, football: The former walk-on from Council Bluffs made the most out of his only season as a starter. Shudak waited five years for his chance to start, and when it finally came last season as a sixth-year senior, he was ready.
He made 24-of-28 field-goal attempts and all 36 of his point-after kicks.
He also made third-team All-America and was a Lou Groza Award semifinalist.
Also considered: Keaton Anthony, baseball; Tory Taylor, football; Charlie Jones, football; Austin DeSanto, wrestling; Michael Kemerer, wrestling; Jack Campbell, football; Sam LaPorta, football; Dylan Nedved, baseball; Austin West, track and field; Julien Gillum, track and field.