By Pat Harty
IOWA CITY, Iowa – For nearly a quarter century, former Iowa basketball player Ricky Davis has been the answer to a trivia question, but that will change on Thursday thanks to the incredible rise of Keegan Murray.
Name the last Iowa men's basketball player to be selected in the first round of the NBA draft.
Davis earned that distinction in 1998 when the Charlotte Hornets selected the high-flying 6-foot-7 shooting guard from Davenport in the first round of the NBA draft, and with the 21st pick overall.
Davis would go on to play for 12 seasons in the NBA, averaging 13.5 points, 3.5 rebounds and 3.3 assists per game over the course of his career.
He set a high bar as one of just eight first-round picks in program history, but now that bar doesn't seem as high due to Keegan Murray's status heading into the two-round draft on Thursday at the Barclays Center in New York City.
It would be shocking if Keegan Murray, a 6-8 forward, lasted for 21 picks, and very surprising if he even lasted beyond 10 picks.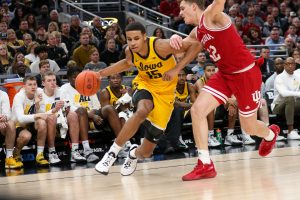 Keegan Murray is expected to go where hardly any Hawkeyes have gone before, which is a top-five or top-10 pick in the NBA draft.
Former Iowa guard Fred Brown was selected by the Seattle SuperSonics with the sixth pick overall in the 1971 draft, while forward John Johnson was taken by the Cleveland Cavaliers with the seventh pick of the 1970 draft, and former point guard Ronnie Lester was picked 10th overall by the Portland Trailblazers in the 1980 draft.
But that's it.
Brown, Johnson and Lester are the only former Hawkeyes to have been selected in the top 10 of the NBA draft.
Former center Kevin Kunnert came close in 1973 when the Chicago Bulls selected him 12th overall.
But nobody else has been picked higher than 18th overall, and the three former Hawkeyes that were picked in the first round are now Hawkeye legends.
So, what Keegan Murray is about to accomplish truly is spectacular and something that might not happen again for years to come at Iowa.
His rise to stardom is proof that you don't have to be a five-star recruit coming out of high school to be a five-star NBA draft prospect just three years later.
Neither Keegan Murray, nor his twin brother Kris Murray, who recently withdrew from the NBA draft to return to Iowa for his junior season, had a scholarship offer from Iowa coming out of Cedar Rapids Prairie High School in 2019.
In fact, they both only had one scholarship offer at the time from Western Illinois.
They both spent one year in a Florida prep school getting bigger, stronger and better as players, and that was enough to convince Iowa coach Fran McCaffery to offer them scholarships.
McCaffery now looks like a genius based on the success of both twin brothers.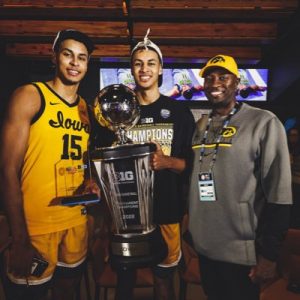 While Keegan Murray is expected to be a lottery pick on Thursday, the 6-8 Kris Murray is expected to be one of Iowa's top players next season, and one of the Big Ten's top players.
Keegan Murray has set an incredibly high standard that Kris Murray will now use as fuel and motivation.
Keegan will be surrounded by his family during the draft on Thursday.
"I'll be there with him celebrating," Kris Murray said last week. "It'll be a great night."
It will also be a historic night for Keegan Murray, and for Iowa basketball, but will take some adjusting as next season will mark the first time that Keegan and Kris haven't played basketball together on the same team, or at least in the same league.
It'll probably feel weird at times for both brothers, but that's the price Keegan and Kris will have to pay in order to achieve their hoop dreams.
Keegan Murray only played for two seasons at Iowa, but that was enough time for him to now be ranked among the greatest players in program history.
His father, Kenyon Murray, was a good player at Iowa from 1992-96, a 6-5 small forward who started for three seasons and excelled as a defender.
Kenyon Murray was also a McDonald's All-American, and the Michigan Player of the Year when he signed with Iowa in 1992.
But he never came close to matching what Keegan Murray has accomplished as a Hawkeye in half the time.
That's not meant as a criticism for Kenyon Murray, but rather a way of showing just how rare Keegan Murray is as a basketball player.
Iowa's NBA first-round draft picks
Year, player, pick, team
1998 – Ricky Davis, 21, Charlotte Hornets
1993 – Acie Earl, 19, Boston Celtics
1989 – B.J. Armstrong, 18, Chicago Bulls
1989 – RoyMarble, 23, Atlanta Hawks
1980 – Ronnie Lester, 10, Portland Trailblazers
1973 – Kevin Kunnert. 12, Chicago Bulls
1971 – Fred Brown, 6, Seattle SuperSonics
1970 – John Johnson, 7, Cleveland Cavaliers