By Pat Harty
IOWA CITY, Iowa – With the 2021-22 sports calendar year at the University of Iowa now completed, this is a look back at what was accomplished from an individual standpoint.
This column looks back the student-athletes whose individual performances stood out the most.
So, here is my list of the top 10 individual performances by UI men's student-athletes for the 2021-22 sports calender year.
Nine different student-athletes in five different sports are represented on the list: baseball, football, basketball, wrestling and track and field.
Former Iowa basketball player Keegan Murray, who is expected to be a lottery pick in the NBA draft on Thursday, is the only student-athlete to make the list twice.
Kyle Huckstorf's record-breaking offensive outburst in a 30-16 win over Indiana: This was one of those you-have-to-be-kidding-me performances and a reminder that almost anything is possible during the heat of competition.
Huckstorf entered this game known more for his defense, and deservedly so, because he is a force in centerfield as evidenced by the spectacular diving catch that he made in this game.
But it was Huckstorf's bat that made history as he hit three home runs, including a grand slam, and set a Big Ten record with 12 RBI. He finished with five hits overall and was recognized as the national player of the week.
Iowa trailed 13-2 after three innings, but then outscored the Hoosiers 28-3 the rest of the way.
2. Adam Mazur's two-hit shutout in a 1-0 win at Nebraska: Mazur retired the final seven Huskers in order and 18 of the final 20 batters he faced to notch his fifth win and his first career complete game shutout. The Minnesota native needed just 102 pitches (73 for strikes) to record Iowa's first complete game shutout since Tyler Peyton in 2016 (at Penn State, W, 8-0).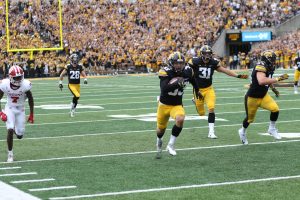 3. Riley Moss returning two interceptions for touchdowns against Indiana in the 2021 season opener: One of Iowa's most anticipated season openers in years, matching two ranked teams, quickly turned into a rout, thanks largely to his two pick sixes in the first half.
Iowa would go on to win 34-6 and the Hoosiers would go on to finish 2-10, never seeming to recover from the season-opening beatdown at Kinnick Stadium.
4. Keegan Murray scoring 32 points in an 80-77 overtime win over Indiana in the semifinals of the Big Ten Tournament: Elite players seize the biggest moments and Keegan Murray certainly did that in this game.
Jordan Bohannon made the game-winning shot, but there wouldn't have been a game-winning shot without Keegan Murray's contribution, which included making 8-of-10 shots from 3-point range. He also grabbed nine rounds and posted three assists, two blocks, and two steals against the Hoosiers.
5. Kris Murray scoring 29 points and grabbing 11 rebounds in an 83-74 win over Indiana on Jan. 13 at Carver-Hawkeye Arena: Somebody had to step up on one of the rare occasions when his twin brother wasn't playing like Superman, and Kris Murray certainly rose to the challenge by playing like an NBA first-round pick in a key conference game. He made 12-of-18 field-goal attempts and 3 of 4 free throws.
6. Keegan Murray scoring 35 points in an 80-75 win against Maryland on Jan. 3 at Carver-Hawkeye Arena: This performance was Keegan Murray at his finest as he made 14-of-21 shots from field, including 5 of 6 from 3-point range, grabbed eight rebounds and blocked three shots
Murray gave the Hawkeyes the lead for good with a 3-pointer that sparked a 17-5 run midway through the second half.
7. Jacob Warner's 6-4 win in the NCAA semifinals: Warner, the No. 6 seed at 197 pounds, scored four points in the third period to defeat Wyoming's second-ranked Stephen Buchanan and advance to the NCAA finals for the first time in his career. Warner would go on to finish runner-up at 197 pounds and was named Iowa's most outstanding wrestler for the 2021-22 season.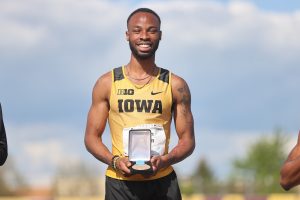 8. Julien Gillum winning the 400-meter hurdles at the Big Ten Outdoor Championships: The junior from Biloxi, Mississippi won the hurdle race in 51.12 to give the Hawkeyes their third-consecutive outdoor championships in the 400-meter hurdles (Jamal Britt – 2021, Chris Douglas – 2019).
9. Jack Campbell's 17-tackle performance in a 27-22 victory over Minnesota on Nov. 13 at Kinnick Stadium: Minnesota, much like Iowa, hopes to maul opponents at the line of scrimmage to help fuel its running game, but Campbell did all he could to keep that from happening.
The Gophers still managed to gain 189 yards on the ground, but it could've been a lot more if not for Campbell's presence.
The Cedar Falls native had a career-high 18 tackles in a win over Colorado State, but his performance against Minnesota was more impressive because of the opponent.
10. Jenoah McKiver's record-breaking victory in the 400-meters at the Jim Click Shootout in Arizona: His blistering time of 44.74 seconds set a school record and was also the second fastest time in the world at the time.