By Pat Harty
IOWA CITY, Iowa – Hayden Fry changed the fortunes of Iowa football in more ways than just by winning.
He made the tiger hawk logo popular to this day.
He made supporting the farmers a priority.
He ended Ohio State's and Michigan's stranglehold on the Big Ten.
He turned lashing out at the media to create a distraction for his players into an art form.
He ended the three-yards-and-a-cloud-of-dust mentality that had become synonymous with Big Ten football by passing at a rate rarely seen before in the conference.
And he changed the way Iowa uses the tight end position, and those changes still are evident to this day.
Kirk Ferentz is certainly unique and believes the game should be played a certain way. But much of what he believes, not surprisingly, is similar to what Fry believed as a head coach, including how to use the tight end position.
Ferentz spent nine seasons as Fry's offensive line coach at Iowa from 1981-89 and Ferentz saw up close how Fry modernized the tight end position, and how successful it proved to be.
Much was made of Fry's decision to have his tight end stand up at the line of scrimmage when he took over at Iowa in 1979.
From a strategy standpoint, having the tight end stand up at the line of scrimmage instead being in a three-point stance allowed for better vision and awareness downfield.
But it also seemed to be Fry's way of saying that from this point on the Iowa tight end will be one of the most important pieces on offense because that has certainly been the case for the past 40 years.
Jonathon Hayes was the first tight end under Fry to garner All-Big Ten recognition, making second-team as a junior in 1984, while Marv Cook was the first tight end under Fry to make first-team all-conference in 1987.
Hayes was also the first Iowa player to leave early for the NFL under Fry as the Kansas City Chiefs selected Hayes in the second round of the 1985 NFL draft.
Hayes and Cook both would go on to have long and distinguished careers in the NFL, and now many others have followed them.
Sam LaPorta hopes to join that elite group, but he isn't finished being a Hawkeye yet.
He still has his senior season to play after having considered leaving early for the NFL, and big things are expected from the Illinois native.
LaPorta led Iowa with 53 catches last season, and it wouldn't be a surprise if he had more catches this coming season.
Iowa's offense leaves much to be desired, but to no fault of the 6-foot-4, 249-pound LaPorta, who has made an impact from the moment he joined the team in 2019. He played as a true freshman in 2019 and has been playing a key role ever since.
"I blinked and here I am," LaPorta said of being a senior. "I told somebody else, the days go slow and the years go fast. You blink and here you are. It's kind of crazy looking back and seeing the young guys coming into the building and it felt like that was me just yesterday."
LaPorta, like some of the other star tight ends for Iowa, was lightly recruited coming out of high school where he played mostly as a wide receiver.
In fact, he was so lightly recruited that Iowa was his only Power Five scholarship offer, and the offer came very late in the recruiting cycle, about five days before signing day.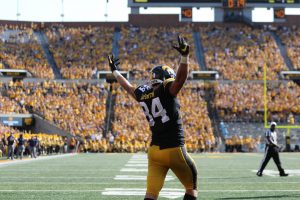 "I felt like I always knew my worth," LaPorta said. "There was definitely a chip on my shoulder, I guess. I was just going to keep working as hard as I could and it kind of just happened that Iowa came in at the last minute and swooped me up. I guess. So, here I am."
LaPorta learned about Iowa's rich tradition at tight end during his brief recruiting process, and then especially after he joined the team.
He would soon learn that he wasn't just playing any position. He was playing tight end for the Iowa Hawkeyes, and with that comes a major responsibility and an incredibly high standard.
"I heard about it a lot as an early player in my career," LaPorta said. "I guess it's almost like something that I hear so often that now it's almost mundane, or just normal for me to hear. But, yeah, of course, I want to uphold that standard. I have a duty to be the best football player that I can be for myself. I work as hard as I can for my teammates and this team. Upholding that standard is a big part to the position, and what makes Iowa tight ends Iowa tight ends."
Dallas Clark was the first Iowa tight end under Kirk Ferentz to make first-team All-Big Ten, earning that distinction in 2002.
Clark also would go on to have a long and successful career in the NFL where he won a Super Bowl with the Indianapolis Colts.
Iowa has had six tight ends overall make first-team All-Big Ten under Kirk Ferentz.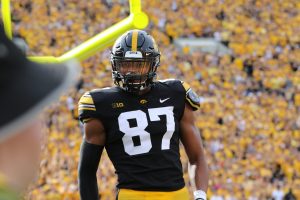 In addition to Clark, they are Brandon Myers in 2008, Tony Moeaki in 2009, C.J. Fiedorowicz in 2013 and Noah Fant and T.J. Hockenson in 2018.
All six of those tight ends would go on to play in the NFL, with Hockenson and Fant both having been first-round picks in 2019.
LaPorta made second-team All-Big Ten last season, so he's knocking on the door of this elite group.
George Kittle, on the other hand, never made first, second or third-team All-Big Ten at Iowa, but look where he is now as arguably the NFL's top-rated tight end.
Kittle was hampered by injuries at Iowa, but he still showed enough potential in Iowa's pro-style offense to make an impression on NFL scouts.
"The guys on the wall in our tight end room, I definitely know a lot of their stories," LaPorta said. "I think. I hope."
Kittle's story serves as inspiration for LaPorta because Kittle was also an unheralded recruit who would go on to blossom at Iowa.
Kittle is now using his success to help other tight ends as he is one of the founders of Tight End University, a summer convention in which some of the nation's top professional tight ends gather to watch film, conduct on-field drills and discuss how to better their bodies, their skillsets and how to further the position as a whole.
The event was held for the second time this past week on the campus of Vanderbilt University in Nashville, Tenn.
LaPorta said he had discussions about attending this year's event, but he ultimately chose to stay in Iowa City and train with his Iowa teammates.
"It's good to be here training with my boys," LaPorta said. "It's cool what they're doing down in Nashville and maybe I can go to that the next few years."
Iowa's offense might be severely lacking in some areas, but not at tight end where the position carries a heavy and diverse load.
Iowa uses its tight end in ways that are similar to how NFL teams use their tight ends, and that's beneficial when it comes to the NFL draft.
"I think the tight ends in our offense are like the utility guy," LaPorta said. "We do a little bit of everything. And so I think that's what makes it promising for teams at the next level. They think that they're getting a guy that can do a lot of everything. So, it's cool to get utilized in the pass game, the run game, everything. Not feeling like you're a singular player. I only catch the ball or I only block. Do a little bit of everything."
LaPorta said there were many factors that went into his decision to return to Iowa, including knowing that he would be a huge part of the offense.
"It had a lot to do with how much I enjoy this university and this football team," LaPorta said. "Tight End U wasn't really in my brain. It was making myself happy and doing what I want to do for my family, and most importantly, for myself. But I guess it was there in the thought process."