By Pat Harty
IOWA CITY, Iowa – If you think it was hard competing against the best tight ends in the history of the Iowa football program, try ranking the top 10.
I took on that daunting task, and what started as a fun challenge turned maddening because there are so many worthy candidates from which to choose.
The tight end position as we know it today started with the hiring of Hayden Fry as the Iowa head coach shortly after the 1978 season.
Fry modernized the position and made the tight end a key weapon as both a blocker and receiver.
Current Iowa head coach Kirk Ferentz has carried on that same tradition and Iowa is now widely recognized as Tight End U due to its rich history at the position.
There were so many factors that were considered when ranking the tight ends, factors such as statistics, of course, individual accolades, injuries and who stayed through graduation.
Four of the 10 tight ends on the list declared for the NFL draft despite still having college eligibility.
Injuries were also a factor, and the main reason George Kittle didn't make the top 10, or even the short list of those considered.
These rankings are based solely on what the tight ends accomplished during college.
And while Kittle is well on his way to becoming the greatest NFL tight end from the University of Iowa, he never had more than 22 catches as a Hawkeye due largely to injuries.
It probably isn't a coincidence that every tight end on the list played under either Hayden Fry or Kirk Ferentz.
That's mostly because the modern-day tight end, as mentioned before, didn't surface at Iowa until Fry arrived. There were plenty of celebrated receivers/ends at Iowa before the 1980s, but none, including Jim Gibbons, Don Norton and Karl Noonan, are listed as a tight end in the Iowa media guide's list of individual awards.
There are no wrong answers when compiling this kind of list because it's all just an opinion.
Who knows, a year from now my list of the 10 best Iowa tight ends might look different, but this is how I see it right now.
Please feel free to disagree.
Marv Cook, 1985-88 – The West Branch native earned the top spot for lots of reasons, including being Iowa's first consensus All-America tight end, and the only tight end in program history to twice make first-team All-Big Ten and for being the only tight end in program history to have at least 60 catches in a season.
Cook finished with 63 catches for 767 yards and three touchdowns as a senior in 1998, earning consensus All-America honors. He compiled those numbers despite missing three games due to an injury.
He also had 49 catches for 803 yards as a junior in 1987 for an Iowa team that finished 10-3 overall. The 803 receiving yards is the most by an Iowa tight end for a single season.
Cook finished his four-year career with 126 receptions for 1,825 yards and six touchdowns.
By far his most famous catch came at Ohio State in 1987 when Cook scored on a 28-yard pass from Chuck Hartlieb in the closing seconds to give Iowa a rare win in Columbus. Iowa was facing 4th-and-23 when Hartlieb lined up behind center and found Cook open down the sideline.
Cook made the catch and then cut inside before plowing over two Buckeye defenders, including Bo Pelini, into the end zone.
The play is now recognized as one of the greatest in program history and another reason why Cook sits atop this list.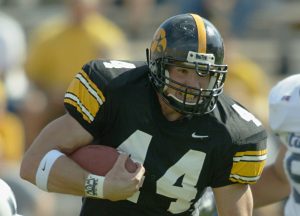 2. Dallas Clark, 2001-02 – The Livermore native came to Iowa as a walk-on linebacker under Hayden Fry and left as one of the greatest players in program history under Kirk Ferentz regardless of position.
He won the John Mackey as the nation's top tight end in 2002 and finished his career with 81 receptions for 1,281 yards and eight touchdowns.
Clark very well could have earned the top spot if he had stayed at Iowa for his senior season instead of declaring for the 2003 NFL draft.
But he didn't.
And why he left early made sense as Clark would go on to be a star in the NFL and a Super Bowl winner.
He was also 23 years old when he left for the NFL.
3. T.J. Hockenson, 2017-18 – He has the distinction of being the only tight end on the list who left for the NFL with two seasons of eligibility remaining.
A native of Chariton, Hockenson as a third-year sophomore won the John Mackey Award as the nation's top tight end in 2018. He had 49 catches for 760 yards and six touchdowns that season, and he also excelled as a blocker.
Hockenson only used half of his eligibility at Iowa as the Detroit Lions selected him in the first round of the 2019 NFL draft.
He was on course to break all the tight end receiving records as a Hawkeye, but chose to move on, a decision that made sense then and even more so now.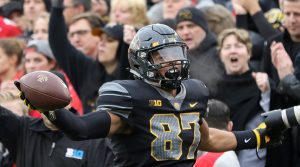 4. Noah Fant, 2016-18 – The Omaha native is probably the most athletic and most dynamic player on the list, and without question the fastest.
He finished his three-year career with 78 catches for 1,083 yards and 19 touchdowns, which is the most touchdowns for an Iowa tight end.
To put his touchdown total in perspective, Fant scored 13 more touchdowns than Cook scored as a Hawkeye despite having 48 fewer catches, and Fant also scored 11 more touchdowns than Clark scored as a Hawkeyes on three fewer catches.
Fant also had to share the stage with Hockenson for two seasons, but especially during the 2018 season when Hockenson became a star, while Fant became more of a specialist according to Kirk Ferentz when asked why Fant was playing a lesser role than the season before.
But even as a specialist, Fant still made first-team All-Big Ten as a junior in 2018 when he finished with 39 catches for 519 yards and seven touchdowns.
He was also selected in the first round of the 2019 NFL draft by the Denver Broncos.
5. Alan Cross, 1989-92 – I didn't expect the California native to be ranked this high when I started compiling the numbers and accolades.
But the numbers, combined with his individual awards, clearly show that he deserves this high of a ranking.
He made first-team All-Big Ten in 1992, second-team in 1991, and he finished his career with 96 catches for 1,259 yards eight touchdowns.
Cross also scored on a 61-yard pass against Ohio State in 1991 as Iowa would go on to prevail 16-9 in Columbus. The game was played the day after a disgruntled UI graduate student killed five UI faculty members on campus before taking his own life.
Iowa would go on to finish 10-1-1 that season.
6. Scott Chandler, 2003-06 – The Texas native came to Iowa as a receiver and grew into a tight end with receiver skills.
He finished his career with 117 catches for 1,467 yards and 10 touchdowns and he made second-team All-Big Ten in 2006. His career receiving yards rank second all-time for an Iowa tight end.
He finished with 47 and 46 catches as a junior and senior, respectively.
7. Mike Flagg, 1984-87 – The Cedar Falls native looked more like an offensive lineman and blocked more like an offensive lineman.
But he also finished his career with 86 catches for 1,187 yards and 13 touchdowns, and twice made second-team All-Big Ten in 1985 and 1986.
8. Jonathon Hayes, 1982-84 – Numbers and awards don't truly tell just how important he was to the offense, and to the future of the position at Iowa.
Hayes helped the position evolve under Hayden Fry, becoming the first tight end under Fry to earn All-Big Ten recognition as a second-team pick in 1984.
He finished the 1984 season with 42 catches for 512 yards and six touchdowns.
He then skipped his senior season to enter the 1985 NFL draft where he was selected in the second round by the Kansas City Chiefs and would go on to have a long and distinguished career.
9. Scott Slutzker, 1992-95 – The New Jersey native finished his career with 95 catches for 1,261 yards and five touchdowns. He also made second-team All-Big Ten in 1995.
10. Tony Moeaki, 2005-09 – Injuries kept the Illinois native from reaching his vast potential. But when healthy, he was arguably the most complete tight end on the list.
He dominated as a blocker and was a physical receiver who made tough catches in traffic.
He just couldn't stay healthy.
Moeaki made first-team All-Big Ten as a senior in 2009 despite missing three games due to injuries. He finished that season with 30 catches for 387 yards and four touchdowns in just 10 games.
The final two spots on the list came down Slutzker, Moeaki, Brandon Myers, C.J. Fiedorowicz, Michael Titley and current starter Sam LaPorta.
Myers, Fiedorowicz and Titley all made first-team All-Big Ten, but Slutzker had a more impressive body of work, while Moeaki was arguably the best tight end on the list when healthy.
LaPorta drew consideration for the 10th spot as he will enter his senior season with 94 catches for 1,118 yards and four touchdowns. He led Iowa with 53 catches and 670 receiving yards last season.
Should he match or surpass those numbers this coming season, LaPorta would easily earn a spot on a new top-10 list.
Also considered: Brandon Myers, C.J. Fiedorowicz, Michael Titley, Allen Reisner, #Sam LaPorta.
# -Still active