Editor's note: This is the third in a series ranking the top 10 Iowa football players at each position. Coming next: Receiver.
By Pat Harty
IOWA CITY, Iowa – A running back can be a tailback, a halfback, or even a fullback as Iowa fans certainly know about fullbacks.
So, that was taken into consideration while ranking the top 10 running backs in the history of the Iowa football program.
This is third part of series that ranks the top 10 players at each position.
Fullbacks were included on the list because it would've been too difficult to rank the 10 best fullbacks since the position has been used mostly as another blocker for the past 40 years.
But there is one fullback who made the list, and another fullback was considered.
Willie Fleming didn't make the list since he only played for one season at Iowa in 1958, but the late, great Bob Brooks once said that Willie Fleming was the most talented and exciting Iowa running back he had ever seen.
The 10 players that made this list, and those that were considered, were fortunate to have avoided career-ending injuries and to have played key roles in multiple seasons.
I also took the advice from a fan by starting the list at No. 10 and working up.
10. Gordon Locke – 1920-22 – The Denison native is the only fullback to make the list, and just too good to leave off.
He was a defensive back on Iowa's all-time football team, but he played primarily fullback according to the Iowa football media guide.
He was a Walter Camp first-team All-American in 1922 and he scored 72 points that season, a Big Ten record that stood for 12 years.
He was also awarded the Big Ten Medal of Honor in 1923.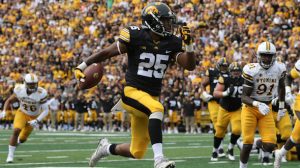 9. Akrum Wadley, 2014-17 – The New Jersey native has seen his popularity drop with some fans due to his participation in a racial discrimination lawsuit that has been filed against the Iowa football program.
But there is no denying his accomplishments on the field where he rushed for 2,872 yards and scored 28 touchdowns as a Hawkeye. His career rushing total is fifth on Iowa's all-time list.
He was an elusive runner, much like Ronnie Harmon and Tavian Banks, and he rushed for over 1,000 yards in the 2016 and 2017 seasons.
He capped his career by being named Pinstripe Bowl MVP in 2017. He amassed a career-high 283 all-purpose yards in Iowa's 27-20 victory over Boston College in the Pinstripe Bowl, and he did it on a frozen field at Yankee Stadium in New York City.
8. Fred Russell, 2001-03 – The Michigan native took over for Ladell Betts in 2002 and would go on to rush for more than 1,000 yards in that season, and in 2003.
He finished his career with 2,760 rushing yards and 17 touchdowns, and he averaged 5.4 yards per carry.
He only stood about 5-foot-8, but he used his size to his advantage, often hiding behind blockers before darting through a gap in the defense.
7. Albert Young, 2004-07 – The New Jersey native overcame injuries to rush for 3,173 yards during his Hawkeye career. That total is ranked third on Iowa's all-time rushing list.
He led Iowa in rushing in three consecutive seasons from 2005 to 2007, including a career-best 1,334 yards in 2005, and he scored 23 rushing touchdowns.
6. Tavian Banks, 1994-97 – The Bettendorf native was a gifted open-field runner who could score from anywhere on the field.
He was also an accomplished soccer player, and the skills that he used for that sport, helped him as a running back.
He is ranked fourth on Iowa's all-time rushing list with 2,977 yards despite only starting for one season in 1997. He also averaged 5.9 yards per attempt, which is the highest average amongst Iowa's top-10 career rushing leaders.
He rushed for 314 yards against Tulsa in 1997 and it still stands as the all-time single-game record at Iowa.
5. Shonn Greene, 2005-06, 08 – The New Jersey native is to the running back ranking what Brad Banks is to the quarterback ranking, in that in both cases, their ranking is based on one spectacular season.
For Greene, that season was 2008 when he rushed for at least 100 yards in each of the 13 games and won the Doak Walker Award as the nation's top collegiate running back.
He set an Iowa single-season rushing record in 2008 with 1,850 yards, averaging 6.0 yards per carry and scoring 20 touchdowns.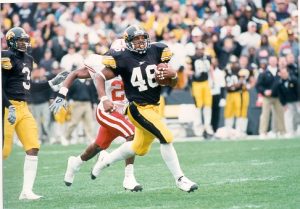 4. Ladell Betts, 1998-2001 – His biggest weakness might have been bad timing as he played during some lean years at Iowa.
He played his redshirt freshman season under Hayden Fry in what proved to be Fry's final season in 1998, but the yards weren't easy to come by as Iowa finished 3-8 overall.
Betts still gained 679 yards on 188 carries and would go on to lead Iowa in rushing for four consecutive seasons.
He finished his career with 3,686 rushing yards, which ranks second on Iowa's all-time rushing list. He also rushed for over 1,000 yards as a junior and senior, but he missed his final game – the 2001 Alamo Bowl – because of an injury.
A native of Blue Spring, Missouri, Betts would go on to play nine seasons in the NFL, although, that had no influence on his ranking, and he is now the Iowa running backs coach, a job he has held since March 2021.
3. Sedrick Shaw, 1993-96 – The Austin, Texas native still is Iowa's all-time leading rusher with 4,156 yards, a record that has stood since 1996.
He had a blend of power and speed, and finesse when he needed it, and was tough and durable.
His 250-yard rushing performance on 42 carries in a win at Michigan State in 1995 was a testimony to his greatness as he just kept moving the chains against a defense that knew he was getting the ball.
Another testimony to his greatness is that he kept Tavian Banks as a backup for three seasons, and that wasn't easy to do.
2. Ronnie Harmon, 1982-85 – The biggest thing working against him is that he only played two seasons at running back for Iowa.
He played his first two seasons at receiver and was well on his way to becoming one of the best receivers in program history.
He was elusive in open field and made difficult catces look easy. His vision and cut-back ability often left defenders grabbing for air and fans leaping from their seats.
A native of Queens, New York, Harmon rushed for 2,271 yards and 22 touchdowns and caught 146 passes for 2,045 yards and 10 touchdowns.
He finished with 4,985 all-purpose yards, which is second in program history to Sedrick Shaw's 5,043 yards.
And though he lost four fumbles in the 1986 Rose Bowl, the good still far outweighs the bad with Ronnie Harmon as a Hawkeye.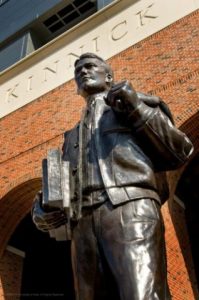 Nile Kinnick, 1936-39 – The Adel native was so much more than just a halfback by today's standards, but since the Iowa media guide lists him as a halfback, then so be it, he's a halfback.
And he tops the list simply because he's Nile Kinnick, the greatest legend amongst Hawkeye legends, and voted the best player in Iowa history by fan vote.
You name it and Kinnick did it for the Hawkeyes, especially during his glorious 1939 Heisman Trophy-winning season; run, pass, catch, block, tackle, kick and punt.
He was the heart and soul and the arm and legs for a team that finished 6-1-1 after having finished 1-6-1 the previous season.
The 1939 team was known as the Ironmen because head coach Eddie Anderson used fewer than 20 players and many of the starters played from start to finish.
Kinnick was the unquestioned and highly respected leader of the team.
A model student, an impactful leader and a multi-talented player who had a gift for rising to the biggest moments, like when he ran off left tackle through four Notre Dame defenders and into endzone, giving Iowa a 7-6 victory over the Irish in 1939.
Or, when he threw two touchdown passes, including the second with less than four minutes to play, to rally Iowa from a 9-0 deficit and past Minnesota, 13-9.
Kinnick participated in 107 of the 130 points, including 11 drop-kicks, during the 1939 season.
He also intercepted a nation high eight passes and threw 11 touchdown passes.
And now 83 years later, Kinnick still has the distinction of being Iowa's only Heisman Trophy winner, and his acceptance speech still ranks among the best, if not the very best, and is played in the moments before the start of Iowa's home games at the stadium named after him.
Also considered: Tony Stewart, Willis Glassgow, Ozzie Simmons, Nick Bell, Mark Weisman, Tyler Goodson, Ed Podolak, Eddie Phillips, Dennis Mosley, Jeremy Allen, Bob Jeter, Bill Reichardt.