By Pat Harty
IOWA CITY, Iowa – If Athlon Sports is right about its prediction for the 2022 Iowa football team, most Hawkeye fans probably won't be happy.
The maganize has Iowa finishing 8-4 overall in the regular season and 5-4 in conference play.
It also has Iowa ranked No. 32 overall and facing Arkansas in the Music City Bowl, but with no prediction.
Some will say that an eight-win season never should be taken for granted, and some will remind you about the 1960s and 1970s when Iowa was dreadful, while others will roll their eyes at the very mention of those talking points
Because under the current circumstances with Kirk Ferentz entering his 24th season as head coach, and with Iowa having won the Big Ten West Division last season, and 10 games overall for the second time in three seasons, eight wins would hardly be cause for celebration.
Especially if the offense should continue to sputter and is the biggest reason why Iowa underachieves.
Wisconsin and Purdue are picked to finish in a tie for first place in the West Division with 6-3 records. But the Badgers were given the top ranking with a 9-3 overall record, while Purdue is picked to finish 8-4.
So, it seems pretty apparent that Athlon Sports doesn't see a title contender, or even a serious playoff threat coming from the Big Ten West Division this coming season.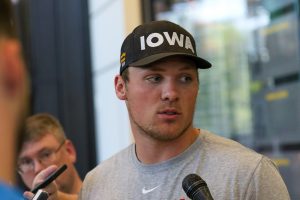 The magazine predicts that Nebraska will have its first non-losing regular season under head coach Scott Frost, finishing 6-6 overall and 4-5 in the Big Ten.
It also has Ohio State winning the Big Ten East Division with an 8-1 record in conference play, and one spot ahead of defending champion Michigan. The Buckeyes are also picked to defeat Wisconsin in the Big Ten Championship game.
From an individual standpoint, Iowa senior linebacker Jack Campbell, and fifth-year senior cornerback Riley Moss, were both picked as first-team preseason All-Americans by Athlon Sports, while junior punter Tory Taylor was picked for the second team behind Rutgers punter Adam Korsak.
Senior tight end Sam LaPorta, who led Iowa with 53 catches last season, was picked first-team All-Big Ten.
Defensive lineman Logan Lee, linbacker Seth Benson and Tory Taylor were all picked as second-team All-Big Ten, while sophomore defensive lineman Lukas Van Ness and senior defensive tackle Noah Shannon both were picked for the third team.
As proof of how late Charlie Jones chose to transfer from Iowa to Purdue, which he did in early June, he was named first-team All-Big Ten as a kick returner and second-team All-Big Ten as a punt returner, but for Iowa, not Purdue.
Magazines face deadlines, and Jones switched Big Ten schools long after the deadline had passed.
His presence could be one reason why Athlon Sports has Purdue finishing second in the West Division, and one spot ahead of Iowa. The Boilermakers have also won four of the last five games in the series.
Northwestern is picked for last place in the West Division, and to win just one conference game.
Athlon Sports 2022 Big Ten West predictions
School, overall record, Big Ten record
Wisconsin, 6-3, 9-3
2. Purdue, 6-3, 8-4
3. Iowa, 8-4, 5-4
4. Minnesota, 7-5, 4-5
5. Nebraska, 6-6, 4-5
6. Illinois, 6-6, 3-6
7. Northwestern, 4-8, 1-8