IOWA CITY, Iowa – The Iowa football team has struggled to defeat Wisconsin over the past decade, losing eight of the last 10 games against the Badgers.
But the Hawkeyes recorded a big win over Wisconsin in recruiting as 2023 three-star safety Kahlil Tate announced his verbal commitment to Iowa Tuesday morning on a live You Tube broadcast that was hosted by 247Sports.
Tate had narrowed his list to Iowa and Wisconsin, and his decision ultimately came down to the Iowa coaching staff having made the best sales pitch.
"It was really just the attention to recruiting," Tate said of why he picked Iowa over the Badgers. "They were the first school to offer me and they came to visit. The head coach came to the school.
"Just little things like that, and I connected with players down there and they just let me know that I fit the description and it's up to me to go geet it."
Tate took official visits to Iowa and Wisconsin in June.
He said on the broadcast that Iowa is recruiting him to play the cash position, which combines both linebacker and defensive back responsibilities.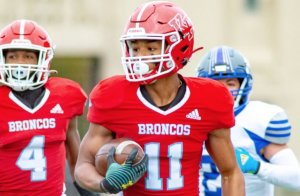 As a junior, the 6-foot-1, 185-pound Tate registered 63 tackles, five interceptions and two forced fumbles. He also racked up 451 receiving yards and 10 touchdowns in earning all-conference honors.
Iowa's success with developing standout defensive backs under defensive coordinator Phil Parker was another big factor's in Tate's decision.
Iowa has had 17 defensive backs selected in the NFL draft under Ferentz and Phil Parker, and senior cornerback Riley Moss was named the Big Ten Defensive Back of the Year last season.
"That was huge to me," Tate said of Iowa's NFL pipeline with defensive backs. "From doing my research I know that Phil Parker has developed a lot of DBs, and I know if I go there and I do my part, I can be next."
The effort given by the Iowa coaching staff during the recruiting process, and particularly Kirk Ferentz, Phil Parker and assistant defensive coordinator Seth Wallace, made a strong impression on Tate.
"They showed a lot of love," Tate said. "Day-in and day-out they checked in every week. They recruited my family just as much as they recruited me. They recruited my coaching staff. They did all the right things.
"And when I went down there, they made sure that I was comfortable , and I got to see the real Iowa."
Tate is the 17th player to commit to Iowa's 2023 class, and the third defensive back to commit to the class.
Check out my Jr. season highlights!
First City Championship in school history.
63 Tackles 5 Ints 2FF
451 Rec yds 10 TDs https://t.co/6WmMQ8qpF0

— Kahlil Tate ✞ (@TateKahlil) December 15, 2021