By Pat Harty
IOWA CITY, Iowa – If I could make three wishes come true for the 2022 Iowa football team, they would be as followed:
Defeat Notre Dame in the national championship game.
2. Have no serious injuries.
3. Spencer Petras saves his best for last and ends his career on a high note individually and from a team standpoint.
Obviously, the chance of Iowa achieving wish No. 1 would improve substantially should wishes two and three come true.
And wouldn't it make for an inspiring story for Petras to have the last laugh.
Iowa's senior quarterback has dealt with more than his fair share of criticism due to the offense having struggled over the past two seasons with him as the starter.
Some of the criticism is fair and warranted because Petras plays the most important position in team sports, and because he has struggled with certain parts of his game.
But there probably isn't a player on the team that is more respected and more admired than Petras, or that works harder than him.
"I think everybody wants Spencer to have a big year," sophomore receiver Arland Bruce said Tuesday. "I don't really read the media too much. But when I do see it, it's always negative. So, I think we're all rooting for him to have a good year and just prove everyone wrong."
Bruce and Petras were both among a handful of Iowa players that met with the media on Tuesday to give a summer update.
Iowa is coming off a 10-4 season in which it won the Big Ten West Division with a 7-2 conference mark.
However, some fans would say that Iowa's success happened despite the offense, and despite Petras playing quarterback.
Petras has a cannon for a throwing arm, and his arm strength was on display recently when he unleashed a deep ball that sailed more than 75 yards at the annual Manning Passing Academy in Louisiana.
His throw created a buzz on social media, but the critics also used it as an opportunity to point out Petras's weaknesses, and to say that it takes more than arm strength to be a good quarterback.
And while that is true, it's just a shame that Petras has become such a polarizing figure because he represents so much of what is good about Hawkeye football.
He and Iowa offensive coordinator Brian Ferentz are without question the two most criticized members of the program because they are the faces for a struggling offense.
"When you have a guy like him, no matter what people are saying about him, he's always going to be the leader of the team," Bruce said of Petras, who is from San Rafael, California. "Just like people try to say about Brian (Ferentz), those guys are always going to be leaders of the team. No matter what people say about them, they don't care. As long as the people in the building are supporting them and behind them, they're going to keep going to work and going to bat for their guys."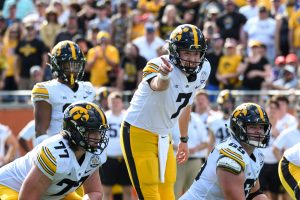 Petras was listed as the starter throughout spring practice, and he is expected to be starter when practice starts in August.
But there are some fans that would like for junior backup Alex Padilla, or even redshirt freshman Joey Labas, to have a chance to start at quarterback.
Padilla started three games last season when Petras was injured, but Padilla apparently didn't perform well enough to supplant Petras as the starter because Kirk Ferentz switched back to Petras in the regular-season finale at Nebraska and Petras also started in the Citrus Bowl.
Petras was among about 40 college quarterbacks that attended the Manning Passing Academy and he enjoyed getting to know them and learning that they face many of the same struggles and obstacles that he faces as Iowa's starting quarterback.
"You know Alex got a taste of it, but for the most part, there's no one on campus that has to go through something like I do," Petras said of being in the spotlight. "But being around like forty other quarterbacks that do, it was great just knowing that everyone is going through the same stuff. It's not unique.
"It was awesome. It was part of what made that a special weekend. It was just kind of an added bond just from being around guys like that."
Petras and Purdue quarterback Aidan O'Connell shared a room at the Manning Passing Academy, and yes, there was some friendly trash talk between the two Big Ten rivals whose rivalry became even more intense with star return specialist Charlie Jones having transferred from Iowa to Purdue in early June.
"I'm mutual friends with a lot of guys that Aidan is friends with, but I had never met him or really spent time with him, but he's a great dude," Petras said. "So, after a while, there was definitely a little smack talk."
Charlie Jones hasn't said publicly his reasons for transferring from Iowa to Purdue, but speculation is that he wanted to play in a better passing offense, which Purdue has compared to Iowa.
Petras and his offensive cohorts have something to prove this season, and they will have to play better for Iowa to reach its potential.
Petras has yet to complete 60 percent of his passes for a season, and he also struggles with mobility, although, he said Tuesday that he's running better now compared to any other time as a Hawkeye.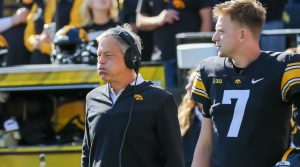 Petras wanted to work this offseason on becoming more mobile, and again, nobody on the team works harder than Petras according to his teammates.
"We don't have to remind ourselves, everybody in the program knows who we are and what we can do," Bruce said. "But I think it would just be cool to kind of flip some of those people off that are hating all the time."
Senior cornerback Riley Moss was in the same recruiting class as Petras and they have since become close friends and roommates.
So, Moss is also hoping that Petras can silence his critics with a strong senior season.
"He's my roommate and we've been best friends since I got on campus," Moss said.  "I think it would mean the world to him. He's put in so much work and time and effort into things.
"It's going to be cool to see it payoff this fall."
Petras tries to ignore the negativity on social media, but sometimes, that's hard to do, especially when it affects his parents.
He said after the Citrus Bowl loss to Kentucky that the criticism upsets his parents. He wasn't asking for sympathy for himself, but he just wanted to remind fans that his parents have feelings, too, and to sort of back off.
He didn't say it in those exact words, but that seemed to be his message.
It was sad listening to Petras talk about his parents having to deal with the criticism, but, fair or not, there is only one way for Petras to silence his critics, and that is to play better.
It's that simple, and he knows it.
I just wish for it to happen so all the fans can appreciate what Petras means to his teammates and coaches.