By Pat Harty
IOWA CITY, Iowa – While some Iowa fans might have been surprised, or even shocked, to see redshirt freshman walk-on Alec Wick listed as a backup receiver on the new preseason depth chart, his former high school offensive coordinator and receiver coach had a different reaction.
"I can't say I was surprised since I know from talking to a few guys that he's been doing really well over there and making plays, and certainly working hard," said Ed Hinkel, who is the long-time offensive coordinator and receiver coach at Iowa City Regina High School. "So, I can't say I was completely shocked.
"But it's awesome to see his name on the depth chart and I can't wait to see him out there this fall."
Hinkel has a unique perspective as Wick's former coach, but also as a former Iowa receiver who played under Kirk Ferentz from 2002-05 and finished his career with 135 catches for 1,588 yards and 15 touchdowns.
A native of Erie, Pennsylvania, Hinkel has been there and and done it at the Big Ten level, so he knows what it takes to excel as an Iowa receiver.
And even though Wick was undersized and lightly recruited in high school, Hinkel still felt that Wick could make an impact for the Hawkeyes.
"He's got great hands to start, which obviously is the number one thing for a receiver," Hinkel said. "But he's smart. He knows how to get open. He's got great feet. He was a great soccer player in high school.
"He just has the instincts, that it factor that people talk about. It just seems that he has it."
Wick also had an opportunity surface when the receiver position was hit hard by injuries during spring practice.
Kirk Ferentz said Tuesday at Big Ten media day in Indianapolis that sophomore receiver Jackson Ritter would be lost for the season due to an injury.
And with receivers Charlie Jones and Tyrone Tracy Jr. both having transferred to Purdue, there is an opportunity for playing time and Wick appears determined to seize that opportunity.
"He's done a good job," Kirk Ferentz said of Wick. "He shows up every day, works hard and he just kind of has a knack of doing some good things. We had a lot of guys out this spring, so, he took advantage of those reps and that opportunity.
"It'll be interesting to see what he does in August."
Wick is currently listed as the No. 2 wide receiver behind sophomore Keagan Johnson.
Wick also appears to have benefitted already from Iowa's strength and conditioning program as he is now listed at 6-foot-1 and 196 pounds.
Wick's climb up the depth chart might have happened sooner than some might have expected. But walk-ons also have a history of defying the odds at Iowa.
If a walk-on shows that he can play, he will play under Kirk Ferentz, who also on Tuesday mentioned redshirt freshman tight end Johnny Pascuzzi as another walk-on who has performed well since joining he program.
Hinkel wasn't a walk-on at Iowa, but he has seen enough of them excel as Hawkeyes to appreciate what they bring to the team.
"That's been a huge part of the program with Ferentz," Hinkel said. "There's always that one or two guys, I don't know if they were overlooked in recruiting or didn't get opportunities at other places. But Kirk gives them an opportunity and all of them are hard-working guys that do the little things that you need to do to be a good football player."
Wick played multiple sports in high school and was a star in soccer.
But from a college football recruiting standpoint, Wick was undersized, didn't have blazing speed and he played in Class 1A, causing most Power Five programs to dismiss him as a possible recruit, or even as a walk-on.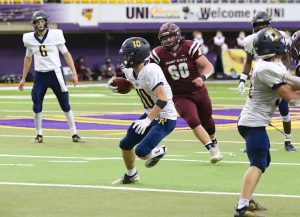 However, all it takes is one chance, and Kirk Ferentz was willing to give Wick that chance.
It's also reasonable to think Hinkel's opinion and influence played a role in Wick getting a chance at Iowa because Kirk Ferentz holds Hinkel in high regard.
As a former Iowa receiver, Hinkel was a valuable resource for Wick during the recruiting process.
Wick could've played soccer in college, or football at a lower level, but he wanted to be a Hawkeye, even if it meant joining the team as walk-on.
"We talked," Hinkel said. "I basically just told him to go in there and work hard. I knew he had the ability to play there and make an impact. I told him the first year is probably going to be hard as a walk-on. But put your head down, do the little things, make plays when you get the opportunity to make plays and people will start noticing.
"And he's come in and done that."
Wick was part of of potent quarterback-receiver combo at Regina, along with Ashton Cook, who now plays quarterback for Iowa State.
Wick made first-team all-state as a junior and senior and he helped Regina win a state title as a senior after having finished runner-up his sophomore year.
He finished his senior season with 75 receptions for 1,401 yards and 16 touchdowns.
As a junior, he had 79 catches for 1,161 yards and 15 touchdowns.
"I was his receiver coach and coached him up, but honestly, a lot of the stuff he was doing for us just naturally," Hinkel said of Wick. "Like I said, he just has that natural ability to get open and be in the right spot and ultimately catch the ball. Having him and Ashton Cook, two guys that are on division one rosters right now as a quarterback and receiver kind of made my job as the coordinator pretty easy."