By Pat Harty
INDIANAPOLIS – Jack Campbell started playing organized football in seventh grade.
He was a center on the B team.
"So, I was kind like I'll play and maybe I'll just play for fun," Campbell said Tuesday at Big Ten Media Day. "But then in eighth grade I got to play linebacker and I found my position and it kind of went from there."
Has it ever.
The former B team center from Cedar Falls is now one of the top college linebackers in the country, and the leader for an Iowa defense that is without question the strength of the team heading into the 2022 season.
Campbell was named first-team All-Big Ten by the media last season and he ranked second in the Big Ten with 143 tackles, which is fifth all-time at Iowa for a single season.
His 14 tackles in the Citrus Bowl this past season was the fourth most in the bowl's history.
So, thanks to an eighth-grade coach that obviously knew what was best for Campbell's future in football, the game is helping to change the course of Campbell's life.
Campbell was one of three players that represented Iowa at Big Ten Media Day on Tuesday at Lucas Oil Stadium, in Indianapolis, along with senior tight end Sam LaPorta and senior strong safety Kaevon Merriweather.
And while Campbell seems more comfortable chasing down ball carriers than talking about himself in front of the cameras, he handled his media session well on Tuesday.
He was almost too polite, and too humble, if there is a such a thing, often saying "yes sir" and "no sir," and always sending the right message about just being a good person and a good role model.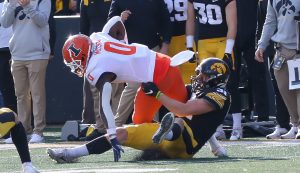 "How you present yourself matters," Campbell said. "Showing up on time matters. And working hard matters. A lot of things a lot of people don't think about it. I would say all that stuff is probably is going to help me in future endeavors. But just being a guy that's willing to raise his first to do the job no one else wants to do, whether that be on punt, punt return, field goal, field-goal block.
"Special teams carving out a role right there. But just being able to be a great teammate as well. Be a guy that young guys can come to and ask questions and be a sounding board for them. I think that will be important as well. So, I'm looking forward to that."
Kirk Ferentz couldn't have said it better because what Campbell said about how to present yourself sounds just like Iowa's veteran head coach, who is entering his 24th season as the head Hawk.
Put the team first, work hard to get better each day and just keep grinding is how they both operate.
Ferentz was asked about Campbell's ascent as a Hawkeye while addressing the media at Big Ten Media Day.
Ferentz started by talking about Campbell's rare size for a middle linebacker at 6-foot-5 and 246 pounds.
"He's got a skill set that's unusual, just his height and range," Ferentz said. "It's a little bit unusual for us, at least historically. I don't know the exact numbers, but he's probably our tallest linebacker probably in 23 years, I'm guessing."
Ferentz then shifted from Campbell's size to his character, and work ethic.
"Beyond that, he just plays smart and plays with unbelievable desire," Ferentz said. "I think the first thing I would cite with Jack, and that's probably true of a lot of really good players I've been around pro, college, or high school, or good coaches I've been around, he's extremely humble. He's not about taking credit for anything.
"He deserves a lot. He is a leader in his way. But he's authentic, he's humble, and really driven to do his best, and he's doing it for all the right reasons. He's got great pride in what he does, but he also feels a responsibility to really be at his best for our team."
Campbell has lived up to the title of student-athlete, making the Dean's List three times so far as a Hawkeye.
He also has stood out as a team leader as one of 10 juniors named to 2021 Player Council, and one of seven sophomores named to 2020 Leadership Group.
And though the circumstances have changed dramatically since Campbell started playing football in the seventh grade, he still has fun playing the game. There is way more on the line, individually and team-wise these days, but the game hasn't changed as it still comes down to shedding blocks and making tackles.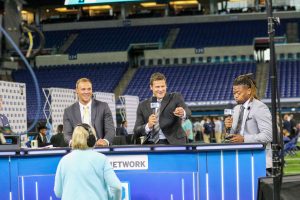 Campbell loves everything about football, the camaraderie, the daily grind, the planning and preparation, and the violence.
"I just love the fact that you can run around and be violent and not get in trouble," Campbell said. "And it's just kind of an outlet for me that I can go out and enjoy things that I enjoy.
"And then when I get off the field, being a great citizen and a great human being. I guess all that stuff kind of drew me to football because when you step on the field you can be a completely different person."
Campbell is part of an established linebacker trio at Iowa, along with senior Seth Benson and junior Jestin Jacobs, that has combined for 45 starts.
Iowa's front seven on defense is the real strength of the team, and it starts with Campbell's presence at middle linebacker.
His impact on and off the field is immeasureable.
"He makes you play better and work harder just from how he approaches each day," Seth Benson said about Campbell's impact earlier this summer.  "Nobody is more prepared and ready for practice or game day than Jack. We feed off his energy."
Campbell was given some simple advice when he started playing linebacker in eighth grade that he still follows to this day.
"I just remember being told go get the ball and I just fell in love with it and learning all the different offensive schemes they can run at you and how you've got to follow the puller and the angles you must take to be able to make the play," Campbll said. "It's just all very interesting to me."