By Pat Harty
IOWA CITY, Iowa – Good work Hawkeye fans.
Seven home football games, seven sellouts.
That became official on Wednesday when Iowa announced that the game against Nebraska on black Friday (Nov. 25th) at Kinnick Stadium is now sold out.
The other six sellouts are South Dakota State (Sept. 3), Iowa State (Sept. 10), Nevada (Sept. 17), Michigan (Oct. 1), Northwestern (Oct. 29), and Wisconsin (Nov. 12).
The last time Iowa sold out all seven home games in Kinnick Stadium was 2011.
To sellout all seven home games would be impressive under any circumstance.
But to have it occur during the highest inflation in 40 years and on the heels of a global pandemic that still poses a threat makes this current accomplishment even more impressive.
Iowa also lost its last two games of the 2021 season, including a 42-3 beat-down against Michigan in the Big Ten Championship game, and finished ranked 121st nationally in total offense last season.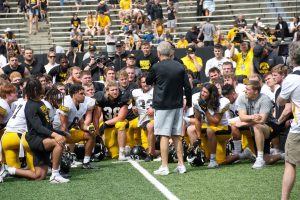 The comfort and convenience from watching games at home on television is another reason not to purchase tickets.
So, there are a lot of legitimate excuses for why not to purchase tickets, and yet, Hawkeye fans still are sending a strong and clear message that they're ready for some football, and ready to embrace the 2022 team and season.
It certainly helps that Iowa won the Big Ten West Division last season, and 10 games overall.
Iowa also has one of the Big Ten's top defenses, a 25-year old star punter from Australia and some up-and-coming players that have caught the attention of fans, including sophomore receivers Keagan Johnson and Arland Bruce.
But it was also just last season that Iowa couldn't even sellout the season opener against Indiana when both teams were ranked.
The game against Kent State in week three also drew just 61,932 fans to Kinnick Stadium  despite Iowa having defeated Indiana and Iowa State by scores of 34-6 and 27-17, respectively, in the first two games.
This isn't meant to criticize fans for not showing enough support last season, but rather to show just how motivated fans are for the 2022 season, which will be Kirk Ferentz's 24th as head coach.
The game-day experience, which for many fans includes hours of pre-game tailgating, is a cherished event and much more than just a game.
Seven Saturdays in the fall, Iowa fans gather to party and support their beloved football team, and to participate in one of the greatest traditions in sports known as the Wave when fans, players, coaches and the officials at the end of the first quarter turn and wave to the patients on the top floor of the University of Iowa Stead Family Children Hospital.
The excitement that builds in the moments before kickoff when Iowa takes the field in its traditional Swarm, and with AC/DC's Back in Black blaring over the loudspeaker, is hard to beat from an excitement standpoint.
But even with all that excitement, to have sold out all seven home games a month before the season opener is a great sign and very impressive.
The challenge now for the players and coaches is to reward fans for their support, and the only way to do that, fair or not, is to not necessarily be elite, but not far from it this season.
Fans are saying they believe in Kirk Ferentz and his 2022 squad, but with that belief comes a level of expectation.
For some fans, anything less than another division title would be a disappoinment, and for most fans, anything less than nine wins would be a disappointment.
The fans are obviously ready to do their part, so, now it's up to the players and coaches to do their part and make this season a reason to celebrate.
Thank you, Hawkeye Nation.

Best fans in the land.#Hawkeyespic.twitter.com/NJjibYKnXU

— Hawkeye Football (@HawkeyeFootball) August 4, 2022