By Pat Harty
IOWA CITY, Iowa – The way Phil Parker tells it, he hasn't had a job since 1999.
He's been a member of Kirk Ferentz's coaching staff at Iowa since then, but Parker doesn't consider what he does a job because he enjoys it too much to think of it as work.
Much has been written and said about Kirk Ferentz being the longest tenured head coach in college football as he enters his 24th season as the Head Hawk.
But Parker has been at Ferentz's side since the beginning, a loyal assistant who is now considered one of the top defensive coordinators in college football.
It's reasonable to think with everything that the 59-year old Parker has accomplished at Iowa that he has had chances to leave for other jobs. But Parker has withstood the temptation to move on, which is rare in his profession.
"I never sit there and say, I must be a head coach," Parker said Friday at Iowa's annual media day event. "I don't say that. I think you have to go through the process saying if it comes, it comes. And yeah, maybe someday I'd like to do that.
"But I think my point and place where I'm at right now, I'm very happy to be working with Kirk Ferentz, a great head coach. There's times I'm sure where he probably wants to get rid of me, but I really enjoy it here. It's a great place to be. We're not punching a clock as I would say. And like I've said before many times, I haven't gone to work yet here. That's the pleasure of coming here and seeing what kind of culture you have. You know who you have when you come to work."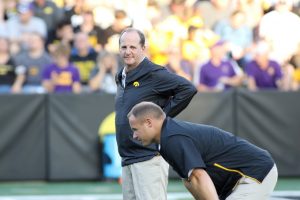 Parker, much like his boss, has a self-deprecating sense of humor because it's hard to believe with his track record that Kirk Ferentz has ever thought of getting rid of him.
Iowa usually has one of the Big Ten's top defenses and this coming season is expected to be more of the same with eight starters returning from a rock-solid defense.
"Phil makes my job so much easier," Kirk Ferentz said. "He doesn't need me getting in his way."
Home sweet home
Parker takes pride in having lived in the same house since he moved to the Iowa City area nearly a quarter century ago.
His house isn't very far from the Iowa football facility, so Parker often rides his bike to work with former Iowa assistant coach and close friend Reese Morgan, usually arriving at approximately 5:30 in the morning.
Parker made a promise to himself when he started coaching that his family, which includes his wife, Sandy, son Tyler and daughter Paige, would always be his top priority.
He didn't want them moving all over the country as he climbed the coaching ladder because he felt that providing a stable environment as a father and husband was more important than always looking for that next opportunity.
"I've been with some guys that I know that are friends of mine that have been at multiple places," Parker said. "They have a different lifestyle than what I chose to do mine. When I first came here, I knew that coaches stayed here for a long period of time, and for my family, that's what I thought was best in the coaching profession."
Parker feels fortunate that both of his children still live in the Iowa City area.
In fact, his son, Tyler Parker, is in his seventh year as an analyst for the Iowa football program.
"We're all on the same page here at Iowa," Phil Parker said. "We all enjoy working around each other in a good environment. And to have my kids still living in town just means a lot."
Stability on defense
Parker is only the fourth defensive coordinator at Iowa since 1979.
Bill Brashier served as Hayden Fry's defensive coordinator from 1979 to 1995 and Brashier still lives in Iowa City.
Bobby Elliott, who passed away in 2017, replaced Brashier in 1996, but Elliott had to resign after the 1998 season due to health reasons, and with Fry having retired.
Norm Parker (no relation) was hired as Kirk Ferentz's first defensive coordinator and Norm coached through the 2011 season before retiring.
Phil Parker was then promoted from defensive backs coach to defensive coordinator shortly after Norm Parker retired, and Phil has held the job ever since.
Phil Parker also has coached the Iowa defensive backs in 22 of his 23 seasons on the staff. He didn't coach the defensive backs in 2012 as he adjusted to his new role as defensive coordinator.
"A lot of guys had to leave their jobs due to financial situations, and sometimes, for other things," Phil Parker said. "They had to leave or get fired or whatever and move on. And I just didn't like seeing that. I see their kids growing up with them. So, to me, it was about staying in a stable situation. I've got one of the best coaches in the country to work for. And I think that's part of it.
"You've got to make sure that you're happy where you're at. I haven't gone to work yet, so I'm very pleased with being here. And it's been a great opportunity for me here. I think some guys look for it as soon as they get here, other places, they're always looking for another job and not taking care of the job that they're supposed to be doing at the time."
Parker has been good for Iowa and vice versa.
He gets to coach in the Big Ten and he makes over $1 million annually.
But as much as he appreciates the money, the stability that comes from working at the same place for nearly a quarter century is equally as important.
"What's important for my family," Parker said. "That's always driven me and been my priority."
Phil Parker grew up in Lorain, Ohio as the son of carpenter.
He learned early in life about the value of hard work and striving for goals.
"You've got to work at things," Parker said. "You've got to earn things. Nothing's given to you. That's just the way I was brought up and how things go."
That's also how he coaches.
Parker demands a lot from his players, but he also gives a lot in return.
"I enjoy helping these kids out here," Parker said. "They come from different parts of the country, and they come from different backgrounds, might have both parents, might have one, and the things we can help them achieve some of their success, to make them a productive person, that's kind of what I do."
Rewards from coaching
One of the best things about Parker's job, besides winning games, of course, is helping his players grow from teenagers to young men.
"I see guys go through here and see them grow," Parker said "And as they grow, they get older and more mature and then go on and they get married and have successful lives and they come back and say thanks for helping me out. That sort of thing is worth getting because you get to enjoy that moment of actually seeing the guys grow."
And while Kirk Ferentz has the final say on everything as the head coach, he gives Parker a lot of space and freedom because he trusts him.
That trust means a lot to Parker.
"Hopefully, I give him enough to make sure he trusts me," Phil Parker said. "And I guess that's probably a good reason why I'm still here. I'm lucky and very fortunate, I do things my own way and he's okay with it. He knows how to handle me. And I'm sure if I do something wrong, he's going to tell me. But I do like that he doesn't micromanage us."
Parker has shown over the years that he has a knack for identifying talent and potential where others coaches don't see it.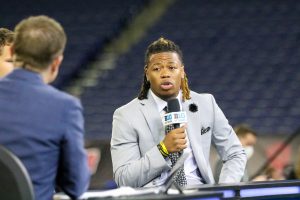 He has coached 17 defensive backs at Iowa that would go on to be selected in the NFL draft, and many of them were lightly recruited in high school.
Senior strong safety Kaevon Merriweather hopes to join that elite group.
Merriweather was actually more accomplished in basketball in high school than football, but Phil Parker saw something in the Michigan native that other college football coaches didn't see.
Merriweather in return saw something at Iowa that impressed him, which was stability.
"I think through the recruiting process that's something that intrigued me, I think they were on year 19 when I first got here," Merriweather said. "Having that type of stability that's not something you see at a lot of schools. You see at a lot of schools a coach will be there three, two years, four years and then just head out the door and go somewhere different."
The fact that Parker was an All-Big Ten defensive back at Michigan State in the mid-1980s gives him even more credibility.
However, he was on the losing end of an epic battle between Iowa and Michigan State in 1985 when Iowa prevailed on a Chuck Long bootleg in the closing seconds.
"I just remember coming here in 1999 and I had to watch it for a year, that bootleg," Parker said.
Parker said he recently brought up that play to his players after the Iowa defense had allowed a touchdown in practice on the same type of bootleg play.
He used it as a teaching moment in his never-ending quest for perfection.
Parker's defenses are known for being tough and fundamentally sound. His defenses also rarely give up big plays.
Iowa won the Big Ten West Division last season, and 10 games overall, despite having the 121st ranked offense in the country.
Parker's defense helped to lead the way, along with strong special teams.
Iowa isn't for everybody
Parker understands that his style of coaching might not be for everybody.
But for those who are willing to work hard and put the team first, Phil Parker seems to bring out the best in them.
"The one thing about it is Iowa might not be for everybody and I always tell guys that you have to make decisions based on what's best for you," Parker said. It's best for us, obviously, because it's best for me for staying here because that's what I believe. But it's not made for everybody. So, when I recruit kids I'm not sitting here trying to beg them to come here. If you want to be part of something that's really special what I think is in college football here at the University of Iowa. I think that's hard to come by nowadays. Obviously, you guys see it not only in head coaches and coordinators switching and position coaches switching."
Away from football, Parker likes to golf and he also likes spending time on a friend's farm.
"I'm not very good at it, but I like to golf," Parker said. "I like going out and helping guys on some farms. I've got a buddy that has a farm. He used to be my neighbor and we go out there and mess around and cut down trees with him."