By Pat Harty
IOWA CITY, Iowa – Iowa defensive coordinator Phil Parker spent most of his time at media day last Friday talking about his defense, his current players, his boss, his past, his present, his future, and about himself.
But he also took a few minutes to reflect on the legend of Bob Sanders.
Why?
Because he was asked to, and Parker seemed to enjoy the diversion.
It also proved to be sort of timely.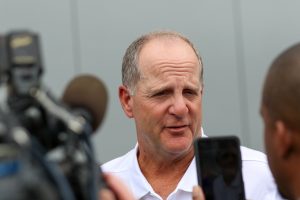 "As a matter of fact, we showed two plays of Bob the other day, well three," Parker said of the former Hawkeye strong safety, who played at Iowa from 2000 to 2003. "One was when we played Kansas State, he made the play on the first play on the punt return. Then Ohio State the play that he made running in there and hitting the guy on an off-tackle play. He came up and knocked the heck out of a kid. And one in a Michigan State game on a kickoff.
"And then I showed one to be my defensive backs who are on the team from the Super Bowl game where he caused that fumble in the Super Bowl when they were down like 10 or 14 (points) and he caused the fumble on like the 25-yard line."
Sanders was making his Hawkeye debut against Kansas State in 2000 at Arrowhead Stadium in Kansas City and his breakout performance would prove to be sign of things to come.
Sanders would go on to make first-team All-Big Ten three times, and he was one of the biggest stars on Iowa's star-studded 2002 team that 20 years ago this fall finished undefeated in Big Ten play and 11-2 overall.
Sanders also achieved stardom in the NFL as a member of the Indianapolis Colts. He was named the NFL Defensive Player of the Year in 2007, and he helped the Colts win Super Bowl XLI following the 2006 regular season.
Nearly two decades since he last played at Iowa, Sanders has achieved legendary status as Hawkeye fans of all ages just adore him.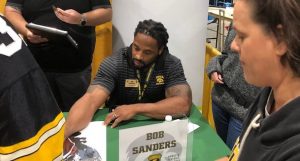 They love how he played the game with a reckless abandon and no fear.
Sanders hit so hard, and with so much violence and aggression that you sometimes felt sorry for the person he hit.
"When Bob came in and he was thick, I thought he was going to be a little stiff," Parker said. "But he had an attitude that he was just a typical find the ball and he'd make a tackle. And he had this great explosion and then he became a lot better player. He started seeing things better, time after time after time the way he worked at it."
Parker has coached 17 defensive backs at Iowa that would go on to be selected in the NFL Draft, including Sanders who was picked in the second round of the 2004 draft by Indianapolis.
There also have been 17 Iowa defensive backs that have made first-team All-Big Ten under Parker, including three times by Sanders.
"He's one of those special guys that you coach and you say, `I didn't give him that explosion," Parker said of Sanders, who retired from the NFL after the 2011 season. "He had that, so it was already in him. But you teach him the game a little bit and he started understanding a little bit more. He's very blessed."
The story about how Sanders became a Hawkeye has been well documented, how Kirk Ferentz's close friend, mentor and former high school coach, Joe Moore, convinced Ferentz to give Sanders a scholarship.
Ohio was the only other Division I program that offered Sanders a scholarship.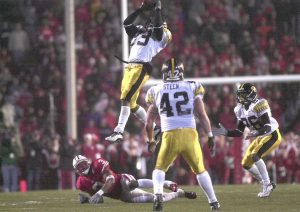 "I knew Bob had an explosion and that was all from Joe Moore telling Kirk you've got take this guy that was going to be a running back," Parker said.
Sanders played both running back and defensive back in high school in Erie, Pennsylvania.
And as Parker said, it was thought at one time that Sanders would be a running back in college.
Iowa liked him better on defense, and now it's easy to see why nearly two decades later.
Sanders was overlooked by most college coaches probably due to his lack of height as he only stands about 5-feet-8.
Parker reminded his current players about that during a recent film session in which he highlighted some plays made by Sanders at Iowa and in the NFL.
"I said this guy's 5-8 and he left here 5-8," Parker said. "That's the desire. And that's what you try to get your players to do, is to understand the desire and how good do you really want to be. Don't leave things un-done because you don't have that opportunity to come back."
Parker can relate to Sanders's story as a former All-Big Ten safety himself.
Parker made first-team All-Big Ten three times at Michigan State in the 1980s and was known for his bone-rattling hits.
Parker is now known for producing star defensive backs at Iowa, and there is no bigger star on the list than Bob Sanders.
"You learn about Bob Sanders early on as a Hawkeye," senior strong safety Kaevon Merriweather said in an interview near the end of last season. "His presence is still felt around here because he represents greatness, a living legend."