By Pat Harty
IOWA CITY, Iowa – Besides having a Hawkeye bias, I was asked to explain a tweet from Saturday in which I suggested that Iowa's 1985 football coaching staff was superior to Alabama's 2015 coaching staff.
I was responding to a tweet from @PFF_College that said Alabama's 2015 staff under Nick Saban was stacked.
And while that's a fair assessment, I said on Twitter that I'd still take Hayden Fry's 1985 staff over the 2015 Alabama staff, but there weren't enough twitter characters left to explain why.
So, I did it in this column instead, and yes, my opinion probably is influenced somewhat by a Hawkeye bias, and by a Hayden Fry bias.
But a strong case still could be made for Fry's 1985 staff being more accomplished.
I picked 1985 because Iowa won a Big Ten title that season, was ranked No. 1 in the country for six weeks and set was then a school record with 10 wins.
Each staff was incredible in its own way as both head coaches were legends, although, how they became legends was entirely different.
Saban is arguably the greatest college head coach in history based on having won seven national titles, including six at Alabama since 2007.
He took over a blue blood program that had fallen on hard times by its standards and then built a dynasty that ranks among the best in college athletics, and that shows no signs of decay.
Fry, on the other hand, built his legend from turning struggling programs into winners at places where winning wasn't part of the tradition.
Southern Methodist, North Texas and Iowa; Fry turned all three of them into winners, and he did so with a unique style and personality that added to his mystique.
Fry could've been the head coach for a blue blood program, but he chose not to because he was happy and felt fulfilled at Iowa where he coached from 1979 to 1998.
Fry wasn't nearly as successful as Saban has been as a college head coach. But Fry also coached at schools that pale in comparison to Alabama from a tradition standpoint.
Fry coached at places where it was harder to win than it is to win at Alabama.
Fry also took great pride in helping his assistant coaches climb the ladder, often saying that he only hired assistants that wanted to be head coaches because Fry felt that would cause them to work even harder.
Fry's 1985 staff included offensive coordinator Bill Snyder, who would go on to do the unimaginable by turning traditional cellar dweller Kansas State into a power that lasted for over a decade.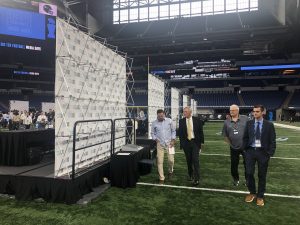 Barry Alvarez, Kirk Ferentz, Bob Stoops and Dan McCarney were also part of the 1985 staff and all four would go on to be successful head coaches at the Power Five level, with the 67-year old Ferentz still coaching the Hawkeyes.
Alvarez turned a struggling Wisconsin program into a Big Ten power that has lasted for nearly three decades, while Ferentz is Iowa's all-time winningest head coach and the longest tenured head coach in the country, entering his 24th season as the head Hawk.
Oklahoma was struggling by its high standards when Stoops was hired as head coach in 1999, but then just two years later, the Sooners won a national title in 2000.
Stoops, a former All-Big Ten safety at Iowa under Fry, was hired to restore Oklahoma to greatness, and that's exactly what he did before stepping down after the 2016 season. Stoops never won another national title after the 2000 season, but the Sooners were almost always in the national title hunt under Stoops and they won 10 conference titles.
Many consider what Snyder did at Kansas State as the greatest rebuild in the history of college football, even better than what Fry accomplished at Iowa.
Snyder was inducted into the College Hall of Fame in 2015 and he was the head coach at Kansas State for its 300th, 400th and 500th all-time wins.
He won two Big 12 titles and was named Big Eight Coach of the Year three times and Big 12 Coach of the Year four times.
Those accomplishments would've been impressive at any school, but to have had that success at Kansas State takes it to another level.
Alvarez lifted Wisconsin to a level that also surpassed what Fry accomplished at Iowa, winning three Rose Bowls with the Badgers before retiring in 2005.
McCarney took over a horrible Iowa State program in 1995 and would go on to lead the Cyclones to five bowl games, more than any other Iowa State coach in history. The Cyclones had been to only three bowl games in their entire history before his arrival.
In their first bowl appearance under McCarney, the 2000 Insight Bowl, the Cyclones notched their first bowl win in school history.
Don Patterson was also a member of Iowa's 1985 staff, and he would go on to win two conference titles in his first seven seasons as head coach at Western Illinois.
And let's not forget about Bill Brashier, Fry's long-time defensive coordinator.
Brashier never aspired to be a head coach, but those who coached with him, speak highly about his knowledge of the game, about his character and about his ability to inspire players.
Bernie Wyatt also never became a head coach in college, but his ability to recruit, especially on the East Coast where he grew up, helped to rebuild both Iowa in the 1980s and Wisconsin in the 1990s.
Carl Jackson was another member of Iowa's 1985 staff as the running backs coach, and he also coached under Ferentz at Iowa. Fry and Ferentz both spoke highly about Jackson as a coach and as a leader of young men.
Alabama's 2015 coaching staff, meanwhile, certainly distinguished itself by winning the national title that season.
Saban gets most of the credit, but one part of being a great head coach is surrounding yourself with other great coaches, and that was certainly the case for Saban in 2015.
Saban's staff in 2015 included current Georgia head coach Kirby Smart, current Ole Miss head coach Lane Kiffin, current Michigan State head coach Mel Tucker, current Miami (Fla.) head coach Mario Cristobal and current Florida head coach Billy Napier.
Smart, who was Saban's defensive coordinator in 2015, is inching towards legendary status after having led Georgia to the 2021 national title, its first since 1980.
But at this point, I'd still give a slight edge to Snyder, Stoops and Alvarez based mostly on body of work.
That's the biggest flaw with Alabama's 2015 staff in that most of the assistants from that staff don't have body of works that compare with Snyder, Alvarez, Stoops, and even Kirk Ferentz.
At least, not yet.
Mel Tucker led Michigan State to 11 wins last season and is showing signs of being special as a head coach, and as a contract negotiator based on his $9 million annual salary.
But he's only been a head coach for three seasons, two at Michigan State and one at Colorado, and twice he has finished with a losing record.
Lane Kiffin is entering his third season as the Ole Miss head coach and is coming off a 10-3 season.
This is Kiffin's fourth college head coaching job as he also coached USC for four seasons from 2010 to 2013, compiling a 28-15 record, which isn't great by USC's standards.
He also finished 7-6 in his only season as the Tennessee head coach in 2009, and he compiled a 26-13 record in three seasons as the head coach a Florida Atlantic.
So, while Kiffin has a decent body of work, he hasn't come close to matching what Snyder, Alvarez, Stoops and Ferentz have accomplished as head coaches.
Mario Cristobal is entering his first season as the head coach at Miami (Fla.) which is also where he played college football as offensive tackle from 1989 to 1992.
Cristobal earned the chance to return his alma mater to prominence by compiling an impressive 35-13 record in four seasons as the head coach at Oregon.
He got his start as a head coach at Florida International where he compiled a 27-47 record over six seasons from 2007 to 2012.
Oregon was willing to overlook Cristobal's losing record and took a chance on him that would go on to pay dividends.
The 51-year old Cristobal appears to be a coach on the rise, but his accomplishments fall short compared to Snyder, Alvarez, Stoops and Ferentz.
As for Billy Napier, he compiled an impressive 40-12 record in four seasons as the Louisiana head coach before accepting the Florida job.
Napier could prove to be one of the next great head coaches at the Power Five level, but he still has to do it, while Fry's assistants already have done it.
That's what separates the two staffs at this point, along with Fry's assistants having thrived at schools where sustaining success has been difficult at times.
2015 Bama coaching: STACKED 🤯 pic.twitter.com/lhYwhUFFuw

— PFF College (@PFF_College) August 20, 2022