By Pat Harty
IOWA CITY, Iowa – Iowa running back Gavin Williams was immediately surrounded by members of the media when he arrived at Tuesday's weekly press conference.
He had little room to maneuver with camaras and microphones just inches away.
Somebody in the media pack then said jokingly that Williams should hope that he has more room to maneuver in Saturday's season opener against South Dakota State at Kinnick Stadium.
And though it was a joke, it's no joking matter because if ever there were a time for the Iowa football team to live up to its sometimes-undeserving reputation as a power running team, Saturday's season opener would be it.
With the receiver position having been decimated by injuries, and by attrition, and with senior quarterback Spencer Petras under tremendous pressure to lift his performance level, it would sure help if the running game rose to the challenge.
Iowa only averaged 123.6 rushing yards per game last season, and that was with former All-Big Ten running back Tyler Goodson leading the way.
To rush for a similar total on Saturday could be the makings of an upset.
"I'm very confident in our ability to take that next step and do the things that we need to do this year and make the plays that we need to make," said Williams, a third-year sophomore.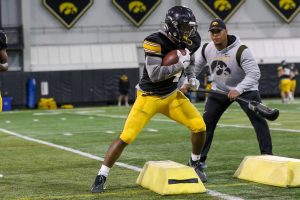 The players on offense that attended Tuesday's press conference all spoke optimistically about the running game and are confident that it will do its part on Saturday.
Iowa head coach Kirk Ferentz also expressed confidence in the running game.
Ferentz wasn't as sure about the running game during preseason camp because of injuries at that position.
But with Gavin Williams, and his backup, Leshon Williams, both now healthy, Ferentz believes the running game is where it needs to be heading into the season opener.
Ferentz didn't make any bold statements or predictions about the running game, but Ferentz said it's time to face a real test.
"They've done a good job," Ferentz said. "I alluded, we had some injury issues about a week and a half ago which made it a little bit bumpy, but I think everybody is on the same page, and that's probably why we need to play.
"You get to a point where the offense knows the defense, defense knows the offense, and it's like spy versus spy out there."
Iowa's offense is often criticized for being too conservative and too predictable.
It's been that way throughout much of Kirk Ferentz's time as head coach.
But in games in which Iowa has had a productive ground attack, being predictable didn't really matter.
There will be times in Saturday's game when the South Dakota State defenders probably know that Iowa will run the ball, and that's when it comes down to execution and winning your individual battle.
That's when everybody on offense has to be on the same page and has to be fundamentally sound because sometimes it only takes one minor breakdown for a running play to unravel.
The game becomes much easier on offense when the running attack is holding up its end of the deal.
Petras has the luxury of using play action when the running game stays ahead of the chains and that helps to keep defenses guessing.
"It's very important. It's important every week," Petras said of establishing the run. "Just with how we're built, we're going to run the ball and we're going to run the ball effectively. I think so far I've seen a lot of good things just out of the line and then out of those runnings backs. With how we're built, it's critical."
No disrespect to South Dakota State, which is one of the top teams in the FCS division, but a Big Ten team that takes pride in being a hard-nosed running team, as is the case with Iowa, should be able to have success.
But that was also the circumstances in 2016 when FCS power North Dakota State defeated Iowa 23-21 at Kinnick Stadium.
Iowa was held to just 34 rushing yards on 25 carries in that game, while North Dakota State rushed for 239 yards on 49 carries.
"One thing I always remind our team, there's nothing easy about winning football games, especially in college football, and there never has been, never will be," Kirk Ferentz said. "It's kind of the way it goes. But that's something our guys need to understand."
Iowa might only have three scholarship receivers healthy enough to play on Saturday if sophomore Keagan Johnson, whom Kirk Ferentz described as being touch and go on Tuesday, can't play.
The Iowa offense would be suspect even with a healthy group receivers, considering Iowa only averaged 180.1 passing yards per game last season.
So, the current situation is without question a major concern.
It seems pretty obvious now that at least one or two walk-on receivers will have to contribute on Saturday.
Redshirt freshman Alec Wick, and sophomore Jack Johnson, both of whom are walk-on receivers with no game experience, will have to grow up in a hurry on Saturday.
It would sure help the growing process if the running game had some success.
And that starts with the offensive line controlling the line of scrimmage.
Iowa has multiple offensive linemen with starting experience, but also has to replace All-America center Tyler Linderbaum, who is now a rookie with the Baltimore Ravens.
Sophomore Logan Jones is expected to start at center on Saturday.
He switched from the defensive line to center before spring practice.
Linderbaum made the same position switch in 2019, and the move paid huge dividends for him individually, and for the team.
"Nobody is Tyler Linderbaum, and Tyler was a new guy too a couple years ago, and he played really well in '19," Kirk Ferentz said. "I caught myself actually coincidentally yesterday thinking about that. Like when I look at our guys, and he's been practicing well, so you start thinking, okay, well, he's got it, and I started thinking to myself also, he hasn't played a game yet as an offensive player here. He did in high school.
"So he's practicing well, doing a good job. Things have been fairly smooth. But he still hasn't played out in Kinnick as a starter. He's going to have some anxiety, too, I'm sure. He really hasn't been a key player on our football team where he is now. He's in a role where he's going to be key."
The worst-case scenario would be for the running game to sputter against a loaded box because that would put pressure on Petras and on the receivers to pick up the slack.
"I feel like it's a huge part of our offense," Gavin Williams said. "I feel like the running game kind of sets the tone for a game. I feel like going in we kind of rely on our run game a little bit just to open some things up. And I feel like me and Leshon and the incoming that's we're going to have a good little group."
Iowa fans saw what Gavin Williams and Leshon Williams (no relation) both could do as running backs during the 23-20 loss to Kentucky in the 2022 Citrus Bowl in Orlando, Florida.
Goodson skipped the bowl game to prepare for the 2022 NFL draft, but in his absence, Gavin Williams and Leshon Williams rushed fo 98 and 42 yards, respectively, against Kentucky.
Kirk Ferentz was asked Tuesday if playing in the bowl game helped Gavin Williams and Leshon Williams both get a head start on this season.
"I think so, for sure," Ferentz said. "I still appreciate the fact that we knew a couple weeks out ahead. That was a good thing. It gave both those guys a chance to prepare as starters, and they both did a nice job I thought all month of December and both played well in the bowl game.
"I think at least we came into this season feeling pretty good about who our one and two are and how they can do, and both of them have done a great job, and then the key thing is moving forward with the younger guys. It's been a really good valuable four weeks for both the incoming freshmen. They've done a nice job."
Iowa added two running backs from 2022 recruiting class in Kaleb Johnson and Jaziun Patterson, and there is a chance that at least one of them could play on Saturday.
"I think both of them are in the mix right now," Kirk Ferentz said. "At least we have plans to let them go, as well, and we'll see how the game plays out. But I don't know if they'll both be in there Saturday but my guess is at least one of them will."