By Pat Harty
IOWA CITY, Iowa – Somewhat lost in the anger and frustration with how poorly the Iowa offense performed in Saturday's 7-3 victory over South Dakota State, and with the joy from watching Tory Taylor's brilliance as a punter, was the performance of Arland Bruce IV.
The true sophomore was one of just two Hawkeye receivers on scholarship that dressed for the season opener at Kinnick Stadium.
If that wasn't enough pressure, Bruce also had the daunting task of replacing Charlie Jones as the punt returner.
It's fair to say that Bruce passed the test under incredibly difficult circumstances.
He led Iowa with five catches for 68 yards, ran once for 11 yards and returned five punts for 17 yards.
With 79 yards on offense, Bruce accounted for nearly half of Iowa's 166 total yards.
His longest catch gained 27 yards, and on that play, Bruce took a vicious hit from South Dakota State safety Cale Reeder. But Bruce hung on to the ball and showed no effect from being hit.
Reeder was called for targeting on the play and ejected from the game.
The fans in Kinnick Stadium gave Bruce a well-deserved cheer, and the hope was that the toughness he showed on that play would kickstart the Iowa offense.
But that just wasn't meant to be.
Iowa's seven points came from two safeties and a 46-yard field goal by Alex Blom – his first as a Hawkeye – and the Iowa offense is now being ridiculed and mocked on social media.
Iowa's offense is also a major concern heading into Saturday's annual showdown against Iowa State at Kinnick Stadium.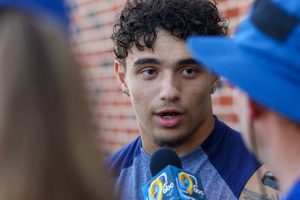 Bruce and fellow sophomore Keagan Johnson were expected to be a rising dynamic duo at receiver for Iowa this season, but Johnson didn't play against South Dakota State for an undisclosed reason, and he isn't listed on this week's depth chart.
Bruce was the only Iowa receiver to catch a pass in last Saturday's game.
Running back Leshon Williams and tight end Sam LaPorta both had two catches, while tight end Luke Lachey had one catch.
That was it, 11 catches in 25 passes from quarterback Spencer Petras.
Take Bruce out of the mix and Petras would've had just six completions for 38 yards.
"Just does things," Iowa coach Kirk Ferentz said of the 5-foot-10, 198-pound Bruce after Saturday's game. "I don't want to say with ease, but he's really very fluid in his play. He can do a lot of things and do them well."
Bruce is from Olathe, Kansas,  but he played his senior year of high school football at Ankeny and he helped lead the team to a state title as a receiver, running back and defensive back.
He did a lot of things well in high school, and now he's doing a lot of things well as a Hawkeye.
The Iowa defense had multiple players who stood out against South Dakota State, including the usual ones such as senior linebacker Jack Campbell, who recorded one of the safeties, but also two new starters in the secondary – junior free safety Quinn Schulte and sophomore Cooper DeJean, who played multiple positions in the secondary, and excelled on special teams.
Bruce, on the other hand, was mostly a solo act on offense, although Leshon Williams did rush for 72 hard-earned yards on 24 carries.
The problem is that Williams only averaged 3.0 yards per carry, and that kept Iowa behind the chains.
Williams also had very little room to maneuver as the Iowa offensive line struggled as a unit.
It just wasn't a good day for an offense that already was expected to be the team's weakness, but not to the extent of what happened against South Dakota State, which competes at the FCS level.
Bruce's performance is reason for optimism because he clearly is a versatile playmaker who can take a hit and make plays in a variety of ways.
Bruce seems unfazed by the pressure of being Iowa's go-to receiver.
He also knows that the Iowa offense has much to prove, even more so now in the wake of what happened in the season opener.
But Bruce doesn't let the outside noise impact how he prepares or plays.
"I don't feel pressure at all because the people that matter the most are the people in this building, my family," Bruce said last week. "We all know that we have a lot to improve on and we're going to show that this year."
Bruce certainly held up his end of the deal in the season opener, and he will be a focus for the Iowa State defense on Saturday.
What some might consider to be pressure, Bruce sees it as motivation, and he played that way in the season opener.