By Pat Harty
IOWA CITY, Iowa – Iowa defensive back Riley Moss didn't know better as a freshman.
He let the outside noise get to him when he was struggling on the field as a first-year player.
He let it become a distraction instead of ignoring the criticism.
But now as a fifth-year senior, and as the reigning Big Ten Defensive Back of the Year, Moss is better equipped to handle the outside noise.
He's more mature, and more established as a player.
"I've gotten pretty good at it," Moss said of ignoring the outside noise. "I've kind of learned to stay off Twitter and Instagram when I need to. My freshman year I didn't and that really got the best of me.
"But I've learned to kind of get away from it because most of the people tweeting stuff are sitting on their couch drinking beer and drunker than piss and eating potato chips. So why do I care what this person thinks."
Moss is basically taking the same approach to social media that his close friend and teammate, Spencer Petras, has taken since becoming Iowa's starting quarterback.
Petras has struggled during much of his time as the starter since 2020, but especially this season as he's only completing 45.1 percent of his passes for an offense that is ranked last amongst all FBS teams in total offense, and it's not even close.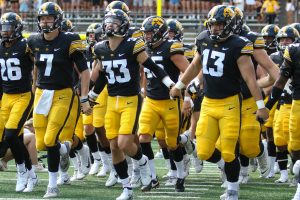 Iowa will enter Saturday's game against Nevada averaging just 158.0 yards per game.
The next closest team in the rankings is New Mexico State at 230.7 yards per game.
Iowa's offensive woes have made Petras an easy target for fans on social media, but Moss said Petras knows how to block out the noise.
"He's great at it," Moss said.
Moss and Petras both understand that playing the most high-profile position in team sports has a downside.
The quarterback often gets too much praise during good times, and too much criticism during bad times.
"It's part of the job and you learn to know that," Moss said. "And I think Spencer through his years has learned that and gotten used to it. But outside looking in people are criticizing him and stuff and I think he's doing a great job of just washing it and doing what he needs to do to get better.
"I do think it's unfair personally because that's my friend and my roommate and I see all the stuff that's said about him. But at the same time, it's a free world and you're allowed to say what you want. So, that's part of it, too."
Petras was asked Tuesday if he has been told that he will start against Nevada on Saturday.
Some fans are hoping that Iowa head coach Kirk Ferentz would give backup Alex Padilla a chance to start as a way to maybe ignite the offense.
Petras has only completed one touchdown pass and has nine interceptions in the last 10 games dating back to last season.
"Yeah, I assume so," Petras said of starting against Nevada. "It's business as usual in our building in regards to everything. I'm looking forward to beating Nevada."
Kirk Ferentz said Tuesday that the plan is to start Petras against Nevada.
Ferentz was questioned about Petras's body of work and reminded about Iowa's point totals in the last six games in which Petras has started and played from start to finish.
Those point totals are seven against Iowa State last Saturday, seven against South Dakota State in the season opener, 17 in a loss to Kentucky in the Citrus Bowl, three in a loss to Michigan in the 2021 Big Ten Championship game, seven in a loss to Wisconsin last season and seven in a loss to Purdue last season.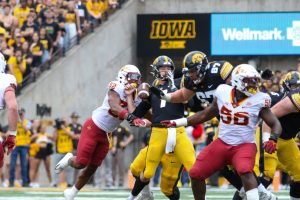 Ferentz also was remined that Iowa scored 27 and 33 points in wins over Minnesota and Illinois last season with Padilla as the starter.
"Those are good points, but we're looking at the whole thing and that's our assessment right now," Kirk Ferentz said.
And while Iowa combined to score 60 points in two of the three games that Padilla started last season when Petras was injured, Padilla didn't exactly light it up.
He completed 11-of-24 passes for 204 yards and two touchdowns against Minnesota, and just 6-of-17 passes for 83 yards and one interception against Illinois.
Padilla also started in the regular-season finale at Nebraska last season, but he was replaced by Petras for the second half after completing 6-of-14 passes for 76 yards in the first half.
Could a strong case be made for giving Padilla a chance to start, or at least a chance to play a series or two, just to see if he could provide a spark?
Absolutely.
But it's Kirk Ferentz's call, and right now, he's sticking with Petras.
As for Moss, his quote about people being drunk and tweeting from their couch probably didn't sit well with some fans.
But that was also Moss's way of defending his teammate and close friend.
He probably could've worded it better, but Moss spoke from his heart and said what he said.
It's tough on the Iowa defensive players because those who attend the press conferences on Tuesday are now being asked about the sputtering offense and about the situation at quarterback.
Those are certainly fair questions to ask, but it's silly to think that Moss would throw Petras or any offensive player under the bus.
Football is a team sport and one of the keys to being successful is sticking together during tough times.
Fans can say what they want, but the players have to be accountable to their teammates and coaches, and there would be nothing to gain by calling a player out publicly.
Maybe some of the defensive players would like to see a change at quarterback, but to say that to the media would be counter-productive and could hurt the team's chemistry.
Senior defensive tackle Noah Shannon was asked about the offense's struggles on Tuesday and he talked about sticking together.
"You could say one side may not be performing, but we're still together at the end of the day," Shannon said. "We all wear the same jersey, the same color, everything.
"We still love those guys no matter what."
Fans certainly have a right to be frustrated, and as Moss said, fans also have a right to voice their displeasure.
But Moss and his defensive cohorts also have the right to defend their teammates on offense, and to dismiss what fans say.
It's a two-way street.