By Pat Harty
IOWA CITY, Iowa – Every member of the Iowa football team probably dreams of playing on Sundays, but they didn't expect it to happen against Nevada.
It took nearly seven hours and three weather delays for Iowa to defeat Nevada 27-0 on Saturday and Sunday at Kinnick Stadium.
The game started at 6:40 p.m. on Saturday and finally ended at 1:39 a.m. on Sunday because of three lightning delays that stopped play for nearly four hours.
"Three rain delays and seven hours later we found a way to win the game," said Iowa coach Kirk Ferentz. "I'm just really happy about that, certainly."
The much-maligned Iowa offense finally showed a pulse as senior quarterback Spencer Petras threw his first touchdown pass of the season and finished with 175 passing yards, while true freshman running back Kaleb Johnson rushed for 103 yards and scored on touchdowns runs of 40 yards in the first quarter and 55 yards in the fourth quarter.
"He's a really good player, especially for a freshman," Petras said of Johnson. "He's just got to keep building."
Iowa (2-1) led 17-0 at halftime thanks to the usual strong performance by the defense, and by star punter Tory Taylor, who punted three times in the first half for a 48.7 average.
But the Iowa offense also finally did its part for a change by scoring two touchdowns and by racking up 197 yards in the first two quarters.
Iowa entered Saturday's game ranked last amongst the 131 FBS teams in total offense after combining for just 316 yards and one touchdown in the first two games against South Dakota State and Iowa State.
So, to have scored two touchdowns, and to have had nearly 200 yards in the first half against Nevada must have felt like an offensive explosion to the Iowa fans.
Kaleb Johnson blasted through a huge hole and then broke two tackles on his way to a 40-yard touchdown run with 4 minutes, 36 seconds left in the first quarter.
It was Johnson's first touchdown as a Hawkeye, and Iowa's second touchdown for the season.
"I've been waiting for this since I got here," Johnson said. "I love Hawkeye football. I love it."
Johnson played a bigger role than usual due to sophomore running back Leshon Williams not being available for Saturday's game because of his father having passed away this past week.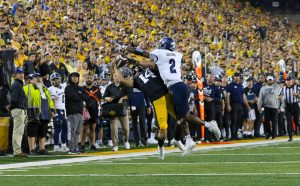 Iowa scored another touchdown on its next possession in the first quarter as Petras hit a wide open Arland Bruce on a 21-yard pass in the end zone with 23 seconds left in the quarter.
It looked briefly as if Petras might have overthrown Bruce, but the sophomore receiver made a diving catch in the end zone to secure Iowa's first passing touchdown of the season.
True freshman kicker Drew Stevens then made his first field goal as a Hawkeye as he connected from 43 yards with 9:42 left in the second quarter.
Stevens also connected on a 33-yard field goal in the third quarter.
The South Carolina native replaced Alex Blom as Iowa's starting kicker for Saturday's game, and Stevens made the most of his opportunity as he made both of his field-goal attempts and all three point-after kicks.
Petras completed 9-of-16 passes for 104 yards in the first half, but at least two of his deep throws probably should have been caught by the receiver.
Iowa gained some much-needed depth at receiver with the return of senior Nico Ragaini and sophomore Keagan Johnson, both of whom missed the first two games due to medical reasons.
Ragaini finished with two catches for 56 yards, while Johnson had one catch for seven yards.
"I think it just allows us to be more multiple and less predictable," Petras said.
Nevada only had 64 yards in the first half, including 17 passing yards, and finished the game with 151 yards.
Iowa recorded its first shutout since having two in the 2019 season against Northwestern and Rutgers.
"It's really cool," said sophomore defensive back Cooper DeJean, who had an interception against Nevada in the first quarter, his second of the season. "It's kind of our standard. We don't wany to give up any points in any games.
Iowa has only given up 13 points in three games this season.
The Hawkeyes will start Big Ten play next Saturday against Rutgers in Piscataway, New Jersey.
Nevada 0 0 0 0 – 0
Iowa 14 3 3 7 – 27
I – Kaleb Johnson 40 run (Drew Stevens kick)
I – Arland Bruce 21 pass from Spencer Petras (Stevens kick)
I – Drew Stevens 43 FG
I – Stevens 33 FG
I – Johnson 55 run (Stevens kick)