By Pat Harty
IOWA CITY, Iowa – Let me start by saying in no way is this column suggesting that Kirk Ferentz should retire anytime soon.
Iowa's all-time winningest football coach, who is also the longest tenured FBS coach in the country, has earned the right to step down when he so chooses.
The recent narrative that Kirk Ferentz should retire just because he and his son, Iowa offensive coordinator Brian Ferentz, have the worst offense amongst the 131 FBS teams is just silly and misguided.
It's easy to dwell on the current problems on offense and overlook the fact that Kirk Ferentz led Iowa to the Big Ten West Division title last season, and he has a 28-10 record since the start of the 2019 season. Iowa also won 10 games in two of the last three seasons, including last season.
So, enough with the Kirk Ferentz should retire nonsense.
But on the other hand, there is nothing wrong with planning for life after Kirk Ferentz, considering this is his 24th season as the Iowa head coach, and he is 67 years old.
Iowa will open Big Ten play Saturday at Rutgers in what will be Kirk Ferentz's 292nd game as the Iowa head coach.
Kirk Ferentz has shown no signs that he is even thinking about retiring, and he has a contract that runs through the 2029 season.
But there will come a time when Kirk Ferentz isn't the Iowa head coach, maybe even sooner than later.
What if he were to retire in the next two to three years?
You would like to think that Iowa Athletic Director Gary Barta has a short list of potential candidates to replace Kirk Ferentz because part of being an athletic director is being ready for anything that should come his or her way.
But just in case Barta doesn't have a short list of candidates, he could always refer to the following list of five potential candidates.
Mark Stoops: The former Iowa defensive back, and younger brother of Bob Stoops and Mike Stoops, is in his 10th season as the Kentucky head coach.
Mark Stoops became Kentucky's all-time winningest football coach (62-53) with a 26-16 victory at Florida in week two of this season.
And though he has made Kentucky a winner in the mighty Southeastern Conference, a chance to be the head coach at his college alma mater would seem a step up for the 55-year old Mark Stoops.
He has paid his dues while steadily climbing the coaching ladder in a career that started with Mark Stoops being a graduate assistant coach at Iowa from 1989 to 1991. He then moved back to his home state of Ohio where he was the athletic director and defensive backs coach at Nordonia High School in Macedonia, Ohio from 1992-95.
He coached defensive backs at South Florida in 1996, and at Wyoming from 1997-99.
He was co-defensive coordinator at Houston in 2000 and then coached defensive backs at Miami (Fla.) from 2001 to 2003.
He was the defensive coordinator at defensive backs coach at Arizona under his brother Mike Stoops from 2004 to 2009 before moving to Florida State where he was the defensive coordinator and defensive backs coach from 2010 to 2012.
Mark Stoops was hired as the Kentucky head coach on November 27, 2012, replacing former head coach Joker Phillips, who was fired after a 2–10 season. In Stoops' first season as the Kentucky head coach, he went 2-10, followed by back-to-back 5-7 seasons.
The Wildcats have been steadily getting better ever since, including last season when they finished 10-3 overall, capped by a 20-17 victory over Iowa in the Citrus Bowl.
It's hard enough being competitive in the SEC conference, but especially for a basketball school like Kentucky where there isn't much tradition to build on.
Mark Stoops has overcome major obstacles to make Kentucky a winner.
The Wildcats are currently 3-0 and ranked eighth in this week's Associated Press top-25 poll.
Mark Stoops has shown that he can recruit and develop players.
He also has strong ties to his home state of Ohio, and it certainly doesn't hurt being Bob Stoops's younger brother.
Iowa fans would love reconnecting with the Stoops family.
And speaking of Bob Stoops, Iowa fans would be ecstatic if he returned to his alma mater to be head coach, and he would top this list if it seemed likely that he would pursue the job.
However, Bob Stoops is also 62 years old and he has shown no apparent interest in returning to the college game as a head coach after having stepped down as the Oklahoma head coach in 2016.
Bob Stoops is currently the head coach of the Dallas Renegades in the XFL.
2. Dave Clawson: The 55-year old Clawson is in his ninth season as the head coach at Wake Forest, which is currently 3-0 and ranked 21st in this week's AP poll.
He was named the Atlantic Coast Conference Coach of the Year last season for leading the Demon Deacons to an 11-3 record, including 7-1 in conference play.
Wake Forest averaged 41 points per game last season, which was fourth in the nation, and has averaged at least 30 points a game in each season since 2017.
Clawson's offenses are known for making big plays, and he has changed the perception of a program with a lengthy losing tradition.
Clawson also has climbed the coaching ladder with previous head coaching experience at Fordham University from 1999 to 2003, at the University of Richmond from 2004 to 2007 and at Bowling Green University from 2009 to 2013.
3. LeVar Woods: At 44 years of age, Woods is the youngest of the five coaches on this list. He also has no head coaching experience.
But he has the respect and admiration of Hawkeye fans due to his impact on special teams.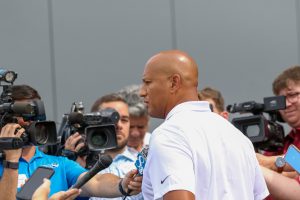 Woods, a former Iowa and NFL linebacker, was named Iowa's special teams coordinator in 2017 after having helped coach the tight ends for three seasons from 2015 to 2017 and linebackers from 2012 to 2014.
Iowa has been a force on special teams ever since Woods took over all phases of special teams.
Junior Tory Taylor currently leads the Big Ten in punting with a 48.2 average, and he was named the Big Ten Punter of the Year as a freshman in 2020.
Woods flew to Taylor's hometown of Melbourne, Australia to recruit him and it was well worth the time, expense and effort.
The Iowa players speak highly about Woods' attention to detail, saying that he leaves no stone unturned when devising a game plan on special teams.
Iowa had the Big Ten Special Teams Player of the Week in each of the first two games this season as Taylor was honored for his performance in the 7-3 victory over South Dakota State in the season opener when he punted 10 times for a 47.9 average, including seven punts that were downed insie the opponent's 20-yard line, while sophomore defensive lineman Lukas Van Ness was honored for blocking two punts against Iowa State.
Iowa also excels on punt coverage where defensive backs Terry Roberts and Cooper DeJean both stand out.
"Coach Woods is doing a very good job," Roberts said. "Arguably the best special teams coach in the nation."
Woods grew up in northwest Iowa as a Nebraska fan, but he quickly switched his allegiance when former Iowa head coach Hayden Fry offered him a scholarship.
Woods played for both Fry and Kirk Ferentz at Iowa.
4. Phil Parker: Iowa's veteran defensive coordinator said at media day in August that he hasn't rule out becoming a head coach.
Parker turned 59 in March, making him the oldest coach on this list.
So, if he were to make a move, it would likely happen in the next few years.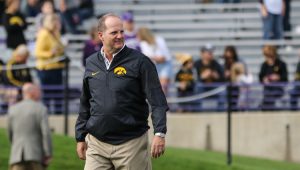 However, that could make it hard for Parker to succeed Kirk Ferentz should Kirk Ferentz stay through most or all of his contract.
Iowa almost always has a rock-solid defense under Parker, with this season no exception.
Iowa recorded its sixth shutout since 2016 with last Saturday's 27-0 victory over Nevada, and has allowed just 13 points and one touchdown in three games.
Parker's defenses are known for being tough, physical, well prepared and fundamentally sound.
They also rarely give up big plays because the players on defense are usually in the right position to prevent it from happening.
Parker made first-team All-Big Ten three times at Michigan State as a hard-hitting safety in the mid-1980s.
So, he has credibility for what he accomplished as a player, and for what he has accomplished as a coach.
Parker has shown a knack for seeing talent where other coaches don't see it, especially with defensive backs.
Five Iowa defensive backs have been named the Big Ten Defensive Back of the Year under Parker, and all five were lightly recruited in high school. They five players are current senior cornerback Riley Moss, who won the award last season, Amani Hooker (2018), Josh Jackson (2017), Desmond King (2015) and Micah Hyden (2012).
5. Lance Leipold: The 58-year old Leipold has Kansas off to its first 3-0 start since 2009.
Kansas ranks third nationally in scoring offense (53 points per game) and ninth in yards per play (7.55). The 159 points through KU's first three games exceeds the 142 points the program scored over the entire 9-game 2020 season.
Kansas is also one of three FBS teams to have played three games and not allowed a sack.
Leipold has been linked to the Nebraska job, but he tried to downplay his interest as a recent guest on on Ryan Leaf's show The Straight Line.
"Just like anything, I think you have to stay in the moment, be where your feet are at," Leipold said. "You know, my wife, Kelly and I we came to Lawrence, Kansas, not to move at this stage of our career. It's flattering. Like you said, it's early, it's early in the season. But our focus is trying to build the Kansas Jayhawks into a winner and a consistent winner for the long haul."
Whether Leipold is interested in the Nebraska job remains to be seen because it's not unusual for a head coach to say publicly that he's looking to go nowhere when he might actually be looking.
Leipold was the head coach at Division III Wisconsin-Whitewater from 2007 to 2014, and at Buffalo from 2015 to 2020.
He compiled an incredible record of 109-6 in eight seasons at Whitewater and won seven conference titles.
He had a 37-33 record at Buffalo, including 24-10 over the last three seasons.
Depending on how long Kirk Ferentz's chooses to stay at Iowa, Leipold's age could work against him.
But that fact that Leipold is having success at Kansas speaks volumes because Kansas is traditionally one of the worst FBS programs in the country.
So, there you have it, five candidates to replace Kirk Ferentz when he retires.
The timing of Ferentz's retirement could ultimately eliminate every coach on this list except for Woods due to age concerns should Ferentz stay longer than four or five more years.
But this list is for right now, and would probably hold up for another three years or so, assuming the four head coaches on the list keep winning.