By Pat Harty
The team whose offense has been a laughingstock and the brunt of jokes and ridicule is now 3-1 and 1-0 in Big Ten play.
The Iowa football team achieved those records with a convincing 27-10 victory against Rutgers in the Big Ten opener Saturday night in Piscataway, New Jersey.
Iowa's defense scored two touchdowns in the first half on a pick six by sophomore defensive back Cooper DeJean, and on a fumble return by senior defensive back Kaevon Merriweather, and the much-maligned Iowa offense showed just enough improvement for fans to feel better about a team that just two weeks some had written off for dead after a 10-7 loss to Iowa State.
Phil Parker's defense was spectacular, forcing four turnovers and helping to take some pressure off the Iowa offense, which showed some life in the second half.
Iowa marched 75 yards for a touchdown to take a 24-3 lead in the third quarter, and that's when the outcome seemed pretty safe from Iowa's standpoint.
The Iowa defense entered Saturday's game having allowed just one touchdown, and Rutgers was down to its third-string quarterback.
That lopsided matchup proved too much for Rutgers to overcome.
Iowa's defense has scored two touchdowns this season, while allowing just two.
Iowa also has two safeties on defense.
The offense still is very much a work in progress, a slow and frustrating work in progress, but Spencer Petras and his cohorts had their moments in Saturday's game.
The Iowa offensive line had a nice surge on multiple running plays, and senior tight end Sam LaPorta showed why he is one of the best in the country at his position, and why he is Petras's favorite target.
LaPorta led Iowa with four catches and 77 receiving yards.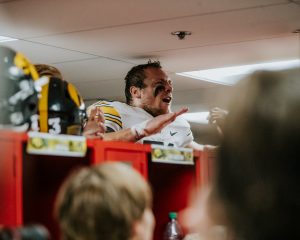 True freshman running back Kaleb Johnson followed up last Saturday's breakout performance against Nevada when he rushed for 103 yards and scored two touchdowns in a 27-0 victory with another significant contribution, gaining 58 yards on 15 carries.
Sophomore running back Leshon Williams also played well after having missed the Nevada game last Saturday due to the death of his father.
He finished with 64 rushing yards and one touchdown.
Iowa finished with 129 rushing yards, which isn't much compared to a lot of teams, but it's a step up for a team that entered Saturday's game averaging just 92.3 rushing yards per game.
Petras had maybe his best game of the season, which isn't saying much, but he at least showed progress, completing 11-of-17 passes for 145 yards and zero intercpetions.
Iowa didn't have any turnovers against Rutgers, which is probably what pleased Kirk Ferentz the most besides winning, of course,
The circumstances seemed bleak after the 10-7 loss to Iowa State two weeks ago, but Iowa has since won back-to-back games by a combined score of 54-10.
The level of competition will increase significantly when Iowa faces No. 4 Michigan (4-0) next Saturday at Kinnick Stadium, but Iowa has momentum, will be playing at home, and will have something to prove after getting crushed by Michigan 42-3 in the 2021 Big Ten championship game.
The Iowa offense certainly has to get better, but at least, it showed some progress in the win over Rutgers.
There were times in the Rutgers game when Iowa actually had balance on offense because the running game did enough to help establish play action.
The biggest storyline heading into Saturday's game was the matchup at punter between Australia natives Tory Taylor and Adam Korsak, but it never really materialized because Iowa made enough big plays, especially on defense, to seize the momentum.
Freshman kicker Drew Stevens made a 51-yard field goal to give Iowa a 27-3 lead in the fourth quarter. The ball hit the left goal post and then fell through the uprights, making Stevens 4-for-4 on field-goal attempts this season.
Combine Stevens with Taylor at punter and Iowa once again seems loaded on special teams.
And speaking of Taylor, he punted five times and four were downed inside the 20.
The Iowa offense still has major flaws, but it seems to be moving in the right direction based on the last two games.
Iowa used three running backs throughout Saturday's game as sophomore Gavin Williams also played a key role.
Going three deep allowed all three running backs to be fresh and they ran like it.
So, this was a big step forward, even with the issues that still exist on offense.
Iowa's receivers combined for just one catch by Arland Bruce that only gained five yards.
But it's a lot better trying to fix something coming off a win than a loss, and right now, the Iowa players have reason to feel good about what they accomplised in New Jersey on Saturday.