By Pat Harty
IOWA CITY, Iowa – Jim Harbaugh finally knows how it feels to win at Kinnick Stadium, while Iowa fans know all too well how it feels to watch their sputtering offense come up short again.
Iowa showed some life on offense in the second half, but still finished with just 281 yards, and with just 35 rushing yards during the 27-14 loss.
It was Iowa's first loss in its last five games against Michigan at Kinnick Stadium.
"We have to be focused on improving, but we have to improve faster than we have been," said Iowa quarerback Spencer Petras.
The Iowa defense struggled to get off the field in the second half, but it performed much better in the third and fourth quarters.
Michigan was held to just 327 yards and 23 points below its nation-leading 50.0 per-game scoring average.
Harbaugh entered Saturday's game winless as both a Michigan quarterback and head coach at Kinnick Stadium.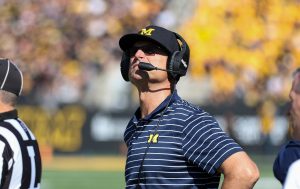 His team had to withstand an Iowa rally in the second half, but the Wolverines made enough plays on both offense and defense to win a game in which it never trailed.
"It's a great feeling of winning, and it will be a very happy flight back to Michigan," Harbaugh said.
Iowa finally reached the end zone on the first play of the fourth quarter when true freshman running back Kaleb Johnson scored from two yards out.
Drew Stevens made the point-after kick, cutting the deficit to 20-7 with almost a full quarter left to play.
Johnson's touchdown also helped to reenergize the sellout crowd, which had little to cheer about in the first three quarters.
The Iowa defense then forced Michigan to punt after running just three plays, and Iowa took over on its own 17-yard line with the momentum on its side for a change.
A game that seemed out of reach had suddenly turned competitive as sophomore tight end Luke Lachey gained 35 yards on a pass from Petras, giving Iowa a first down at the Michigan 38.
Leshon Williams then ran for nine yards to give Iowa a first down at the Michigan 26.
Petras then connected with tight end Sam LaPorta for seven yards as the momentum continued to shift to Iowa's side.
Leshon Williams gained five yards on third down, giving Iowa a first down at the Michigan 14.
And then Petras connected with Nico Ragaini for six yards to the 8.
However, Iowa faced 4th-and-2 at the 6-yard line when Iowa receiver Arland Bruce was called for pass interference.
Michigan declined the penalty after having held LaPorta to a 1-yard pass reception on the play.
Michigan took over at the Iowa 5 with 5:41 left to play.
The Iowa defense rose to the occasion, forcing a punt after Michigan ran three plays that failed to get a first down.
Iowa took over at its own 42-yard line trailing 20-7 with 4:01 left to play.
However, Petras was sacked on first down for a loss of nine yards, and on third down for a loss of five more yards.
Iowa faced a 4th-and-24 at its own 28 when Petras was nearly sacked again. He barely got rid of the ball before being slammed to the turf.
Michigan took over at the Iowa 28 with less than 3 minutes to play.
The momentum that Iowa had seized suddenly shifted back to Michigan's side.
Michigan running back Blake Corum helped to seal the win as he broke through a huge hole and scored from 2o yards with 1:19 left to play. The point-after kick expanded the lead to 27-7.
Iowa drove for a touchdown in the closing seconds while facing Michigan's prevent defense.
Luke Lachey scored on a 5-yard pass from Petras, but it was too little and much too late.
Petras finished with a season-high 246 passing yards, but a chunk of his yards came on the final drive of the game when the outcome already was decided.
Iowa's inability to mount a rushing attack was too much to overcome as Michigan (5-0, 2-0) finished with 171 yards on the ground.
Kinnick Stadium was more than half empty by the time Saturday's game ended as Iowa fell to 3-2 overall and 1-1 in the Big Ten.
Iowa will look to get back on the winning track next Saturday when its plays at Illinois, whose head coach is former Iowa defensive lineman Bret Bielema.
Illinois will have plenty of momentum as it defeated Wisconsin 34-10 on Saturday in Madison, Wisconsin.
Michigan marched 75 yards for a touchdown on its opening possession of the game.
Senior receiver Ronnie Bell scored the touchdown on a 16-yard run with 9:53 left in the first quarter.
It was the first rushing touchdown that Iowa has allowed this season.
Bell's touchdown also helped to suck some of the energy from the sellout crowd in Kinnick Stadium.
The Iowa defense stiffened in the second quarter as Michigan was held to just two field goals by Jake Moody after drives had stalled.
The Wolverines led 13-0 at halftime and had a 236-90 advantage in total yards.
Iowa was called for two penalties on offense in the first half that ultimately stopped two drives, including a clipping call in the second quarter that drew the ire of Kirk Ferentz.
He had a heated discussion with the officials during a timeout.
But given how much Michigan had dominated the first two quarters, Iowa was fortunate to only being trailing by 13 points at halftime.
Iowa also received the kickoff to start the third quarter, but Petras and his cohorts went 3-plays-and-out.
Michigan then drove 67 yards on 10 plays for a touchdown that came when Michigan quarterback J.J. McCarthy rolled to his right and then found backup running back Donovan Edwards wide open in the end zone for a touchdown with 7:51 left in the third quarter.
Jake Moody made the point-after kick to give Michigan a 20-0 lead.
Michigan 7 3 10 7 – 27
Iowa 0 0 0 14 – 14
M – Ronnie Bell 16 run (Jake Moody kick)
M – Moody 44 FG
M – Moody 35 FG
M – Donovan Edwards 12 pass from J.J. McCarthy (Moody kick)
I – Kaleb Johnson 2 run (Drew Stevens kick)
M -Blake Corum 20 run (Moody kick)
I – Luke Lachey 5 pass from Petras (Stevens kick)