By Pat Harty
The Iowa football team has become a national story for all the wrong reasons, and it could get much worse before it gets better.
Doug Lesmerises from Cleveland.com wrote a scathing column after Iowa's 54-10 loss at Ohio State on Saturday in Columbus, Ohio in which he accuses Kirk Ferentz of having "crawled into a cave of nepotism," and says that Brian Ferentz should be fired as the Iowa offensive coordinator immediately.
Lesmerises goes on to say that nepotism "remains a stain on college football" and that Iowa is the worst example.
Expect more of this from opposing media if the offense continues to perform at a level that is unacceptable because it makes for good copy, and because they don't have to deal with any Iowa backlash moving forward.
But Lesmerises still deserves credit for taking a stand on a difficult topic, and for explaining why in great detail, and with fair and valid points.
Kirk Ferentz took a huge risk when he attached his legacy to his son, and now that decision is backfiring in a way that nobody could've imagined.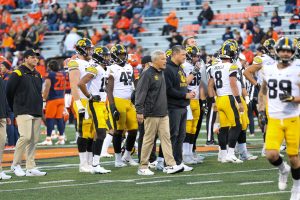 Iowa isn't just bad on offense, it's historically bad, with no imagination or sense of urgency.
The lack of player development on offense can no longer be ignored or dismissed just by saying they're young and inexperienced.
Iowa's five starting offensive linemen have combined for 63 starts, and yet, they show no signs of getting better individually, or as a group.
Kirk Ferentz finally switched quarterbacks on Saturday, but switching from fifth-year senior Spencer Petras to fourth-year junior Alex Padilla in the second half, didn't provide a spark because the offense is broken, and because Brian Ferentz has no answers right now.
Brian Ferentz seems to be in over his head, but the two people who control Brian Ferentz's job status – Kirk Ferentz and Iowa Athletic Director Gary Barta – either refuse to believe it, or they believe it, but aren't sure how to handle a very awkward situation, or they just feel that Brian Ferentz is entitled to his job because he's the son of Iowa's all-time winningest football coach.
If the latter is the case, then Iowa football is in serious trouble because it can't function properly as a family business.
As great as Kirk Ferentz and his legendary predecessor, Hayden Fry, have been for Iowa football over the past four decades, no one person is bigger than the program.
Kirk Ferentz has created this mess, and only he can fix it.
Ferentz has a contract that runs through the 2029 season, and a buyout worth more than $40 million, so, he has power and leverage on his side.
At least for now.
There still are five games left in the regular season, so there is always the chance that Iowa could finish on a roll.
But to even suggest that to an Iowa fan right now, even a glass-half-full Iowa fan, would probably fall on deaf ears because they have absolutely no faith in the offense.
And why should they?
Iowa has scored 10 touchdowns in seven games this season, and three have been scored by the defense, including the only touchdown scored by Iowa in Saturday's loss when senior defensive end Joe Evans returned a fumble for a score in the first quarter.
The Iowa offense, and Brian Ferentz, have become laughingstocks and punchlines.
So often now you'll hear a report about a game with low scoring and there will be a snarky reference about the Iowa offense, even if it's an NFL game.
It's just sad that it has reached this low point.
Kirk Ferentz likes to point to Iowa's success last season when it won the Big Ten West Division, and to its overall success since 2015, when pressed about his son and the sputtering offense.
But Iowa won 10 games last season many will say in spite of the offense.
The history lessons just don't work anymore.
Fans are only concerned about the present, and right now, the present situation on offense is just unacceptable.