By Pat Harty
IOWA CITY, Iowa – This obviously won't cure all that is ailing the Iowa football team right now.
But at least for one day, and for the next six days, Hawkeye fans can celebrate the thrill and satisfaction of winning because it had been a while.
Iowa defeated Northwestern 33-13 on a bright and sunny Saturday afternoon at Kinnick Stadium.
A cynic might try to downplay the significance of the victory since it came against a Northwestern team that has now lost seven games in a row.
But a win still is a win, and Iowa was desperate for a win on Saturday after having lost its previous three games.
"It's fantastic," said Iowa senior linebacker Jack Campbell. "We work year around for this stuff. So, when it comes you've got to embrace it. Any time you come out with a win, it's just big."
The much-maligned Iowa offense even did its part for a change in Saturday's game, scoring three touchdowns and a season-high 393 yards, including a season-high 220 passing yards by senior quarterback Spencer Petras, who played the entire game.
True freshman running back Kaleb Johnson also performed well, finishing with 88 rushing yards on 14 attempts. He gained 18 yards on his first run from scrimmage and was the beneficiary of some solid blocking by a revamped offensive line in which sophomore Connor Colby made his first start ever at left guard.
"That's a good feeling knowing that everybody did their job and executed," Johnson said.
So, for at least one week, maybe Petras and Iowa offensive coordinator Brian Ferentz won't be mocked and ridiculed and used as punchlines.
Or, maybe they will since the opponent was just lowly Northwestern, which hasn't won a game in the United State this season.
Northwestern's only win came against Nebraska by a score of 31-28 in the season opener on Aug. 27 in Dublin, Ireland.
Northwestern left much to be desired as an opponent, but Iowa also won convincingly, so that's a positive step forward.
Imagine how it would've felt if Iowa had won by a score like 9-7 or 8-6, or even worse, if Iowa would've lost on Saturday.
Iowa looked vastly superior to Northwestern on Saturday, and that's all you can ask for at this point.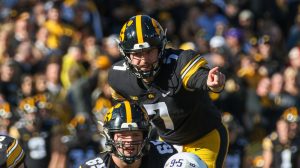 Northwestern trimmed the deficit to 20-7 with a touchdown in the third quarter, but then Iowa answered with a 54-yard field goal by freshman Drew Stevens with 1:20 left in the third quarter.
Iowa, of course, would've preferred to have scored a touchdown, especially after driving into Northwestern territory, but scoring three points was better than nothing because it helped to keep the momentum on Iowa's side.
Stevens made all four of his field-goal attempts in Saturday's game and the true freshman from North Augusta, South Carolina is now 10-for-11 on the season.
So, while having to settle for four field goals shows the offense still needs a lot of work, Iowa appears to have found its next great kicker.
The fact that Stevens also handles kickoffs just adds to his value.
Following Saturday's game, Stevens gave credit to fellow Iowa kicker Aron Blom for pushing him practice.
Blom handled field goals in the first two games, but was replaced by Stevens after missing two of three attempts.
"I'm always comfortable," Stevens said. "My comfort level really hasn't changed. I would almost say that I'm doing as well as I am right now because of Aron and because of how good he is. It has always pushed me to try to be better and to be the best player that I can be."
Iowa marched 63 yards on nine plays on its opening possession of the game, but then settled for a 29-yard field goal by Stevens after Gavin Williams was tackled for a 2-yard loss on a 3rd-and-nine at the Northwestern 9.
And while running on 3rd-and-9 made little sense, it also made little sense to give Gavin Williams the carry when true freshman Kaleb Johnson already had gained 34 rushing yards on three carries.
But in fairness to Gavin Williams, he had no running room run as the blocking left much to be desired on the third-down play.
Iowa marched into Northwestern territory on its second possession of the game, with one of the key plays coming when Petras scrambled from the pocket and then connected with fullback Monte Pottebaum for 17 yards to the Northwestern 23.
Petras then capped the drive by scoring on a 1-yard sneak with 31 seconds left in the first quarter.
It was the first touchdown scored by the Iowa offense in its last 30 possessions dating back to the end of the Michigan game on Oct 1.
Iowa expanded the lead to 13-0 on a 24-yard field goal by Stevens with 2:45 left in the second quarter.
Iowa settled for the field goal after Diante Vines dropped a pass thrown by Petras in the back of the end zone on third down.
Iowa scored its second touchdown of the game when Petras connected with sophomore tight end Luke Lachey on a 6-yard pass in the closing seconds of the second quarter.
Stevens made the point-after kick to give Iowa a 20-0 lead at halftime.
It marked just the third time this season that Iowa has scored at least 20 points in a game, and it was only halftime.
Iowa improved to 4-4 overall and 2-3 in the Big Ten, while Northwestern fell to 1-7 and 1-4 in the conference.
Northwestern had won the previous three games at Kinnick Stadium, including in 2020 when it fell behind 17-0 in the first half before rallying in the second half to win 21-20 in the second game of the Covid-shortened season.
However, this time there was no rally by the struggling Wildcats.
"We're just not executing cleanly," said Northwestern coach Pat Fitzgerald. "If you look at today, I think we played a team that played pretty darn clean, pretty darn well. You have to give credit where credit's due.
"They played maybe their best game of the year, offensively in particular."
Iowa will now face Purdue in its next game on Saturday in West Lafayette, Indiana and much of the attention will be focused on Purdue receivers Charlie Jones and Tyrone Tracy Jr., both of whom transferred from Iowa after last season.
Northwestern 0 0 7 6 – 13
Iowa 10 10 3 10 – 33
I – Drew Stevens 29 FG
I – Spencer Petras 1 run (Stevens kick)
I – Stevens 24 FG
I – Luke Lachey 6 pass from Petras (Stevens kick)
N – Duke Olges 1 pass from Brendan Sullivan (Adam Stage kick)
I – Stevens 54 FG
I – Stevens 25 FG
I – Arland 23 run (Stevens kick)
N – Raymond Niro 7 pass from Sullivan