By Pat Harty
IOWA CITY, Iowa – One of the Big Ten's top defenses will be matched against one of the conference's top offenses when Iowa plays at Purdue on Saturday.
Iowa is ranked third in the Big Ten in total defense, allowing just 265.63 yards per game, while Purdue is ranked second in the conference in passing offense, averaging 314.25 passing yards per game.
And while Iowa has been more successful than Purdue over the past decade or so, including winning the Big Ten West Division last season, Purdue has won four of the last five games in the series.
Jeff Brohm's spread offense has caused fits for Iowa defensive coordinator Phil Parker, causing some to call the Purdue offense Parker's kryptonite.
"We haven't had much success the last couple outings against them, so that's a goal of ours, to try to change that," said Iowa head coach Kirk Ferentz. "Big challenge on our hands. They're coming off a bye, so they should be well-rested and prepared. I'm sure they will be. We're going on the road. A road challenge for us."
There is a significant twist to this year's game as Purdue's leading receiver is former Hawkeye Charlie Jones, a sixth-year senior who decided to transfer after participating in spring practice at Iowa where he had played since 2020.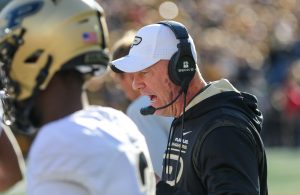 Former Iowa receiver, and Indiana native, Tyrone Tracy Jr., is also one of Purdue's top receivers, so emotions will be sky-high on Saturday.
"It's going to be exciting," said Iowa senior cornerback Riley Moss. "I'm excited to get back and face (Charlie) and face Tyrone and face some of those guys.
"It's going to be exciting and we're looking at it as we're respecting our opponent and it's another game for us. I see the significance with the outside noise and stuff and we're taking it as just another team."
The matchup between Jones and the Iowa defensive backs could have a lot to say about who wins on Saturday.
But it's also just one of many matchups.
Here is a look at which team has the advantage at each position.
Quarterback: Purdue sixth-year senior quarterback Aidan O'Connell leads the Big Ten with an average of 324.29 passing yards per game. He has passed for 2,270 yards and thrown 15 touchdown passes in seven games.
Iowa quarterback Spencer Petras, on the other hand, has passed for 1,209 yards and thrown just three touchdown passes in eight games.
There seems no reason to continue.
Advantage: Purdue
Running back: Redshirt freshman walk-on Devin Mockobee leads Purdue in rushing with 561 yards on 103 attempts, averaging an impressive 5.4 yards per carry. He also has six rushing touchdowns, which is just one fewer than Iowa has as a team, and he has rushed for at least 100 yards in three games this season, all of which came against Big Ten opponents.
Junior Dylan Downing is a nice complement to Mockobee and has rushed for 249 yards on 58 attempts. Downing has also scored four touchdown, so Purdue's top two running backs have combined for 10 touchdowns and more than 800 rushing yards in seven games.
True freshman Kaleb Johnson leads Iowa in rushing with 353 yards on 74 attempts, and is averaging 4.8 yards per carry. He also has scored three of Iowa's seven rushing touchdowns. Johnson has gone from no higher than third on the depth chart to now being Iowa's first option at running back.
Sophomore Leshon Williams has rushed for 310 yards and scored two touchdowns. He also has eight catches for 69 yards.
Sophomore Gavin Williams (no relation) was injured when the season began and just hasn't established himself this season. He was listed as the starter when the season began, but he is now used mostly in spot duty.
Advantage: Purdue
Receiver: Charlie Jones has 72 catches for 840 yards and nine touchdowns in eight games, while Iowa as a team has 1,209 receiving yards and three receiving touchdowns in eight games.
Jones has more receiving yards and touchdown catches than Iowa's top six wide receivers have combined this season. Iowa has six receivers that have combined for 49 receptions, 535 receiving yards and one receiving touchdown.
Jones also has a talented supporting cast that includes T.J. Sheffield and Iowa transfer Tyrone Tracy Jr.  Sheffield has 25 receptions for 275 yards and three touchdown catches, while Tracy has 24 catches for 188 yards.
Tracy also has six rushing attempts for 47 yards.
Advantage: Purdue
Tight end: This was by far the toughest decision of all the positions because both teams have a star tight end, arguably the two best tight ends in the conference.
Fifth-year senior Payne Durham is in his third season as Purdue's primary tight end, and he enters Saturday's game with 1,091 career receiving yards and 17 touchdown catches.
A native off Suwanee, Georgia, Durham has 39 catches for 376 yards and four touchdown this season.
Backup tight end Paul Piferi, a former high school quarterback, has six catches for 87 yards and one touchdown.
Iowa's star tight end is senior Sam LaPorta, who has 1,515 career receiving yards and 136 receptions. His 136 career receptions is the most for an Iowa tight end, and that's quite an accomplishment, given Iowa's long-standing success at developing star tight ends.
LaPorta hasn't scored a receiving touchdown this season, but that probably says more about the Iowa offense than about him.
The Illinois native leads Iowa with 41 catches for 378 yards. His 41 catches are also the most for a Big Ten tight end.
Redshirt sophomore Luke Lachey has seen his role expand in recent games and he has two of Iowa's three receiving touchdowns this season. He had four catches for a personal best 84 yards and his first career touchdown against Michigan earlier this season.
Advantage: Iowa
Offensive line: It's hard to compare these units because Iowa and Purdue have so little in common on offense.
Iowa always wants to establish the run, while Purdue's offensive linemen spend much of their time pass blocking in a spread offense.
Purdue has a veteran offensive line that includes three starters from last season: senior tackle Eric Miller, junior guard Spencer Holstege and junior center Gus Hartwig. All three have started every game this, with Miller having made five starts at left tackle and three starts at right tackle.
Sophomore Marcus Mbow has started every game this season at right guard, while three different players have started at right tackle for Purdue.
Iowa's offensive line has struggled for most of the season, but showed some improvement in the 33-13 victory over Northwestern last Saturday as Iowa rushed for 173 yards.
Sophomore Connor Colby switched from right tackle where he started the first seven games to left guard for the Northwestern game and then showed some promise.
Fifth-year senior Jack Plumb also made his first start of the season against Northwestern at right tackle, replacing Colby.
Sophomore Mason Richman has started every game at left tackle, while redshirt freshmen Logan Jones and Beau Stephens have started every game this season at center and right guard, respectively.
And while the unit showed some improvement against Northwestern, it has mostly been a struggle this season.
Advantage: Purdue
Defensive line: Both units are experienced as Purdue has three of four starters back from last season, while Iowa's four starters have combined for 75 career starts, led by senior tackle Noah Shannon with 23 starts.
Defensive end John Waggoner and junior tackle Logan Lee both have made 22 career starts, while senior end Joe Evans, a former high school quarterback, has started all eight games this season and leads Iowa with four sacks.
Sophomore Lukas Van Ness doesn't start for Iowa, but he often finishes games while both inside and outside. Van Ness has 26 tackles, 7.5 tackles for loss, four sacks and four quarterback hurries this season.
Sophomore Deontae Craig is also playing more at defensive end as the season progresses. He had two tackles for loss, one sack and forced a fumble in the win over Northwestern.
Purdue defensive end Jack Sullivan has 21 tackles, 3.5 tackles for loss and three sacks, while defensive tackle has 19 tackles, 2.5 tackles for loss and 2.5 sacks.
Advantage: Iowa
Linebacker: Iowa has arguably the top one-two punch at linebacker in the Big Ten in seniors Jack Campbell and Seth Benson.
Campbell leads Iowa with 82 tackles, and his average of 10.3 tackles per game leads the Big Ten, while Benson is second on the team with 66 tackles.
Campbell is the more celebrated of the two linebackers, but Benson has actually started more games with 29 careers starts to Campbell's 23 starts.
Campbell and Benson enter Saturday's game with 259 and 229 career tackles, respectively.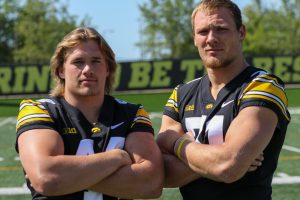 Junior Jay Higgins also has performed well in the absence of Jestin Jacobs, who recently had season-ending surgery. Higgins had a career-high 11 tackles against Northwestern and has 28 tackles for the season, including 1.5 for losses.
Meanwhile, junior linebacker Kydran Jenkins leads Purdue with 5.5 tackles for loss and with 3.5 sacks. He also leads the team with six quarterback hurries.
Jalen Graham and sixth-year senior Kieran Douglas are ranked third and fourth in tackles for Purdue with 25 and 23, respectively.
Advantage: Iowa
Secondary: Iowa is ranked fourth in the Big Ten in pass defense efficiency (112.16), while Purdue is ranked 11th in that category.
Iowa is also ranked fourth in the conference in pass defense, allowing 172.13 yards per game, while Purdue is ranked ninth, allowing 242.75 yards per game.
Those two statistics say a lot about these two units, although, Purdue is not without talent.
Safeties Sanoussi Kane and Cam Allen are Purdue's top two tacklers with 37 and 30, respectively. Allen also leads the team with three interceptions and is tied for second on the team with five pass breakups.
Redshirt senior cornerback Cory Trice leads Purdue with eight pass breakups.
Iowa's secondary has been performed well throughout the season despite having two first-year starters in sophomore Cooper DeJean and junior free safety Quinn Schulte.
DeJean has arguably been Iowa's top defensive back this season while switching between cornerback, safety and the cash position.
He is third on the team with 46 tackles and leads the team with three interceptions, including a pick-six against Rutgers.
Schulte is fourth on the team with 44 tackles and has six pass breakups and one interception.
Iowa also has one of the Big Ten's most established cornerbacks in fifth-year senior Riley Moss, who has made 34 career starts. Moss was also named the Big Ten Defensive Back of the Year last season.
The Ankeny native has 37 tackles, four pass breakups and two forced fumbles this season.
Senior strong safety Kaevon Merriweather has made 20 career starts and played in 41 games overall.
He has 35 tackles, including two for losses, and two interceptions this season. He also returned a fumble for a touchdown against Rutgers.
Advantage: Iowa
Special teams: Iowa junior Tory Taylor is ranked second in the Big Ten with a 44.85 average on 47 attempts. His 47 punts and his 2,108 punting yards both lead the conference.
Iowa freshman kicker Drew Stevens has made 11-of-12 field goal attempts, including all four of his attempts against Northwestern last season, and he also has 23 touchbacks on 33 kickoffs.
Purdue punter Jack Ansell is averaging 44.3 yards on 27 attempts, while Mitchell Fineran has made 9-of-13 field-goal attempts.
Charlie Jones gives Purdue an advantage in the return game as he was named the Big Ten Return Specialist of the Year last season at Iowa.
However, he hasn't been nearly as effective at Purdue, averaging just 6.6 yards on 15 punt returns and 15.6 yards on five kick returns.
Advantage: Iowa