By Pat Harty
IOWA CITY, Iowa – No disrespect to Minnesota, or to Floyd of Rosedale, but it seems abundantly clear that Wisconsin should be the Iowa football team's most heated, or even most hated rival.
It would certainly help the border rivalry if Iowa could start defeating the Badgers more than twice in a decade.
Iowa will have that opportunity on Saturday when it faces Wisconsin at Kinnick Stadium in a matchup between teams with 5-4 overall records and 3-3 records in conference play.
Wisconsin is no longer the beast of the Big Ten West Division, but it won't take a beast to win the division this season as every team has at least two losses in conference play.
For nearly three decades, however, Wisconsin has mostly been a better version of Iowa.
"They've been good, really as far back as you can think," Iowa coach Kirk Ferentz said Tuesday. "A lot of commonalities team to team. They're strong, very physical, very fundamentally sound, and typically play really smart football on top of it. Very opportunistic."
Iowa and Wisconsin both run a similar ball-control offense in which the fullback still has a role, and both teams are usually good on defense and special teams.
Wisconsin is just usually better, especially its vaunted ground attack that has played such a key role since Barry Alvarez rebuilt the program in the early 1990s.
The current team's rushing attack leaves something to be desired by Wisconsin's high standards, but the Badgers still are averaging 183.33 rushing yards per game, which ranks fifth in the Big Ten.
Iowa, on the other hand, is ranked 12th in the conference in rushing, averaging just 103.56 yards per game.
As for Alvarez, he's the reason that Wisconsin should be No. 1 on Iowa's list of football rivals because he used the Iowa way under Hayden Fry to rebuild the Badgers.
Alvarez didn't just use much of what he had learned during eight seasons as an Iowa assistant coach under Fry to rebuild the Badgers, he raided Fry's coaching staff for two valuable assistant coaches by making them offers they couldn't refuse.
Alvarez convinced Dan McCarney to be his defensive coordinator and Bernie Wyatt to be his ace recruiter.
McCarney was considered the ultimate Hawkeye at the time, a life-long Iowa City resident who had played football at Iowa before becoming an assistant coach at his beloved alma mater.
Wyatt also played football for Iowa and his ability to recruit, especially on the East Coast where he grew up, was a key factor in Fry getting over the hump at Iowa.
McCarney and Wyatt both would go on to play huge roles in Wisconsin's resurgence.
McCarney turned the Badger defense into a tough, physical and fundamentally sound unit that still plays the same way today.
Wyatt built for Wisconsin the same kind of recruiting pipeline to the East Coast that he had constructed at Iowa. One of his biggest catches as a Badger assistant was running back and New Jersey native Ron Dayne, who won the 1999 Heisman Trophy.
Alvarez didn't break any rules by poaching two of Fry's top assistants.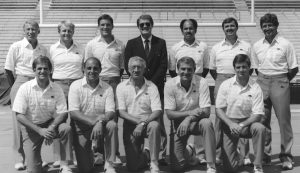 For McCarney, it was a chance to run his own defense, which he couldn't do at Iowa because Bill Brashier was the defensive coordinator at the time, and he was highly respected.
For Wyatt, it was a chance to help a friend rebuild another Big Ten program that had fallen on tough times.
So, the moves made sense.
But they also made Fry mad, and rightfully so.
He had given Alvarez his big break in coaching by hiring him as an assistant coach after Alvarez had led Mason City to a state title in 1978, and the rest is history.
Alvarez and Fry now rank as two of the greatest head coaches in the history of Big Ten football.
Alvarez didn't just raid Fry's staff, he did it to help rebuild a Big Ten border rival at Iowa's expense, and that cuts deep.
Alvarez also handpicked former Iowa nose guard Bret Bielema to be his predecessor at Wisconsin when Alvarez retired as head coach after the 2005 season.
Bielema, who is now the head coach at Illinois, led Wisconsin to three Rose Bowl appearances and to two division titles in seven seasons as head coach.
To say that Alvarez betrayed Fry's trust might be too strong because Alvarez had the right to choose whomever he wanted for his staff. But Alvarez certainly took advantage of the relationships that he had built under Fry at Iowa and Alvarez used those connections to help rebuild the Wisconsin program.
Some might say that what Alvarez did is ancient history, and that it's a waste of time to dwell on the past.
And while that might be the case, rivalries are built partly on what has transpired over the years between two schools.
Kirk Ferentz was incorrect when he said that Wisconsin has been good for as long as you can think back.
Wisconsin has been good since Barry Alvarez rebuilt the program with help from McCarney and Wyatt.
The Badgers have also had other stretches of success in football, but Alvarez set the standard that is now the foundation for Wisconsin football.
He saw up close how Hayden Fry did it at Iowa, and then Alvarez used a similar blueprint to turn Wisconsin into a better version of Iowa.
That shouldn't sit well with Iowa fans, and that's why Wisconsin should be Iowa's most heated rival.