By Pat Harty
IOWA CITY, Iowa – In the first few days after the Iowa football team's 54-10 loss at Ohio State on Oct. 22, I thought about writing a column to remind fans that rarely is the situation as bad as it seems under Kirk Ferentz.
I've written that column before, because if Kirk Ferentz has proven to be anything in nearly a quarter century as the Iowa football coach, it's resilient.
The good has far outweighed the bad under Kirk Ferentz, but there have certainly been some bad moments and some bad stretches along the way.
This time, however, I talked myself out of pushing the it-isn't-as-bad-as-it-seems narrative because I didn't believe it.
The 44-point loss to Ohio State, a game in which Iowa committed six turnovers, and in which quarterback Spencer Petras was benched for the second half, was Iowa's third loss in a row, and it was hard to see any light at the end of the tunnel.
Iowa was 3-4 overall at the time and the offense under the direction of Kirk Ferentz's son, Brian Ferentz, was performing at a historically low level.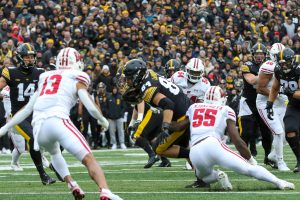 The Iowa offense had became a national laughingstock, while Brian Ferentz and Spencer Petras had become national punchlines.
Some fans were screaming for Brian Ferentz to be fired before and after the Ohio State loss, and for Petras to be benched, but Kirk Ferentz just kept grinding and has stayed the course.
His offense still has major issues as it only produced 146 yards in Saturday's 24-10 victory over Wisconsin at Kinnick Stadium.
But his team has now won three games in a row and is in a four-way tie for first place in the Big Ten West Division heading into this coming Saturday's game at Minnesota, which is one of the four teams tied for first place.
The odds of Iowa defending its Big Ten West title seemed slim to none after the Ohio State beat-down.
But now a division title seems well within reach as it would only take Iowa winning its last two regular season games against the Gophers and 3-7 Nebraska, and Illinois losing at Michigan this Saturday to make it happen.
This isn't to suggest that it will be easy to win at Minnesota, or even at home against Nebraska, because rarely does anything come easy for Iowa in the Big Ten.
But to be where Iowa is right now, after so much failure, disappointment and criticism, is a testimony to Kirk Ferentz's staying power, and to his unwavering ability to stay the course, and to stay in the moment.
The problems with his son's sputtering offense still is a sore subject with fans, and rightfully so, because imagine if Iowa were just average on offense this season.
Some fans would say why praise Kirk Ferentz for overcoming problems that he mostly caused by making his son the offensive coordinator, and by refusing to evolve on offense.
And while that's a fair question, what would you suggest, to just ignore the current turnaround because it could be perceived as letting Brian Ferentz off the hook?
Regardless of how you might feel about Brian Ferentz getting preferential treatment, this season could've unraveled three weeks ago, but it didn't because Kirk Ferentz stayed the course and didn't panic.
Kirk Ferentz could be criticized for how he has handled his son, but that doesn't mean you ignore or dismiss the good things that Kirk Ferentz has accomplised.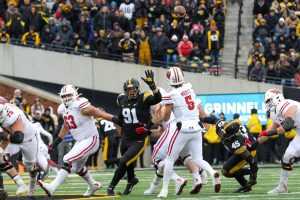 I asked after him after the Wisconsin game what keeps him from pushing the panic button during tough times.
"It gets back to the people you work with," Kirk Ferentz said. "If you believe in the people you're with — you're always trying to look for a better way. That's our job. That's what all coaches do. We talk about it frequently as a staff.
"But as I said whenever, I believe we have quality people in the program. I think we have a pretty good coaching staff. Got a lot of guys around the game that know what they're doing and teach it well. They're good for our players.
"I really believe in our players. Again, we have different levels on the team, but it's that way every team we've ever had, so as long as you've got enough guys at the top that are really helping drive things, then you've got a shot."
Some fans might roll their eyes at some of what Kirk Ferentz said in that answer because of the situation on offense, and fair enough because the offense leaves so much to be desired.
The pass protection against Wisconsin was atrocious as evidenced by Petras being sacked six times.
And with the offensive line being Kirk Ferentz's area of expertise, it's hard to explain, especially 10 games into the season.
But you can be upset and frustrated with the offense and still recognize where Kirk Ferentz has excelled.
He has one of the best defenses in the Big Ten and beyond under Phil Parker, and his special teams are rock-solid under LeVar Woods.
Iowa also has won 13 consecutive games in the month of November, which couldn't happen without good coaching, hard work and a team-first mentality.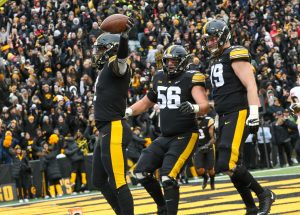 Kirk Ferentz has built a culture in which playing on special teams is almost considered a privilege, even for the established players.
That mindset doesn't exist at every program where some only see playing on special teams as a stepping stone to bigger things.
That mindset happens some at Iowa, but Iowa also has star players such as senior linebacker Jack Campbell and sophomore defensive back Cooper DeJean that play key roles on special teams.
DeJean used playing on special teams as sort of a stepping stone last season.
But he is now an emerging star as a defensive back who still takes great pride in playing on special teams.
"I love playing the game of football, so anytime I can be on the field, I just enjoy the moment," said DeJean, who had a pick-six against Wisconsin and a 41-yard punt return that helped to set up Iowa's third touchdown.
Kirk Ferentz deserves credit for making special teams a priority from the moment he was hired as head coach.
He must have assumed with his conservative offensive philosophy that Iowa would probably play in a lot of close games in which special teams could make a difference, and he was right.
"That goes back to day one, 23 plus years ago,' Kirk Ferentz said. "That was one thing that was just a building block for our program. Two reasons for it; number one, figured it was the first thing maybe we could get good at because we weren't very good at anything initially. So that was that.
"Part of the reason is you don't have to be as veteran of a player, I don't think, to be a good special teams player; there's not quite as much learning. There is learning and there's obviously calls and schemes and all that, but it's not quite — the experience doesn't factor in. If you have a good attitude and you're really a tough-minded guy, it gives you a chance."
Kirk Ferentz made reference in his post-game press conference on Saturday to a visitor in the Iowa locker room that had spoken highly about the vibe he got from his current team because of the players on the roster. That visitor was his son James Ferentz, a former Iowa center who has played in the NFL for over a decade now.
"There's a visitor in town here I'm pretty close with who really knows football, knows people, and he knows our program, and he was just in the locker room there talking about our guys and the way they are," Kirk Ferentz said of James Ferentz. "He really likes our team.
"That's what I'd go back to, and it's been pretty consistent since January. These guys have worked hard. Really like any team, we have the guys at the top that know how to act and know how to be leaders, and then you've got guys in the middle trying to figure it out, and then you've got some guys at the bottom that have no idea what's going on most of the time. But we have enough guys at the top that have been really strong.
"I couldn't sign off on that three weeks ago, four weeks ago, but you bet on people, and you bet on people that you've been around and see how they respond."
Every senior class is special and unique in its own way, but the current senior class might be one of Kirk Ferentz's best in regard to its impact on and off the field.
"A lot of people nowadays have a glass jaw if they get knocked on your butt, they don't want to get back up," said Iowa senior tight end Sam LaPorta. "That three-game losing streak, that was really tough for us. There's a lot of senior leadership that pulled together and brought everybody closer to one another without wedging us apart.
"We only care about the people's opinions inside the locker room and inside our building. I don't know if you could have told me a couple weeks ago that this is what it would be like. But we still have two games ahead of us and we're happy that we kind of have our fate in our own hands. Let's see what we can do with it a game at a time,"
LaPorta's head coach couldn't have said it any better.
Stay grounded and stay in the moment.