By Pat Harty
IOWA CITY, Iowa – Senior tight end Sam LaPorta isn't listed on this week's depth chart for the Iowa football team. But that doesn't mean for certain he will miss Friday's regular season finale against Nebraska.
It certainly isn't good news with a Big Ten West Division title on the line, but Iowa head coach Kirk Ferentz will give an update on LaPorta's status at his weekly press conference on Tuesday.
But if there is any concern, or doubts, about LaPorta playing on Friday, then he shouldn't play.
Nothing against Nebraska, but Iowa can beat the 3-8 Cornhuskers without LaPorta, because for one, Nebraska's defense leaves much to be desired, and because sophomore Luke Lachey has emerged as a reliable second option at tight end for the Hawkeyes.
LaPorta suffered what appeared to be a lower leg injury late in the second quarter of last Saturday's 13-10 victory at Minnesota.
The injury was the only thing that could stop LaPorta as he had four catches for 95 yards when he left the game.
Lachey would go on to pick up the slack as he finished with five catches for 77 yards.
Iowa has earned the nickname Tight End U in recognition of its long-standing tradition at tight end, a tradition that started to take shape when Hayden Fry became the Iowa head coach in 1979.
Fry gained a lot of attention for having his tight end stand at the line of scrimmage, which was highly unusual at the time.
But the tight end position also gained attention because it was a critical piece to the passing game, and to the running game under Fry.
And it's been the same in 24 seasons under Kirk Ferentz, who coached the Iowa offensive line under Fry from 1981 to 1989.
Ferentz saw up close how valuable the tight end position could be, and he has carried on the tradition.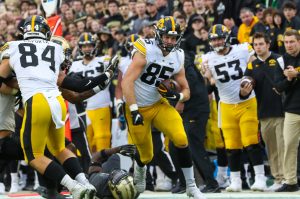 From Jonathan Hayes to Marv Cook to Dallas Clark to Noah Fant to T.J. Hockenson and now Sam LaPorta, the list of standout tight ends from Iowa is long and distinguished.
LaPorta has been the one constant for the Iowa offense this season as he has 53 catches for 601 yards.
He only has one touchdown catch, but that probably says more about the problems on offense than about LaPorta.
Lachey has 18 catches for 273 yards and a team-leading two touchdown catches.
Between the two, that's 72 catches and 880 receiving yards for an offense that has been ranked at or near the bottom nationally in total offense for most of the season.
LaPorta obviously wants to play on Friday, which could be his last game at Kinnick Stadium unless he decides to use his free Covid year, which seems unlikely given his success.
He ranks first amongst Iowa tight ends in career receptions (148) and second in receiving yards (1,730).
LaPorta trails former 1988 consensus All-America tight end Marv Cook by just 95 yards.
To have a chance on Senior Day to set the record for career receiving yards for an Iowa tight end would be an incredible opportunity.
But again, if there is any doubt about his health, then he shouldn't play, especially if sitting out the Nebraska game would allow LaPorta to be healthy for the Big Ten championship game on Dec. 3 in Indianapolis, assuming Iowa beats the Cornhuskers.
Iowa could be extra cautious in this case, even with the Big Ten West Division title on the line, because Lachey has proven that he is more than capable of being the go-to tight end.
The 6-foot-6, 252-pound Ohio native is pretty nimble for a guy his size, and he has knack for getting open.
Of course, it helps to have LaPorta on the field, but Lachey could still get the job done without his senior mentor.
True freshman tight end Addison Ostrenga had one catch for six yards against the Gophers after LaPorta had left the game. So, Ostrenga might have to play a more significant role against the Cornhuskers.
What is certain is that Iowa will ultimately make the right decision because they will do what is in LaPorta's best interest from a health standpoint.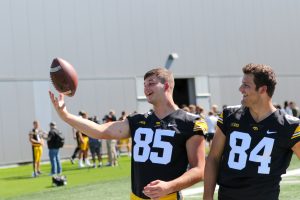 But what's the hurry on saying whether LaPorta will play on Friday?
It would make more sense to keep Nebraska guessing about LaPorta's status.
Kirk Ferentz might say on Tuesday that LaPorta has no chance of playing against Nebraska.
That would be a shame because Sam LaPorta has been one of the most consistent and productive players on the team almost since the day he arrived as a lightly recruited receiver turned tight end from Highland, Illinois.
LaPorta played as a true freshman and has been Spencer Petras's favorite target for the past two seasons with 106 catches since the start of last season.
LaPorta led Iowa wity 53 receptions and 670 receiving yards last season.
Iowa's season appeared on the verge of collpase after a 54-10 loss against Ohio State on Oct. 22 in Columbus, Ohio. It was Iowa's third consecutive loss and the offense committed six turnovers.
But now a month later, Iowa is one victory over Nebraska from winning the Big Ten West Division for the second year in a row, and LaPorta and his senior classmates have played a key role in the turnaround, on the field with their performance, and off the field with their leadership.
Former Iowa offensive coordinator Don Patterson spoke highly of LaPorta on Monday on the Hawk Fanatic radio show and podcast, saying that LaPorta refuses to let the first defender tackle him after making a catch.
There is a lot of truth to that statement as the 6-foot-4, 249-pound LaPorta has excelled in gaining yards after the catch.
LaPorta isn't the biggest, strongest or the fastest tight end to play for Iowa.
But he is one of the best, and he has earned that distinction despite playing under some brutal circumstances at times on offense.